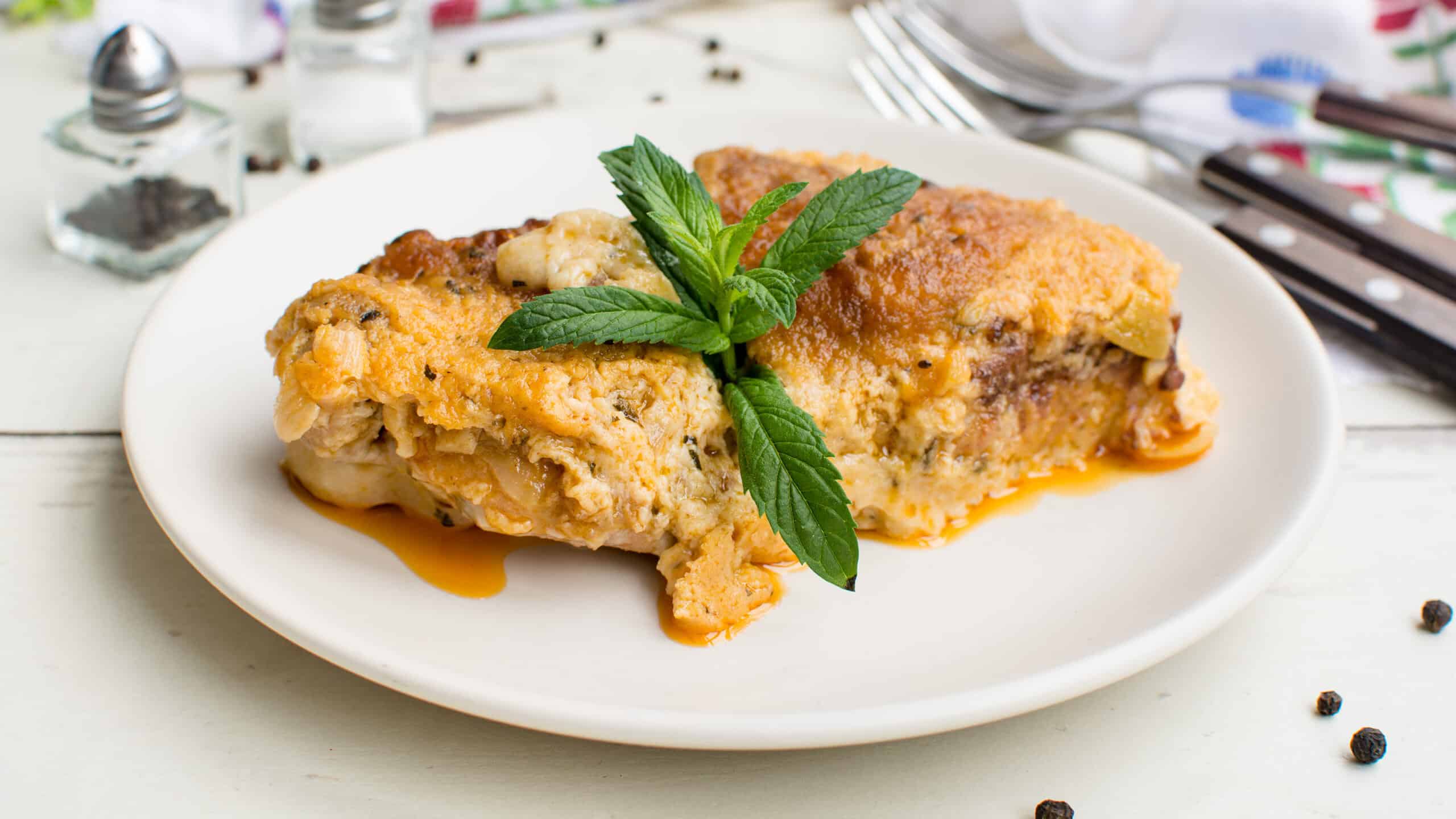 Smothered Chicken Recipe
Smothered chicken features a fried chicken breast as its base. It is also known for the rich creamy gravy that covers it.
As opposed to brown gravy that is made from meat drippings, this sort of gravy starts with a roux that is made of meat or meat drippings and flour. Milk is then added to further thicken the mixture. It can be seasoned with black pepper and bits of mild sausage and chicken liver.
It is this rich, creamy gravy that makes it popular in the Southern part of the United States. Its taste is synonymous with the comfort food that is so popular in the south. It's also great to serve as a meal at big gatherings, which that part of the country is famous for.
The recipe we have here starts by coating the chicken with flour and frying it in a skillet. This is a great way to give the meat its nice, crispy exterior.
Next the gravy is prepared and added to the chicken with caution being taken to ensure it is coated in the mixture. Finally, it is ready to serve.
In the land of barbecues, ranches, and tight knit families a hearty crowd-pleasing recipe is a must to have on hand and smothered chicken definitely fits the bill.
Serve with buttermilk biscuits, mashed potatoes and corn on the cob for a family feast that is sure to please all your guests.
Smothered Chicken
Ingredients:
one 2-3 pound broiler-fryer, cut up
1/2 cup plus 2 Tablespoons self-rising flour
1 teaspoon salt
1/2 teaspoon pepper
1/2 cup vegetable oil
1 cup half and half
1 cup whole milk
Directions:
1. Rinse the chicken pieces and pat dry with paper towels. Combine 1/2 cup flour, 1/2 teaspoon salt, and 1/2 tespoon pepper in a shallow dish.
2. Dredge the chicken well in the flour to coat, gently shaking off the excess.
3. Heat the oil in a large heavy skillet over medium-high heat.
4. Add the chicken to the oil, and brown well on both sides.
5. Turn the chicken skin side up, cover, reduce heat, and simmer 15 minutes.
6. Remove chicken and pour off all but 1/4 cup of the drippings in the skillet.
7. In a bowl, combine remaining 2 tablespoons flour, half and half, milk, remaining 1/2 teaspoon salt, and pepper to taste. Stir until smooth.
8. Stir into the skillet and cook over medium heat until thickened; stirring constantly .
9. Add chicken, turning often to coat with the gravy. Cover and simmer 15 minutes.
Try one of our fan-favorite chicken recipes:
Click for more Chicken recipes