This holiday season you have many options to choose from when it comes to topping your bird with gravy for Thanksgiving. We are sure to have the type that is perfect for you. Here are many ideas and variations you can consider to the core recipe we've included below.
Day-Ahead Basic Turkey Gravy
If you love gravy as much as I do then there is a high chance that you will have some delicious gravy already made the day before. This base uses the wings of the turkey so it can be prepared ahead of time.
Sour Cream and Mushroom Gravy
This combination creates a rich flavor of both mushrooms and sour cream. Not only is it perfect for Thanksgiving, but also for any time of the year. If you have leftover turkey, you can chop some up and add it to the gravy. Then warm it up and pour some over some bread.
Turkey Gravy
This classic turkey gravy includes many herbs, spices, and veggies cooked along with the turkey bones. This popular gravy has become a staple in every home Thanksgiving dinner.
Apple Gravy
The apple gravy is so good that a double batch may be required. The richness makes any beef more succulent, and you'll keep craving it after you pour some on your potatoes, veggies, and pork chops.
Perfect Holiday Turkey Gravy
This recipe is best when it's made the day before so that it just needs to be warmed up on a festive day. You'll love that your entire home will smell divine in preparation for turkey day.
Perfect Simple Turkey Gravy
This scratch-made gravy works perfectly on all meats that are roasted so turkey is not the only meat that it will work well with. You can also personalize it by adding your own herbs and whatever you can find.
Turkey Giblet Gravy
Turkey giblet gravy provides an excellent enhancement to a Thanksgiving dinner. It's hearty and mixes tasty sage with wine. You will simply love its flavor.
Creamiest Turkey Gravy
This turkey gravy is the creamiest and you won't find anything better.

With my easy recipe, even someone who has never made homemade gravy before can be assured of success.
Orange Juice and Tarragon Gravy
Tarragon pairs perfectly and gives a succulent flavor in addition to the sweetness from the orange juice.
Sage and Maple Day-Before Gravy
The best part about using a basic turkey gravy recipe is that you get to use every part of the bird. By combining parts with sage and maple you know that it will be a delicious compliment.
Instant Gravy
Instant gravy can be just as delicious as gravy made by scratch. To pull it off all you have to do is add your own secret herbs and spices (turkey drippings).
Grandma's Secret Gravy
There's nothing better than having a stress free gravy at your fingertips. Just add shallot to some seasonings and you get great flavor.
Onion and Apple Butter Gravy
This apple and onion gravy gives you a rich, creamy flavor that you would wish that it was a soup. For best results, pour it over all of your fixings and potatoes. If there's any remaining, then you can easily reheat it for after Thanksgiving meals.
The Foolproof Gravy
This thanksgiving will be something special once you serve this foolproof gravy to your guests. Not only will your drippings give a flavor boost, but it can be whipped up in a hurry.
The Classic Gravy
When using a basic turkey gravy recipe, you can't help but want to turn it into a classic. That's why this basic turkey gravy will have your mouth watering before dinner gets served.
Seasoned Gravy with Turkey
This seasoned gravy is so tasty and smooth that it will instantly enhance your turkey. You can decide to have the gravy be a light color or let it brown a bit by mixing it into any fat that was reserved.
If you like this recipe, try these!
Print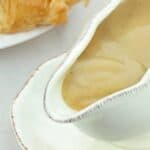 Basic Turkey Gravy
---
1

package neck, heart, gizzard from turkey giblets

1

medium carrot thickly sliced

1

medium onion thickly sliced

1

medium celery rib thickly sliced

½ teaspoon

salt

1

turkey liver

3 Tablespoons

fat from poultry drippings

3 Tablespoons

all-purpose flour

½ teaspoon

salt
---
Instructions
In a 3-quart saucepan, over high heat, place neck, heart, gizzard, vegetables, and salt in enough water to cover.
Heat to boiling. Reduce heat to low; cover and simmer 45 minutes.
Add liver and cook 15 minutes longer. Strain both into a large bowl; cover and reserve broth in the refrigerator.
To make gravy, remove the cooked turkey and roasting rack from the roasting pan. Pour poultry drippings through a sieve into a 4-cup measuring cup.
Add 1 cup giblet broth to the roasting pan and stir until the crusty brown bits are loosened; pour the deglazed liquid/broth into the 4-cup measure. Let the mixture stand a few minutes, until the fat rises to the top.
Over medium heat, spoon 3 tablespoons fat from the poultry drippings into a 2-quart saucepan. Whisk flour and salt into the heated fat and continue to cook and stir until the flour turns golden.
Meanwhile, skim and discard any fat that remains on top of the poultry drippings. Add remaining broth and enough water to the poultry drippings to equal 3½ cups.
Gradually whisk in warm poultry drippings/broth mixture. Cook and stir, until gravy boils and is slightly thick.