No classic Thanksgiving meal would be complete without stuffing. Or is dressing? Now, what in the world is the difference between stuffing and dressing? While both are bread-based aspects of a turkey dinner, they have some differences that are worth knowing about. Stuffing is typically cooked inside the turkey. Dressing is made in a casserole dish separate from the process of cooking the turkey. The major differences come down to how they are cooked, what they are cooked with, and how the flavor of the dish is impacted by the first two.
In this post, we'll talk about the history of these dishes. You'll learn about how they're made, what they're made with, and about some recipe options as well. For instance, in parts of the South, they use cornbread for the dressing instead of traditional breadcrumbs used in stuffing. Let's take a closer look at what makes these two aspects of a Thanksgiving dinner so different after all. By the end of this, you'll know exactly how to cook either. And maybe you'll bring a unique take on your next Thanksgiving dinner.
Stuffing vs. Dressing: What is The Difference?
If anything, the easiest comparison point is that stuffing is stuffed inside the turkey. Meanwhile, dressing is cooked separately and used to dress the turkey. How the two dishes are cooked, what they are cooked with, and the resulting flavors are what really set these two apart. Let's learn more about the origin and recipes for these classic Thanksgiving dishes.
What is Stuffing?
Stuffing is defined as "a seasoned mixture of food that is put inside another food and cooked," (via Brittanica). It is a combination of ingredients starting off with white bread (sourdough or gluten-free bread are also options). You'll need onions, fresh herbs, chicken broth, and eggs. These are mixed and then stuffed inside the turkey, which is primed to be cooked for the day. While inside the turkey, the stuffing also undergoes a cooking process. While it stews in the juices of the brewing bird, it can soak up all that flavor. The result is a stuffing that is perfectly cooked and fluffy inside the turkey cavity. It is called stuffing because that is how it is cooked.
History and Origin Of Turkey Stuffing
Most everyone has heard the history of the first Thanksgiving dinner, which took place in 1621. At the meal shared between the Pilgrims and the Wampanoag Indians at the Plymouth Colony, there is mention of a breaded stuffing included in the turkey (via The Smithsonian). However, an even earlier iteration of the dish has been found. A recipe was discovered on a clay tablet found in Iraq that dates back some 3,700 years! The ancient recipe describes a roasted bird served alongside flavored bread. And there are suggestions that the Romans also had a hand in the flavor combinations found in modern-day stuffing dishes (via The Wall Street Journal).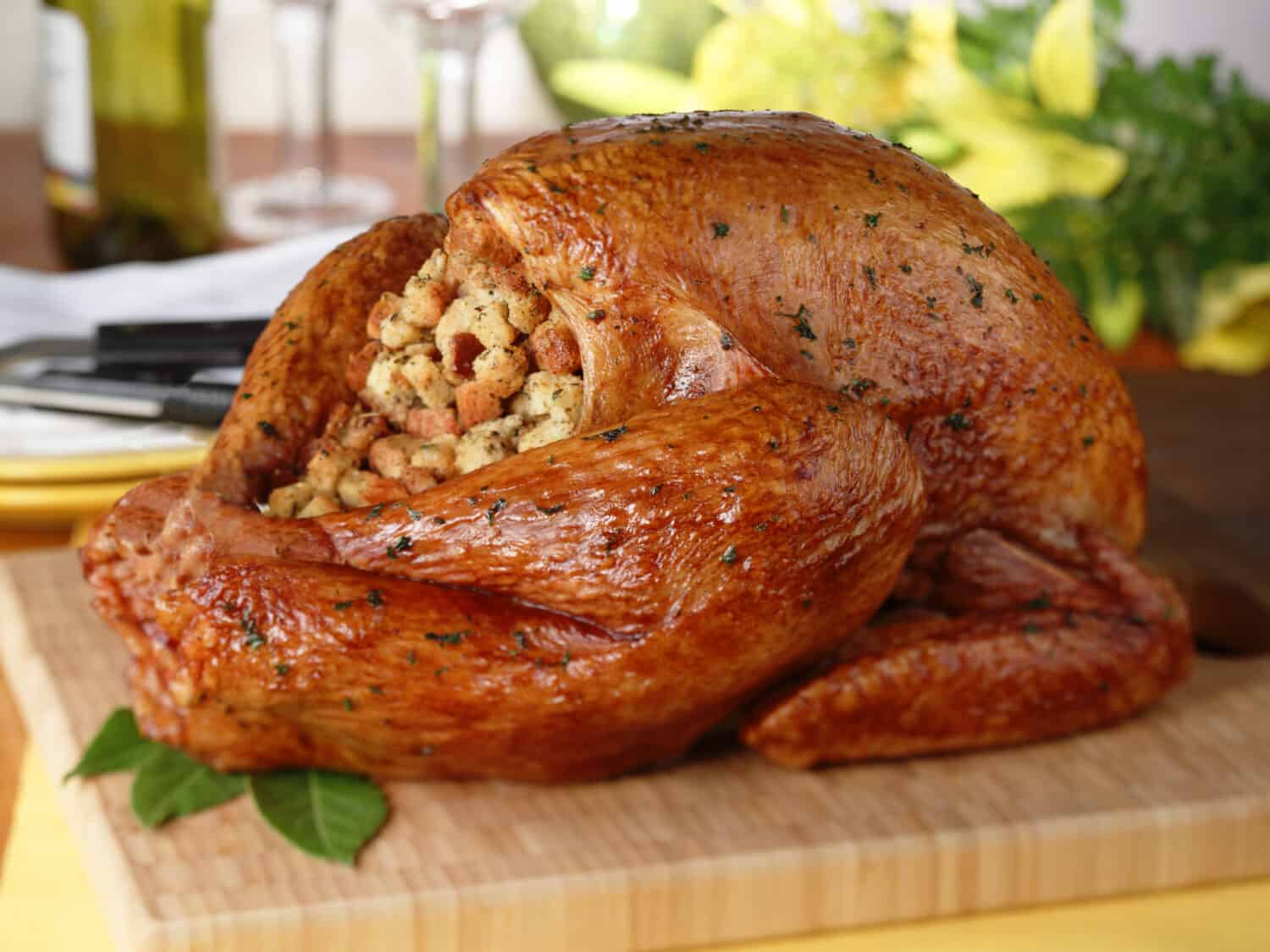 How Stuffing is Made
For an 8-10 person serving size, you'll need the following ingredients. Start with butter, and at least a pound of torn-up bread. You'll need chopped onions, garlic, celery, rosemary, parsley, sage, thyme, salt, pepper, chicken broth, and eggs. These will be mixed together to form the concoction that goes into the turkey for cooking.
As for the cooking part, you'll need to prepare your turkey for stuffing by cleaning and rinsing it first. Make sure it's dry before putting your turkey in the pan and preheat the over to 350º Fahrenheit. In a medium saucepan, combine your stuffing mixture with 4 tablespoons of butter. Youe stuffing can be made from scratch or bought at the store.
Allow the stuffing to rest in the buttery mixture for five minutes. Next, add in more butter alongside the celery, and chopped onion. Allrecipes recommends toasting individual pieces of the torn-up bread and adding them into the mix before seasoning. Finally, scoop the mixture into the cavity of the turkey. Rub the turkey with vegetable oil, and cover the turkey with foil for cooking.
What is Dressing? 
Moving on to dressing, which comes from the word "dress." According to Dictionary.com, the word "dress" originated in the 13th century, meaning "to arrange," or "prepare." The Thanksgiving dish is prepared outside the turkey, which differentiates it from stuffing. And while they have many of the same ingredients, there are some iterations specific to dressing worth knowing about. For instance, because the dressing isn't cooked in the cavity of the turkey, it needs to be hydrated differently while it's cooking.
History and Origin Of Turkey Dressing
Dressing likely evolved alongside stuffing, as the dishes are quite similar. Over the years, people have put their twist on turkey dressing using ingredients by region. For instance, in parts of the South, they use cornbread instead of white bread, which changes the whole texture of the dressing. For the cajun-style dressing, sometimes sausage is added. In the Southwest, they might add green chiles to the mix (via Slate). This is to say, that turkey dressing has evolved with those who cook it in their Thanksgiving dinners. How cool for a dish to reflect the culture of the people who continue to make it after all this time.
Popular Iterations Of These Recipes
As we mentioned above, there are many versions of turkey dressing and stuffing. Check out Aunt Grace's Cornbread Dressing recipe which swaps out white bread for cornbread. You'll need cornbread mix, hamburger buns, condensed cream of chicken, cream of celebrity soup, and 6 eggs, instead of 2. There's also the Herbed Wild Rice Dressing recipe, which includes red onion, apples, toasted walnuts, wild rice, and lemon juice, alongside all the regular suspects. Grits Dressing features flour, buttermilk, baking soda, evaporated milk, and three cups of uncooked grits. Finally, for a truly flavorful dressing recipe, check out this Italian Sausage Dressing with Marsala-Mushroom Gravy. You'll need heavy whipping cream, Italian sausage, sliced cremini mushrooms, and dry marsala powder to make this tasty dressing interaction. Check out more recipe ideas on Southern Living.
Also from our website:
Possible Alternatives To Stuffing Or Dressing
In terms of alternative ingredients or substitutes, the first consideration would be bread. If you're looking for a gluten-free option, you can easily swap out sourdough for a non-wheat based bread. Try out other kinds of bread, too, like cornbread or even challah to change the overall taste profile of the dish. Certain veggies are also interchangeable. Some recipes use green onions or red onions instead of yellow or sweet onions in the mixture. Some recipes use meat, which could be replaced for vegan or vegetarian options. Adding in some beyond burger alongside cornbread doesn't sound so bad! While these dishes may be traditional, you can very much make them your own. Happy next Thanksgiving dinner!
Stuffing vs. Dressing: Are They The Same Thing?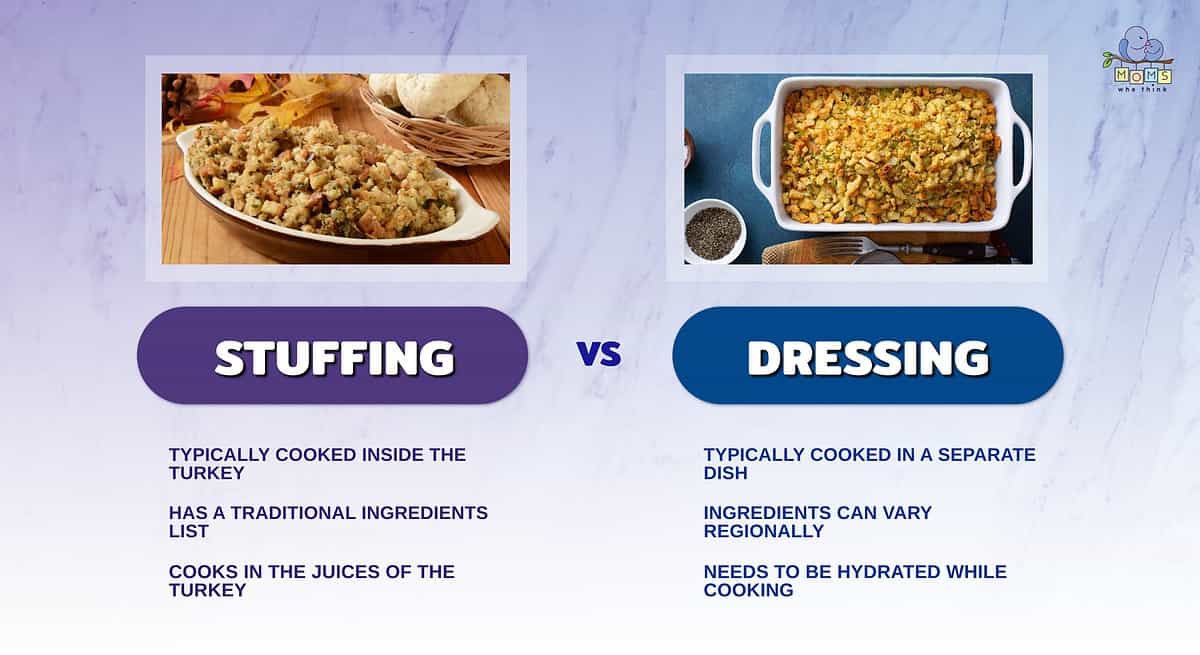 The short answer is, no. The longer answer is that, traditionally, these two dishes are cooked in diffferent ways, can use different ingredients, and result in very different dishes. Stuffing is typically cooked inside the turkey with traditional ingredients. Dressing is cooked in a dish separate from the turkey and can differ regionally, depending on what ingredients are added. If you choose to cook both, some people enjoy making a traditional stuffing and a less traditional dressing. Have some fun with it!
Print
Jalapeno Cornbread Stuffing
---
Author:

Total Time:

1 hour 5 minutes
4 cups

cornbread, crumbled

10

slices dried bread, cubed

1

pound mild Italian turkey sausage

1 1/2 cups

celery chopped

1 cup

chopped onion

1 1/2 teaspoons

salt

1 teaspoon

poultry seasoning

1/4 cup

jalapeno peppers seeded and chopped

2

eggs, slightly beaten

1 cup

turkey broth
---
Instructions
Preheat oven to 325°F.
In large bowl combine cornbread and bread cubes.
In large skillet, over medium-high heat, sauté sausage, celery and onion until sausage is no longer pink and vegetables are tender; combine with cornbread mixture.
Add salt, poultry seasoning, jalapeno peppers, eggs and turkey broth.
Spoon stuffing into lightly greased 3-quart casserole dish.
Bake, covered, at 325°F for 45 to 50 minutes.
Prep Time:

20 minutes

Cook Time:

45 minutes
The image featured at the top of this post is ©teleginatania/Shutterstock.com.