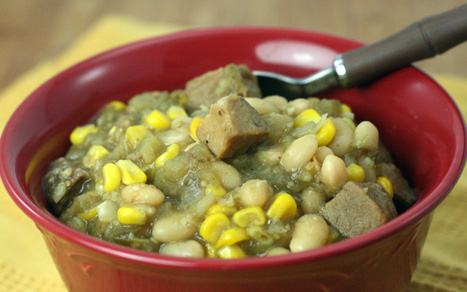 Spicy Chicken Chili Verde
Let's Get Ready for Baby!
Sign up for our monthly pregnancy email series, and you'll get regular updates on your baby's development, helpful timelines to get ready for their arrival, must-have baby needs and so much more! PLUS, you'll get instant access to the MomsWhoThink "Ultimate Guide to Baby Naming in 2022."
CLICK HERE
to get started!
Ingredients:
1 pound skinned and boned chicken thighs, cut into 1-inch pieces
1 tablespoon vegetable oil
1 medium onion, chopped
3 garlic cloves, minced
2 cups chicken broth
1 cup salsa verde
1 cup frozen whole kernel corn
1 teaspoon ground cumin
1 teaspoon hot sauce
½ teaspoon pepper
1 (15½ ounce) can cannellini beans, rinsed and drained
Directions:
1. Cook chicken in hot oil in a medium skillet over medium-high heat for 4 minutes or until browned, stirring often. Transfer chicken to a 4-quart slow cooker.
2. Add onion and garlic to drippings in skillet; sauté until vegetables are tender. Add broth, stirring to loosen particles from bottom of skillet. Add broth mixture to chicken in slow cooker.
3. Stir in salsa and next 4 ingredients. Cover and cook on low 10 hours.
4. Add beans. Mash beans in soup with a potato masher or back of spoon until desired consistency.