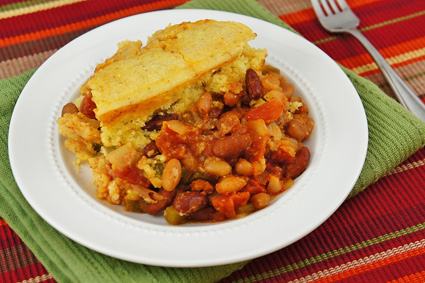 Corn Bread and Bean Casserole
Ingredients:
Filling:
1 medium yellow onion, chopped
1 medium green bell pepper, diced
2 cloves garlic, minced
15 ounces red kidney beans, rinsed and drained
15 ounces pinto beans, rinsed and drained
14 ounces diced tomatoes
8 ounces tomato sauce
1 teaspoon chili powder
1/2 teaspoon ground cumin
1/2 teaspoon black pepper
1/4 teaspoon hot pepper sauce
Topping:
1 cup yellow cornmeal
1 cup all-purpose flour
2 1/2 teaspoons baking powder
1 Tablespoon sugar
1/2 teaspoon salt
1 1/4 cups milk
2 eggs
3 Tablespoons vegetable oil
8 1/2 ounces cream-style corn, undrained
Directions:
1. Spray crockpot with nonstick cooking spray.
2. For filling: cook onion, bell pepper and garlic in large skillet over medium heat until tender. Transfer to slow cooker.
3. Stir in beans, tomatoes with juice, tomato sauce, chili powder, cumin, black pepper and hot pepper sauce.
4. Cover; cook on HIGH 1 hour.
5. For topping: combine cornmeal, flour, baking powder, sugar and salt in large bowl.
6. Stir in milk, eggs and oil; mix well. Stir in corn.
7. Spoon evenly over bean mixture in slow cooker.
8. Cover; cook on HIGH 1-1/2 to 2 hours or until corn bread topping is done.