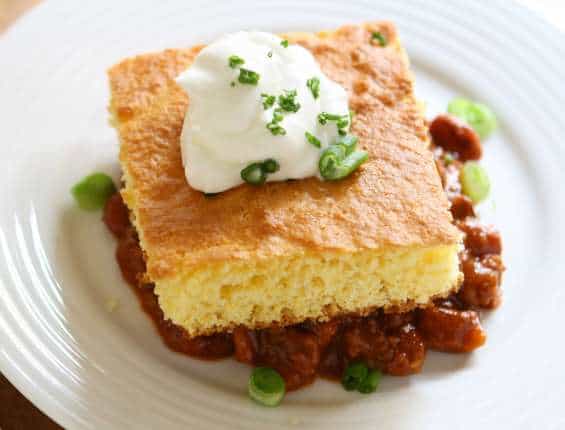 Baked Chili
Chili Ingredients:
1 pound ground turkey
1 onion, chopped
1 large green bell pepper, chopped
1 16 ounce can kidney beans, rinsed and drained
1 10 ounce package whole kernel corn, frozen, thawed
1 16 ounce can tomato sauce
1 16 ounce can diced tomatoes, undrained
1 4 ounce can chopped chilies
2 Tablespoons chili powder
1 teaspoon salt
1 teaspoon cumin
½ teaspoon sugar
½ teaspoon garlic powder
Corn Bread Biscuits Ingredients:
1 cup all-purpose flour
1 cup cornmeal
2 Tablespoons baking powder
⅛ teaspoon salt
1 egg
½ cup milk
½ cup sour cream
Directions:
1. In a Dutch oven over medium heat, cook beef, onion and green pepper until meat is no longer pink; drain.
2. Add remaining ingredients; bring to a boil, stirring occasionally. Reduce heat; cover and simmer for 10 minutes.
3. Meanwhile, combine flour, cornmeal, baking powder and salt in a bowl.
4. Beat egg, milk and sour cream until smooth; stir into dry ingredients just until moistened.
5. Transfer chili to an ungreased 13 by 9 by 2 inch baking dish.
6. Drop batter by heaping teaspoonfuls onto hot chili.
7. Bake, uncovered, at 400 degrees F for 15 to 17 minutes or until biscuits are lightly browned.