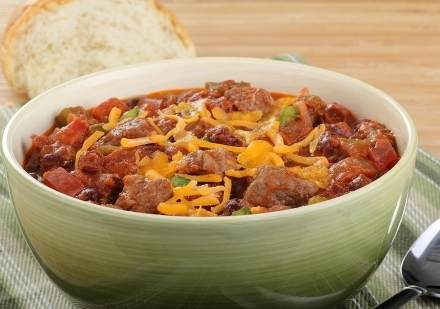 World Champion Chili
Ingredients:
2 ½ pounds sirloin cut into ⅜ inch cubes
2 Tablespoons vegetable oil
5 cloves garlic crushed into paste
1 ½ teaspoons seasoned salt
½ 8 ounce can Hunt's tomato sauce
½ 10 ½ ounce can beef broth
1 10 ½ ounce can chicken broth
8 Tablespoons Gebhardt's chili powder
1 teaspoon oregano
2 teaspoons cumin
2 teaspoons hot New Mexico chili powder, depending on heat desired
2 boiling onions, chopped
½ cup chopped yellow onions
⅛ teaspoon coriander powder
½ Tablespoon MSG * see note below as to why using this tiny amount makes a difference
1 teaspoon Tabasco sauce
Directions:
1. Brown meat 1 pound at a time in oil.
2. Drain and put in chili pot with chopped onions, beef broth, chicken broth, chili powder, oregano, cumin and chopped boiling onions.
3. Mix well and simmer for 2 hours then add crushed garlic, seasoned salt, tomato sauce, New Mexico chili powder, coriander and MSG.
4. Cook 20 minutes then add Tabasco sauce and use beef broth to thin. Salt to taste.
* Below is just one example of what we have found regarding the use of msg, but we felt that Sam put it best when he said:
Voted the Best Answer!
http://food52.com/hotline/23875-what-can-i-use-for-a-substitute-for-accent-contains-msg
Our article on MSG: