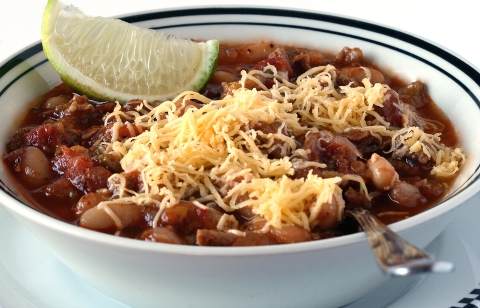 Healthy Turkey Chili Recipe
When it's cold and blustery, and you think you may never see Spring or get warm again, try our healthy recipe for turkey chili, it'll warm your soul. Using turkey instead of beef cuts the fat, but not the flavor in this cold weather favorite. All the good stuff you want in a hearty chili recipe is here, to deliver a flavor packed meal that will delight eveyone around the dinner table.
To make this recipe even better for you, try serving the chili over whole wheat pasta or brown rice, and use a low fat cheese on top. While the chili is cooking, throw together a quick salad, and you've got a complete, healthy meal that your family will love.
Ingredients:
1 pound ground turkey
3/4 cup onion, minced
2 Tablespoons margarine
3 cups water
1/2 teaspoon garlic powder
1 Tablespoon chili powder
1 Tablespoon dry parsley flakes
1 teaspoon paprika
2 teaspoons dry mustard
1 15 1/2-ounce can canned red kidney beans, drained
1 6-ounce can tomato paste
1/2 cup pearl barley
3/4 cup cheddar cheese, shredded
Directions:
1. In large sauce pan, cook turkey and onions in margarine until turkey is browned and no longer pink in color, about 9 minutes. Drain; return turkey and onions to pan.
2. Add remaining ingredients except the cheese to turkey mixture; bring to boil, stirring frequently. Cover, reduce heat, and simmer 30 minutes, stirring occasionally.
3. Uncover and simmer 30 minutes, stirring occasionally.
4. Serve over cooked macaroni.
5. Sprinkle 3 tablespoons of cheese over each serving of chili.
Makes 4 Servings, about 1-1/2 cups each
PER SERVING:
Calories 540
Total fat 26 grams
Saturated fat 9 grams
Cholesterol 104 milligrams
Sodium 579 milligrams