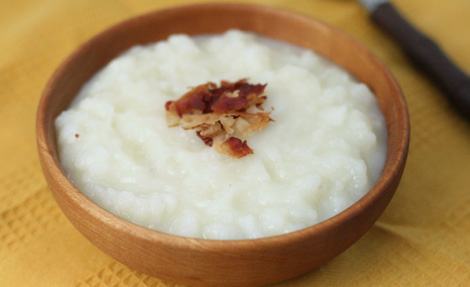 Healthy Potato Soup Recipe
Let's Get Ready for Baby!
Sign up for our monthly pregnancy email series, and you'll get regular updates on your baby's development, helpful timelines to get ready for their arrival, must-have baby needs and so much more! PLUS, you'll get instant access to the MomsWhoThink "Ultimate Guide to Baby Naming in 2022."
CLICK HERE
to get started!
The next time you get invited to a pot luck supper, whip up a big batch of this incredible potato soup. It's thick, rich, and comforting, especially on a cold evening when it gets dark so early, and you just want to snuggle under the blankets and sleep until Spring.
If you're feeling ambitious, or it's just too cold to leave the warmth and comfort of the kitchen, double or triple the batch and freeze the extra. Then when that big storm hits, and you don't want to leave the house to go to the grocery store, you can pull this healthy potato soup recipe out of the freezer and feel good that you're serving a healthy, hearty meal to your family.
Once the soup is ready to serve, sprinkle some bacon bits on top of each bowl for a little indulgence and flavor boost that won't add inches to your middle.
Ingredients:
3/4 cup (1 medium) onion, chopped
4 1/2 cups potatoes, peeled, diced
1 Tablespoon margarine
3 Tablespoons flour
1 quart whole milk
Directions:
1. Place onions and potatoes in sauce pan. Cover with water and bring to boil. Simmer until soft, about 10 minutes. Drain.
2. Melt margarine in saucepan. Add flour and stir until smooth. Heat to thicken.
3. Add onions and potatoes to milk mixture, and heat to serving temperature.
Makes 4 Servings, about 1 cup each, plus 4 servings for another meal
PER SERVING:
Calories 190
Total fat 6 grams
Saturated fat 3 grams
Cholesterol 17 milligrams
Sodium 325 milligrams