Chili is the perfect meal when you crave something hot and hearty to warm you up on those cold winter evenings. It's a hands-off meal that you're sure to have more than enough of, guaranteeing leftovers for a second meal or an evening snack.
For this recipe, we've added a lean makeover to this kitchen classic with chicken instead of ground beef. The chicken offers an opportunity for less grease and oil than ground beef but doesn't sacrifice any of the flavor. If you've only experienced chili with beef, give this recipe a try. It's amazingly different, healthier, and still the comforting chili everyone loves. Be sure to try some of our other chili recipes for more classic chili inspiration.
Chicken Chili Recipe Ingredients
2 Tablespoons vegetable oil
2 Medium onions, minced
1 Red bell pepper, cut into 1/2 inch pieces
6 Medium garlic cloves, minced
1/4 Cup chili powder
1 Tablespoon ground cumin
2 Teaspoons ground coriander
1 Teaspoon dried oregano
1/2 Teaspoon red pepper flakes
1/4 Teaspoon cayenne pepper
1 Teaspoon salt
2 Pounds ground chicken
2 15oz cans of dark red kidney beans, drained and rinsed
1 28oz can of diced tomatoes
1 28oz can of tomato purée
Water, as needed.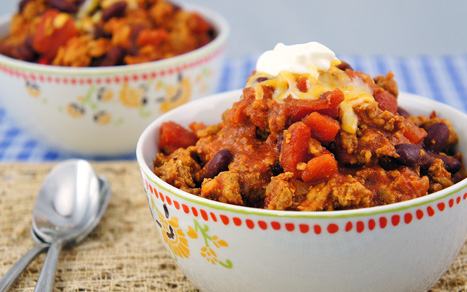 Chicken Chili Directions
1. Heat oil in medium heat until simmering.
2. Add onions, bell pepper, garlic, chili powder, cumin, coriander, oregano, pepper flakes, cayenne and 1 teaspoon of salt and cook (stirring often) until the vegetables are softened (about 10 minutes).
3. Increase the heat to medium-high. Stir in half of the chicken, about 1/2 pound at a time, and cook while breaking up any chunks with a wooden spoon until no longer pink.
4. Add beans, tomatoes and tomato purée and bring to a boil. Cover and simmer over low heat, stirring occasionally, for one hour.
5. Press the remaining ground chicken into a ball, then pinch off teaspoon sized pieces and stir them into the chili.
6. Uncover and continue to simmer; stirring occasionally, until the chicken is tender and the chili is dark and thickened slightly (about 40 minutes). If the chili begins to stick to the bottom of the pot, stir in 1/2 cup water and continue to simmer.
7. Season with salt to taste. Serve with sour cream and shredded Monterey Jack cheese.