Are you about to attend a baby shower? Maybe you are asking yourself, "What is the best style to wear to the festivities?" What you decide to wear to a baby shower depends on your preference, the type of baby shower, and who the person throwing it is. If you are wondering what to wear to a baby shower, take a look at these ideas to help you plan your next outfit as you step out in style! 
What is Your Style?
When planning what to wear to a baby shower, your style is the first thing you must consider. You do not want to wear something you are not entirely comfortable with. Therefore, if you love flowy dresses and feel very uncomfortable in business casual, don't try to force yourself to wear something you can't stand! With that said, many different fashion styles can be switched for one another and still allow you to feel comfortable. Do not be afraid to play with different styles to figure out exactly which one you love! 
What Type of Baby Shower is it?
The next question to ask yourself is, what type of baby shower are you attending? The most common type of baby shower is the in-person traditional shower. This is when a family member or friend throws a shower for the mom-to-be in a location where you meet in person.
Another popular baby shower idea, especially in recent years, is the virtual baby shower. During a virtual baby shower, you hop on the computer or phone and enjoy celebrating the mom-to-be this way! Some people even combine the two for a fun hybrid baby shower.
Other types of baby showers include:
Jack and Jill Baby Shower
Gender Reveal
Work Baby Shower
Sip and See
Baby Tea
Baby Sprinkle
Another question to ask yourself is what is the baby shower's theme, and who is throwing it? Particularly, if you have a laid-back mother-to-be who will be in jeans and a T-shirt, it will be appropriate to dress according to what she will wear. On the other hand, if the theme is a baby shower tea and you know the person throwing the baby shower will likely dress up, opting for a dressier attire may be a good idea!
What to Wear to A Baby Shower: Over 30 Ideas
Below are a variety of ideas to wear to a baby shower! They range from ideas for casual wear to casual chic, business, and more. There are also ideas for the different types of seasons to help you plan accordingly. Look at the ideas below to get your brain jogging and plan your best outfit! 
Go with a Casual Wear Outfit
If you know that the baby shower will be laid back and casual, opting for something simple will allow you to be comfortable and relaxed. A casual outfit can undoubtedly include anything that will be comfortable and appropriate to wear daily. Casual ideas for women include:
Wrap dresses
Sundresses
Jeans, a comfortable top, and boots or sandals
Summer dress and a cardigan
A skirt with a colored T-shirt
A casual style can be easy to throw together because it's likely you have something in your closet that will work! Casual styles can also be dressed up with jewelry, shoes, hats, or purses. This style lets you be practical and relaxed while looking trendy and put together.
Opt for a Minimalistic Outfit
A minimalistic outfit can be trendy and comfortable while simple enough not to distract from the mom-to-be. If your style is more minimalistic, you may enjoy wearing the following:
Plain sweaters
Long sleeve tops in a solid color
Silk tanks
Patterned shirts
Jeans
Blazer
Dress shoes
Dress pants
Solid color dresses
Wide leg pants
Leather pants with an oversized blazer
Tailored shorts
A minimalistic style includes basic, solid colors and often incorporates varying sizes for a trendy look or uses a layering effect.
Casual Chic Style is Cute and Stylish
Casual chic outfits are easy to assemble but can still make you look dressy. This is a fantastic style to wear to a baby shower because it is easy to put together but dressy enough that you do not look too dressed down. To put together a casual chic style, keep it simple. A few ideas include:
Wide-leg pants paired with an oversized sweater and boots.
Wide-leg pants with a cold shoulder tee.
Cami dresses with a long-sleeved shirt underneath.
Light jeans paired with a button-up solid shirt and simple gold jewelry.
Jeans, a patterned scarf, and a solid-colored blazer overtop a white tee.
White pencil skirt with an oversized solid-colored sweater. Pair it with timeless jewelry!
Jeans or jean shorts, solid-colored tee with an oversized sweater. Pair it with simple jewelry.
Business Casual Outfits Are Comfortable and Polished
Business casual can be an all-encompassing term for several pieces of clothing. In particular, the purpose of business casual is to be both comfortable and professional. Many people enjoy mixing and matching diverse outfit pieces to achieve a business casual look. Therefore, if you want to go business casual to the baby shower, a few different ideas are:
A business jacket paired with a flowy top and black dress pants complete the outfit with dress shoes of a solid color.
A trench coat overtop a dress.
Dress pants, a solid-colored sweater, heels, and simple gold jewelry.
More ideas for business casual outfits include: 
Trousers
Sweaters
Cardigans
Blazers
Neutral color suit skirt
Basic solid t-shirts
Versatile dress
Go With a Retro Outfit
Going retro will bring old styles into your wardrobe. Retro styles are both trendy and nostalgic. These styles include:
Bucket hats
Paisley dresses
Crocheted clothing
Floral print dresses
Thong sandals
Right now, 70's and 90's retro styles are returning to fashion and are relatively easy to dress in!
Pair a flower skirt, a solid shirt, and thong sandals together!
Opt for a comfortable paisley dress and solid sneakers.
Wear a pair of jeans and a crocheted top.
These are just a few ideas that can bring retro to the baby shower!
Bohemian Style Outfit Ideas
Bohemian style is a popular form of fashion that incorporates a free-spirit aesthetic. First, it blends bold and colorful patterns into your wardrobe. Secondly, the bohemian style is very feminine and often includes flowy materials and bright patterns. Some fashion pieces that are part of the bohemian style are:
Patterned dresses
Flowy skirts
Loose dresses
Bold jewelry
Hats
Belts
A few bohemian outfits to play around with are:
Long, patterned maxi dresses paired with a solid hat and handbag.
A long patterned skirt that flows, a plain t-shirt, and wedges.
Harem pants, a solid tank top, and sandals.
Go With an Artsy Style To Express Your Personality
An artsy style gives you room to experiment and express your personality. Subsequently, the whole concept behind an artsy style is freedom and creativity. Therefore, an artsy outfit on one person may be different from another person. Artsy outfit pieces can include:
Bright accessories
Print Leggings
Oversized tops
Belts
Bright tops and pants
Abstract imagery
Playful patterns
If your style is more artsy, there's no reason why you cannot incorporate your style to fit the theme of a baby shower!
Pair a bold, solid shirt with a jacket that has abstract imagery and a pair of jeans.
Wear printed leggings, a solid T-shirt, and patterned shoes.
Pair a jean jacket over a dress with playful patterns and a belt!
Wear jeans, a black T-shirt, and a brightly patterned kimono.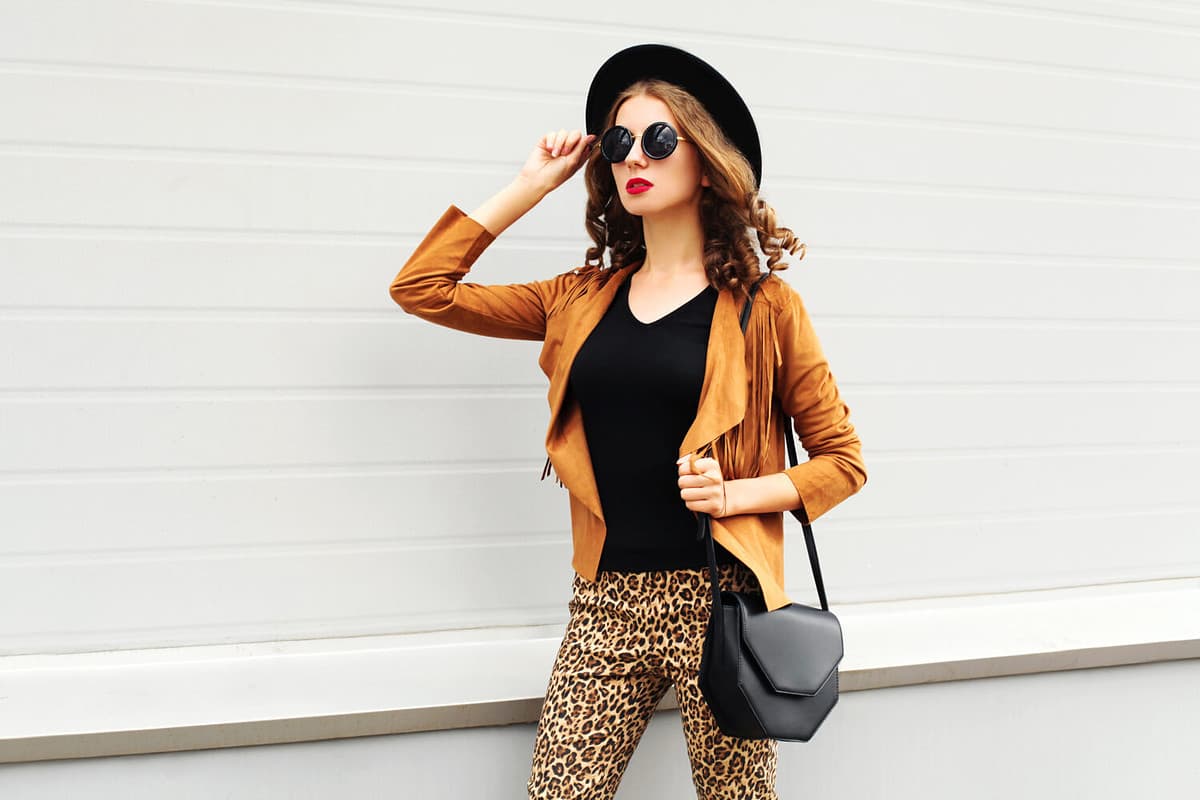 If You Love Feminine Outfits, Go Girly
If your fashion is on the girly side, you can take your outfit in a variety of ways when dressing for a baby shower! Girly fashion typically includes: 
Pink colors
Pastels
Frilly fabrics
Mini dresses and skirts
Cardigans
Lace
Ballet flats
Heels
Scarves
Flower dresses
A few different ideas to wear a baby shower are:
A flowery dress paired with a solid cardigan and ballet flats
A form-fitting mid-length dress and heels.
Jeans, a pink, flowy shirt, and heels.
A glittery skirt, solid shirt, with a jacket, scarf, and a belt!
Fall Outfit Ideas
What you wear to a baby shower can vary greatly depending on the season. Suppose the baby shower is in the fall. If this is the case, go with autumn colors like brown, orange, and yellow. Additionally, these can be in dress form or a cardigan paired with a solid t-shirt and jeans. Also, throw on a pair of solid brown boots, or wear printed pants with a solid orange or red sweater! 
Winter Outfit Ideas
Wear an oversized, stylish sweater and jeans if your baby shower is in the winter. Trench coats are another stylish choice, paired over long-sleeved dresses and leggings.
Colors like red, green, and brown are also great to wear in winter. In addition to these colors, wearing jeans with an oversized sweater, wedge boots, and a scarf is trendy and comfortable.
Spring Outfit Ideas
Spring is a great time to rock the flower patterns and light colors. Many women enjoy wearing comfortable wrap dresses that are pastel colors during the spring. Moreover, outfit choices can include sleeveless silk tops with khaki pants or maxi skirts with a flowy blouse.
Summer Outfit Ideas
You want to be just as comfortable in the summer with the warm weather. Therefore, some of the best outfits to go with will keep in mind the temperature! A flowy print skirt paired with a solid tank top is also a great option. More choices include a cold shoulder crop dress, a flower summer dress, or a solid romper. These outfits will make you feel comfortable and stylish when rolling into your next baby shower! 
One Last Note
The outfit you choose to wear to your next baby shower depends entirely on your style and the type of shower you attend. Many fashion trends and ideas can work for your specific style! Do you love girly clothes or prefer something more business casual? Would you rather rock the bohemian style, or do you enjoy simplicity? Regardless of your choice, with the ideas on this list, you can express your style while enjoying celebrating the new baby and mother-to-be!
Baby Shower Posts
The image featured at the top of this post is ©gpointstudio/Shutterstock.com.