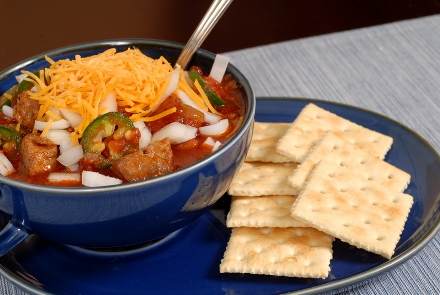 Chili con Carne
Let's Get Ready for Baby!
Sign up for our monthly pregnancy email series, and you'll get regular updates on your baby's development, helpful timelines to get ready for their arrival, must-have baby needs and so much more! PLUS, you'll get instant access to the MomsWhoThink "Ultimate Guide to Baby Naming in 2022."
CLICK HERE
to get started!
Chili Recipes
Ingredients:
1 lb. pork
1 cup red chili sauce
1 Tablespoon flour
1/2 cup water
2 cloves garlic (large)
1/4 teaspoon oregano
1 teaspoon cumin
1/4 teaspoon coriander
1 teaspoon salt
Red Chili Sauce Ingredients:
12 pods red chili
2 cup water
1 teaspoon salt
Directions for Sauce:
1. Place chili pods and salt in water. Bring to a boil.
2. Reduce heat. Steam 15 minutes.
3. Place everything in blender when cooled slightly.
4. Blend and then strain through sieve.
Chili con Carne Directions:
1. Cut pork into bite sized cubes and fry.
2. Add flour, stirring constantly. Add Red Chili Sauce and water to make gravy.
3. Add garlic and spices; cook until pork is tender (add water if it begins to get dry). Serve in bowls garnished with jalapeno and cheese.