Grab your FREE copy of one of our most popular and engaging activity packets!
Whether you're in the classroom or keeping your little ones busy at home these days, we have fun, engaging, and FREE printable activity for your kiddos to enjoy. To snag and instantly download you copy,
just CLICK HERE
!
There's nothing like a spicy, hot bowl of chili to keep us warm. It's filling, comforting and it has a great spicy flavor that makes it somehow exciting and daring.
Anyone that has eaten or prepared chili knows that there are several ways it can be made. It can be made with or without beans, various vegetables and seasonings can be added…and the list goes on.
The recipe we have here is for a meaty, hearty chili that has a huge list of ingredients that are guaranteed to please the body and soul.
Hearty Chili Recipe
If you have any doubt of how hearty this chili is, here is the huge list of ingredients:
Ground round
Garlic
Onions
Peppers
Celery
Kidney beans
Tomatoes
Cheese
Tomato sauce
And that doesn't include the vast array of seasonings like bay leaf, chili powder, sugar, cloves, salt, pepper and red wine. Oh, and don't forget to top it all with a hefty helping of sour cream!
Although the recipe requires a lot of ingredients, it isn't to difficult to make.
Start by browning the meat. Prepare the veggies and add them. Then add beef and seasonings.
Cover and simmer for 1 ½ hours then add red wine and simmer another 30 minutes.
Serve topped with sour cream and cheese.
Although these ingredients are enough to make a hearty chili, there are also many ingredients you can add that you may have never even thought of.
These include:
Chocolate: Chocolate can provide a deep, complex flavor and luxurious texture to your chili. Add cocoa powder or melt in an entire square of dark chocolate to achieve the delicious taste you are after.
Sweet Potatoes: Sweet potatoes are a great source of vitamins and minerals and they can also make the perfect addition to your chili. The sweetness contrasts with the heat and they thicken the chili without making it heavy or overly starchy.
Balsamic Vinegar: The acidity of the vinegar does wonders when it comes to waking up your chili and brightening the flavors. Just add a few splashes before you serve it to enjoy the touch of flavor it adds your meal.
Thick Chili Recipe
If you like chili that has a nice, thick consistency, there are several things you can do to add to the texture. Here are some ideas:
Simmering: Simmering the chili will evaporate the excess liquids that can make your chili thin. It also gets you a stronger, more concentrated taste without jeopardizing the flavor.
Add Flour: There are several types of flour and they can all be used to add thickness to your chili. Start by mixing ¼ cup water with 2 tbsp flour. Mix them well so there are no lumps. Then add them to the chili until it comes to a boil stirring regularly to ensure it doesn't start lumping.
Cornstarch: Like flour, cornstarch should also be combined with water before being added to thicken chili. Mix 1 tbsp. cornstarch with 1 tbsp cold water. Stir until it boils. Let simmer to make sure the cornstarch dissolves completely and serve.
Cornmeal: To thicken chili with cornmeal, simply add 2 to 3 tbsp and let the chili simmer for an additional 5 to 10 minutes.
Emulsifiers: These are food additives used for mixing two or more liquids that usually do not mix well. If you use an emulsifier to thicken your chili, all you will need to do is add one or two teaspoons of it and stir for a bit.
Now you have all you need to know to make a thick, hearty bowl of chili for your family. Bon appetit!
If you enjoyed this recipe, make sure to check out our Cheese Bread Recipe and our Blueberry Bread Recipe.
Print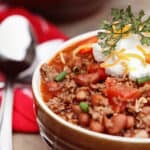 Mama's Belly Filling Chili Recipe
---
Author:

Prep Time:

30 Minutes

Cook Time:

2 Hours

Total Time:

2 Hours, 30 Minutes
Description
The recipe we have here is for a meaty, hearty chili that has a huge list of ingredients that are guaranteed to please the body and soul.
---
2 Tablespoons

vegetable oil

3

pounds chopped ground round

2

cloves garlic, minced

1 ½ cups

chopped onions

1 cup

chopped green peppers

1 cup

chopped celery

2

(16 ounce) cans kidney beans, drained

2

(14 ½ ounce) cans diced tomatoes in juice

1

(15 ounce) can tomato sauce

1

bay leaf

1 Tablespoon

chili powder

1 Tablespoon

sugar

½ teaspoon

ground cloves

1 teaspoon

salt

½ teaspoon

freshly ground pepper

1 cup

red wine
Grated cheddar cheese for serving
Sour cream for serving
---
Instructions
Sauté the ground round in the vegetable oil until browned, about 10 minutes.
Add the garlic, onions, peppers, and celery and cook until the vegetables are soft, 8 to 10 minutes.
Add the beans, tomatoes (with juice), tomato sauce, bay leaf, chili powder, sugar, cloves, salt and pepper. Stir well.
Cover and simmer over low heat for 1 ½ hours.
Add the red wine and simmer another 30 minutes.
Serve in large bowls topped with grated cheese and sour cream.
Category:

Main Course

Method:

Simmering

Cuisine:

Tex-Mex
Keywords: hearty chili recipe, thick chili recipe