As parents, we often find ourselves on a never-ending quest to discover new and exciting dishes that not only taste great but are also a hit at the dinner table. Today, we're going to explore the sizzling showdown between two popular Mexican cuisines: chipotle chicken and pollo asado. These two chicken dishes sound similar, so what sets them apart?
The biggest difference between these two cuisines is the ingredients used and how they are prepared. Chipotle chicken offers a smoky, spicy flavor profile and is often marinated before grilled, whereas pollo asado has a citrusy, tangy taste and is often char-grilled on an open flame.
Whether you're a fan of smoky spices or crave a zesty citrus kick, we've got you covered. Let's dive in and take a closer look at the difference between these two popular types of chicken dishes!
Chipotle Chicken vs. Pollo Asado: What are the Differences?
While both of these dishes are inspired by Mexican culture, they have different regional influences. They also have different flavor profiles and are prepared in varied ways. Chipotle chicken stands out with its smoky and spicy flavor, thanks to the inclusion of chipotle peppers and adobo sauce in its marinade. On the other hand, pollo asado shines with its citrusy and tangy profile, achieved through the use of citrus juices, garlic, and spices.
Let's take a closer look at each of these chicken dishes.
What is Chipotle Chicken?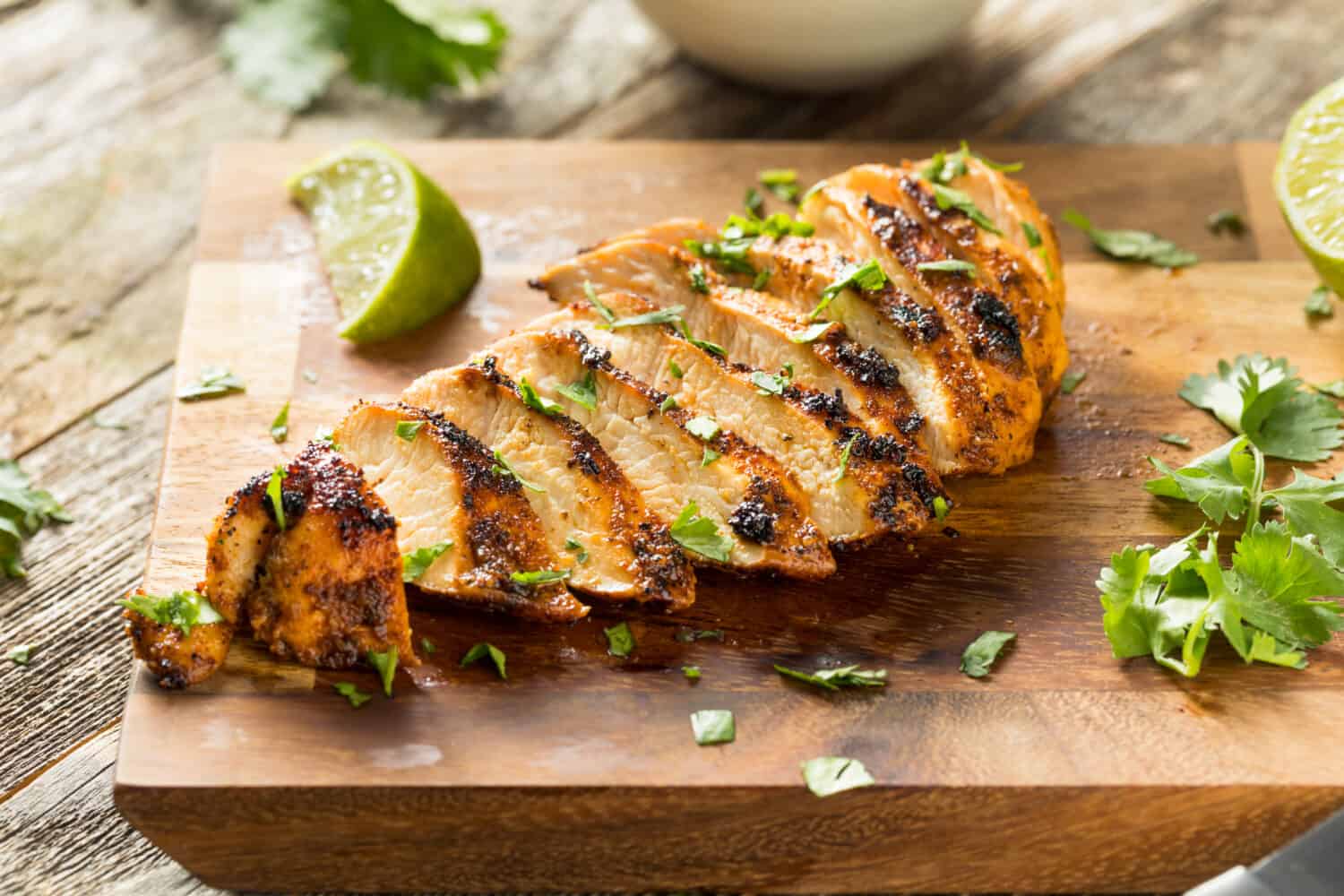 Chipotle chicken is a delicious and flavorful dish that takes inspiration from Mexican cuisine, particularly the use of chipotle peppers and adobo sauce. This type of chicken has become popular in Tex-Mex cuisine and is widely popular in America.
Here's a more in-depth look at Chipotle chicken.
Origin
The origin of chipotle chicken can be traced back to Mexican cuisine, specifically the culinary traditions of the country. Chipotle peppers themselves have a long history in Mexican cooking. According to Chef Gourmet, the word "chipotle" comes from the Nahuatl language, spoken by the Aztecs, and it translates to "smoked chili."
Chipotle chicken, as a specific dish, likely emerged as cooks and chefs experimented with using chipotle peppers and adobo sauce to marinate and flavor chicken. While the exact origin of chipotle chicken as a specific recipe is difficult to pinpoint, it's a widely popular dish in Mexican cuisine and over time, has made its way into Tex-Mex and American cuisine.
Flavor
Chipotle chicken is known for its smoky and spicy flavor. It is marinated with a mixture that often includes chipotle peppers, adobo sauce, garlic, cumin, and other spices. The chipotle peppers are the star of the show and contribute to the smoky and mildly spicy taste of the chicken.
Ingredients Included
As mentioned, the most important ingredient in chipotle chicken is the chipotle peppers. Chipotle peppers are smoke-dried jalapeño peppers that are known for their distinctive smoky flavor and moderate heat. They are often sold in canned form, packed in a flavorful adobo sauce made from a blend of tomatoes, vinegar, spices, and sometimes additional peppers. This adobo sauce acts as a marinade and adds a rich and tangy dimension to the chicken.
Cooking Method
To prepare chipotle chicken, boneless chicken pieces, such as chicken breasts or thighs, are typically marinated in a mixture that includes chipotle peppers, adobo sauce, garlic, cumin, and other spices. The chicken is allowed to soak in the marinade, absorbing the flavors and developing a rich and complex taste.
Once marinated, the chipotle chicken can be cooked using various methods, including grilling, baking, or pan-frying. Grilling the chicken adds a smoky char and enhances the overall flavor while baking or pan-frying can also yield delicious results. The chicken is cooked until it reaches the desired level of tenderness and is often served with sides like rice, beans, tortillas, or as a filling for tacos, burritos, or salads.
How to Make Chipotle Chicken at Home
Looking to create this delicious chicken dish for your next family meal? Good news! Chipotle chicken is a delicious and easy recipe you can make in your own kitchen. While there are variations of the exact spices needed for this dish, Taste of Home suggests the following ingredients:
Adobo sauce from canned chili peppers in adobo sauces
Spices, such as chili powder, cumin, oregano, pepper, and salt
Extra virgin olive oil
Apple cider vinegar
Garlic
Red onion
Boneless, skinless chicken thighs
Combine all ingredients except for the chicken to make the marinade. Then, allow the chicken to marinade in the sauce for at least eight hours or overnight. After marinating, the chicken can be grilled or sauteed. Chop the cooked chicken and use it in tacos, burritos, or bowls to your liking. Enjoy!
What is Pollo Asado?
Like chipotle chicken, pollo asado is a flavorful and vibrant dish that originates from Mexican cuisine. Unlike chipotle chicken, however, pollo asado's flavor focuses on a citrusy blend of ingredients along with other spices.
Here's everything you need to know about this delicious and fresh chicken dish.
Origin
According to Culinary Depot, pollo asado originates from Mexican cuisine, where it's been a staple for centuries. It's thought to have its origins in the Yucatán peninsula before it was brought to Puerto Rico during the Spanish reign. Traditionally, this dish is grilled either over an open flame or a charcoal grill.
Pollo asado is heavily influenced by the flavors and cooking techniques of the region which it originated from. The use of citrus juices, herbs, and spices in marinades is a characteristic feature of northern Mexican cuisine, which showcases the vibrant and bold flavors associated with the area.
As Mexican cuisine gained popularity worldwide, so did pollo asado. Today, it can be found in Mexican restaurants and various international culinary scenes. It's even been introduced into Chipotle's commercial chain restaurants as a protein option for burritos, tacos, and bowls.
Flavor
Pollo asado is known for its citrusy and tangy flavors. It is typically marinated with ingredients like citrus juices (such as lime or orange), garlic, herbs (such as oregano), and various spices. The marinade gives the chicken a bright and refreshing taste.
Ingredients Included
As mentioned, the main ingredient in pollo asado is the citrusy blend of juices combined with various spices. Lime and orange juice are most commonly used, and herbs like oregano and cilantro are often combined to make the delicious marinade.
Cooking Method
Pollo asado is traditionally cooked on a grill or open flame, which imparts a distinctive charred flavor to the chicken. The grilling process helps to achieve crispy skin and tender meat. However, it can also be baked or pan-fried if grilling is not an option.
Additionally, traditional pollo asado tends to be cooked as a whole chicken, though it can also be made using chicken thighs, breasts, or other parts of the chicken.
How to Make Pollo Asado at Home
Pollo asado is also an easy recipe to make at home. The Food Network (via Ree Drummond) indicates you'll need the following ingredients:
Olive oil
Orange, lemon, and lime juice
Salt, pepper, and garlic
Chicken legs
Onions
Combine the juices and spices to create a marinade, then pour the marinade over the chicken, onions, and juiced pieces of fruit. Allow to sit for at least two hours, though longer is better. Once marinaded, grill the chicken legs and serve with tortillas, refried beans, pico de gallo, and salsa.
Can you Substitute Chipotle Chicken for Pollo Asado?
Yes, these chicken dishes are easy to substitute! Depending on your preferences and favorite flavors, you can easily swap out one for the other.
Keep in mind, however, that chipotle chicken has a higher level of spice to it due to the chipotle peppers that are used. Pollo asado, on the other hand, has more of a citrusy and fresh flavor. Swapping one for the other will likely alter the taste of your dish.
Because both of these meals have chicken as the main ingredient, you can also alter your seasonings and recipes to your liking. You can also decide if you want to grill, bake, or pan-fry the chicken as you prepare it.
Other Tex-Mex Recipes
Print
Mexican Chicken Casserole Recipe
---
Author:

Total Time:

50 minutes
Description
Get Mexican flair on the table with this easy Mexican Chicken Casserole. With only 6 ingredients, it comes together in no time. Filled with creamy cheese and layered with Doritos, this will easily satisfy even picky eaters.
---
6

chicken breasts, boneless

10 oz

. Velveeta cheese

1

can cream of mushroom soup mixed with 1 cup milk

1

can Rotel tomatoes

1

bag Doritos tortilla chips
---
Instructions
Boil chicken until cooked throught.Cut into bite sized pieces.
Combine Velveeta, soup mixture and tomatoes; bring to a boil.
Add chicken and simmer 5-10 minutes, stirring often.
Place a layer of Doritos in long casserole dish, then add a layer of the chicken mixture.
Add another layer of chips, another layer of the chicken mixture, ending with chips on top.
Bake at 350 degrees F for 30 minutes.
Prep Time:

15 Minutes

Cook Time:

35 Minutes

Category:

Main Course

Method:

Baking

Cuisine:

Tex-Mex
Keywords: mexican chicken with doritos and velveeta, chicken taco casserole
Final Thoughts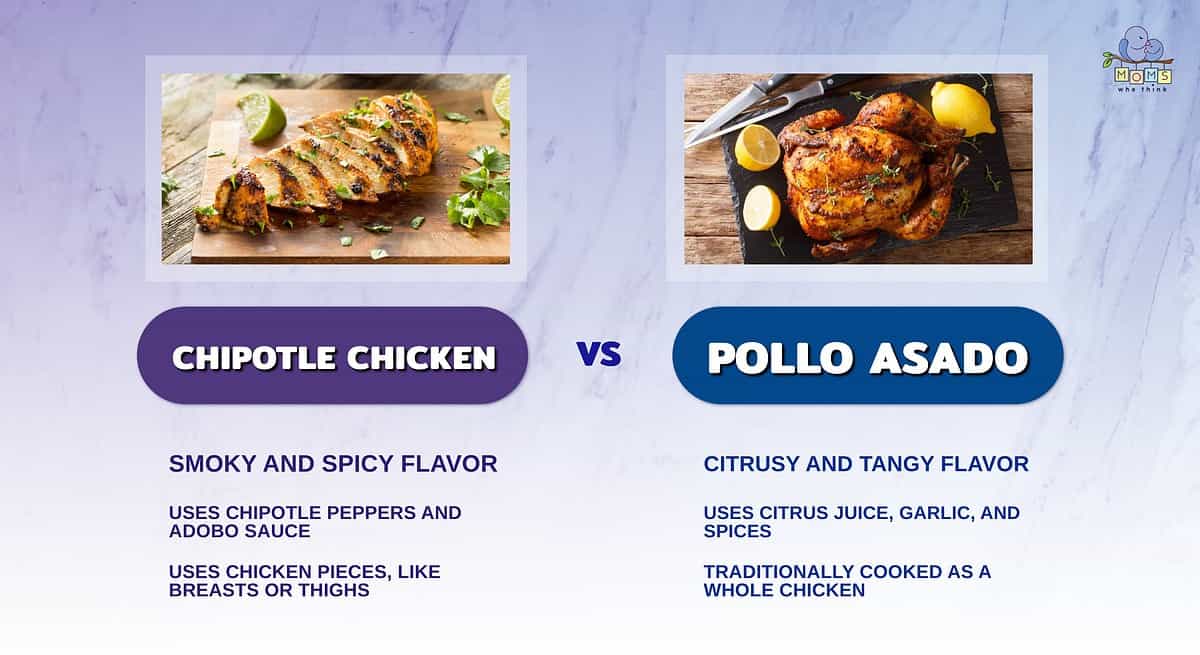 Chipotle chicken has a smoky and spicy flavor, while pollo asado has a citrusy and tangy flavor. It's important to keep these flavor differences in mind if you decide to swap the dishes.
Pollo asado uses citrus juice, garlic, and spices in the recipe. Chipotle chicken, meanwhile, uses chipotle peppers and adobo sauce. These differences in ingredients give both chicken dishes their own unique flavor profiles.
Pollo asado can be prepared in pieces, but traditionally a whole chicken is used. Chipotle chicken, meanwhile, uses chicken pieces, such as breasts and thighs.
In conclusion, chipotle chicken and pollo asado are two distinct and delicious Mexican-inspired chicken dishes that bring unique flavors to the table. Chipotle chicken entices with its smoky and spicy allure, while pollo asado delights with its tangy and citrusy flavor. Whichever option you choose at your next family meal is sure to be delicious!
The image featured at the top of this post is ©Julia Mikhaylova/Shutterstock.com.