If you are a fan of heat and spice-worthy dishes, chances are you know what chicken curry and chicken tikka masala are. Both of these dishes are full of flavor, spice, and heat. They have plenty of similarities between the two. This means it can be easy to mix them up. Although they are similar in cooking styles and flavors, there are actually telling differences between the two. Nevertheless, what exactly is the main difference between chicken curry and chicken tikka masala? Chicken curry is milder in flavor. Also, chicken masala has a thicker and creamier sauce. The differences do not stop there. In this article, we will explore the rich flavor of the two dishes and what sets them apart.
Chicken Curry vs. Chicken Tikka Masala: What are the Differences?
Although both dishes are prevalent as spicy and heat-worthy, there are a few differences. The differences lie in flavor, appearance, texture, and structure. One of these dishes dials up the spice. They are also recognizable by their thicker sauce and orangish hue. Which one is it exactly?
Let's take a look below at each difference in depth.
The Flavors of Chicken Curry and Chicken Tikka Masala
Both of these dishes are flavorful and spicy. If you are a fan of spice, enjoying either one of these dishes may be an ideal dinner! However, chicken tikka masala is the spicier of the two. In contrast, chicken curry is milder in flavor than chicken tikka masala. The latter turns up the heat and spice. This may be hard to fathom for someone who doesn't necessarily like spicy foods, but it's true! The spices in both of these dishes do an excellent job of bringing flavor to life and exploring different tastes.
Chicken tikka masala also has a creamier and thicker texture, adding to the intense flavor. The flavor is equally distributed throughout the entire dish. When it comes to chicken curry, on the other hand, parts of the dish will have more flavor and spice than the next.
The Texture of Chicken Curry
Chicken curry is smooth, like chicken tikka masala. However, it is not as creamy. It tends to be greasier because more oil is added to the sauce. Also, the sauce is not equally distributed among the vegetables and meat. This means the intensity of the spice and heat will vary with each bite. Some people enjoy the surprise! Others would rather know how hot each bite will be. The cream base for chicken curry is typically thinner as well.
The Texture of Chicken Tikka Masala
Chicken tikka masala is known for its thick and creamy orange gravy. The gravy sauce is evenly distributed over the chunks of meat and vegetables. Also, this dish is very silky, smooth, and thick. If you are trying to figure out which one is which, you can identify chicken tikka masala based on the gravy-like texture prevalent in the sauce.
Nutritional Profile
When it comes to the nutritional benefits of the two, they are very similar. However, there are some key differences. Take a look at the nutritional profile of both chicken curry and chicken tikka masala below.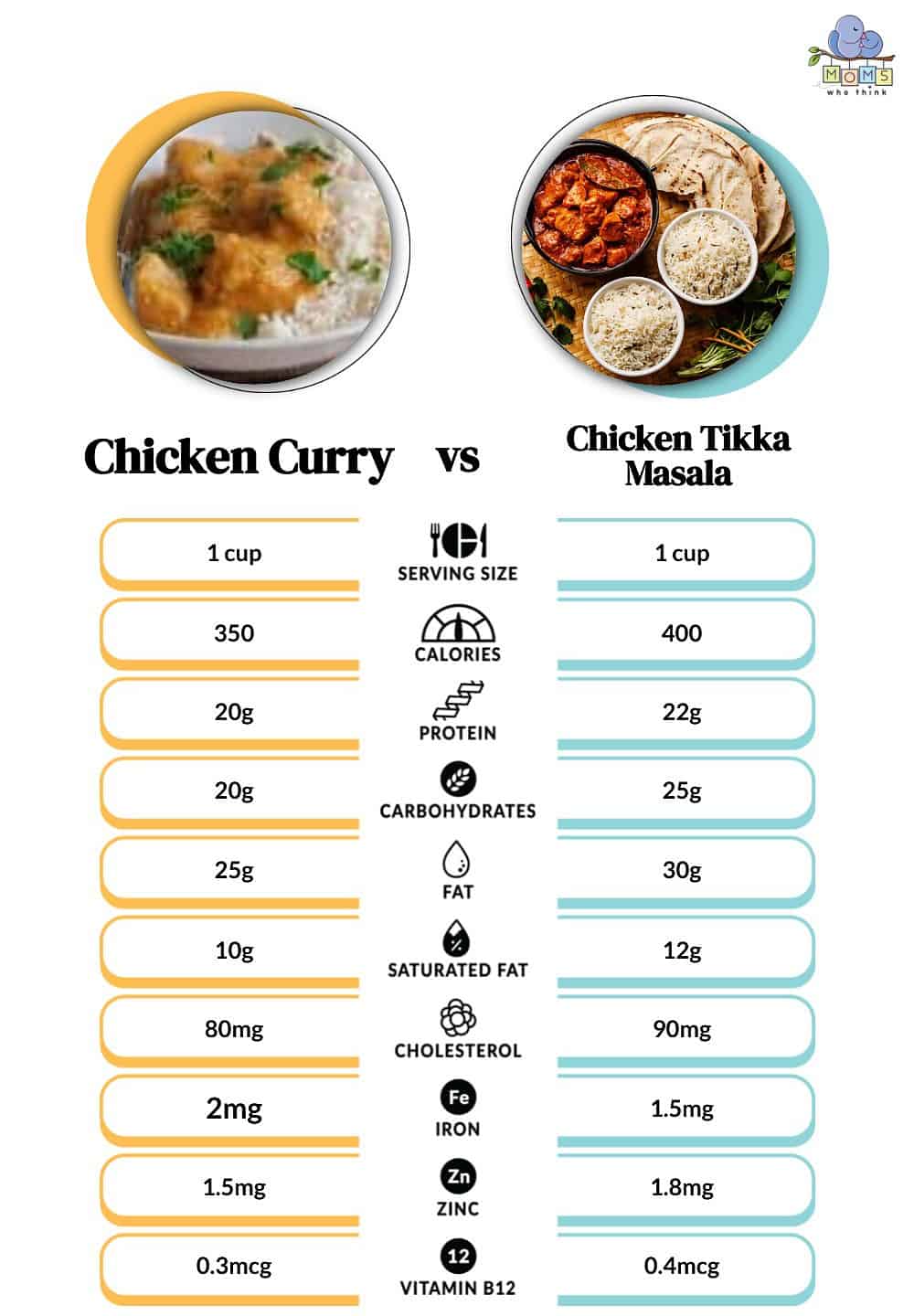 What is Chicken Curry?
Chicken Curry originated in the Indian subcontinent. It is a popular dish in Southeast Asia, Japan, Great Britain, and the Caribbean.
Now that we know where it originated, what exactly is chicken curry? There are many varieties of this spicy dish. However, the most basic definition is chicken stewed in an onion and tomato base sauce. The sauce is made with spices, including onions, ginger, garlic, powdered spices, and tomatoes. The chicken and whole spices are also heated in oil and then covered with the sauce.
In South India, it is popular to use coconut milk as a thickener for chicken curry.
Chicken curry can be a vegetarian dish. However, it would lose the title of chicken curry and thus become vegetable curry. Regardless, the meat and vegetables are cooked in curry spice and sauce.
Chicken curry contains more oil than chicken tikka masala and can be creamier and greasier. The dominant spice in chicken curry is typically turmeric. Yet, it can also contain coriander, chili peppers, and cumin.
The color of chicken curry is light brown or ocher. It is also important to stir the chicken curry often to mix the oil into the sauce. Chicken curry has a rich and robust flavor that is also creamy and soft.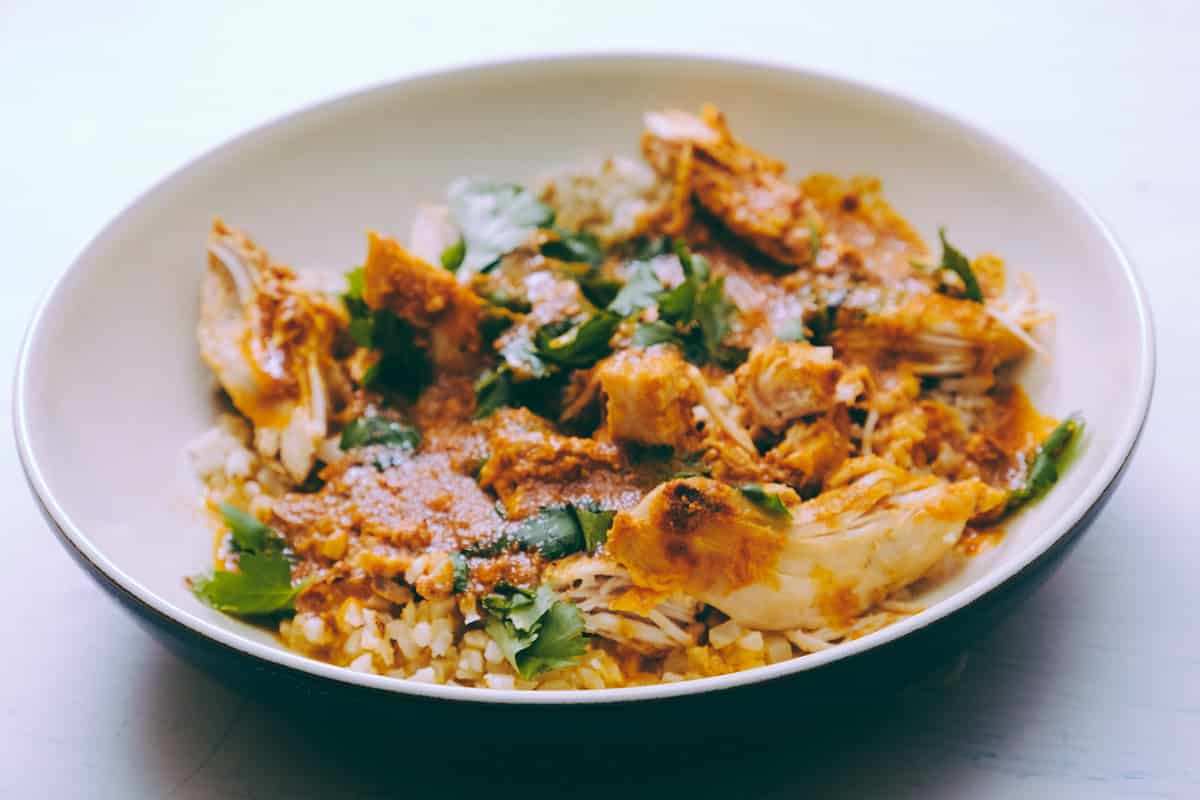 What is Chicken Tikka Masala?
Chicken tikka masala is known for its creamy, thick sauce and chicken chunks. It has roasted marinated chicken and a spiced sauce. Chicken tikka masala also cooks with roasted vegetables and tomatoes. In fact, although chicken curry is popular for being spicy, chicken tikka masala has more heat. Another difference between the two lies in their appearance. The color of chicken tikka masala is orange.
The consensus is that Great Britain was the one who made chicken tikka masala popular, although the origins are actually unknown. This spicy dish has many different variations. However, one thing is always true: it has a creamy and thick sauce that is flavorful and spicy.
One of the most common ways to make the sauce is with tomato and coriander. Also, the chicken often marinades in spices and yogurt. By all accounts, chicken tikka masala is similar to the dish butter chicken. Adding chicken tikka masala to a chicken curry is also possible to make the dish even more spicy and creamy.
Tikka means bits or pieces. This is only fitting, considering the chicken tikka masala gravy has chunks of meat. This is one of the most telling characteristics of this spicy dish.
If you enjoy flavor and spice, you will hit the jackpot with chicken tikka masala; although there are many variations, this dish has a fantastic combination of spices. These include:
Nutmeg
Cinnamon
Cumin
Paprika
Turmeric
Ginger
Garlic
Black Pepper
The flavor of Chicken Tikka Masala can be described as zesty, hot, and salty. The heat is excellent if you love hot and spicy dishes.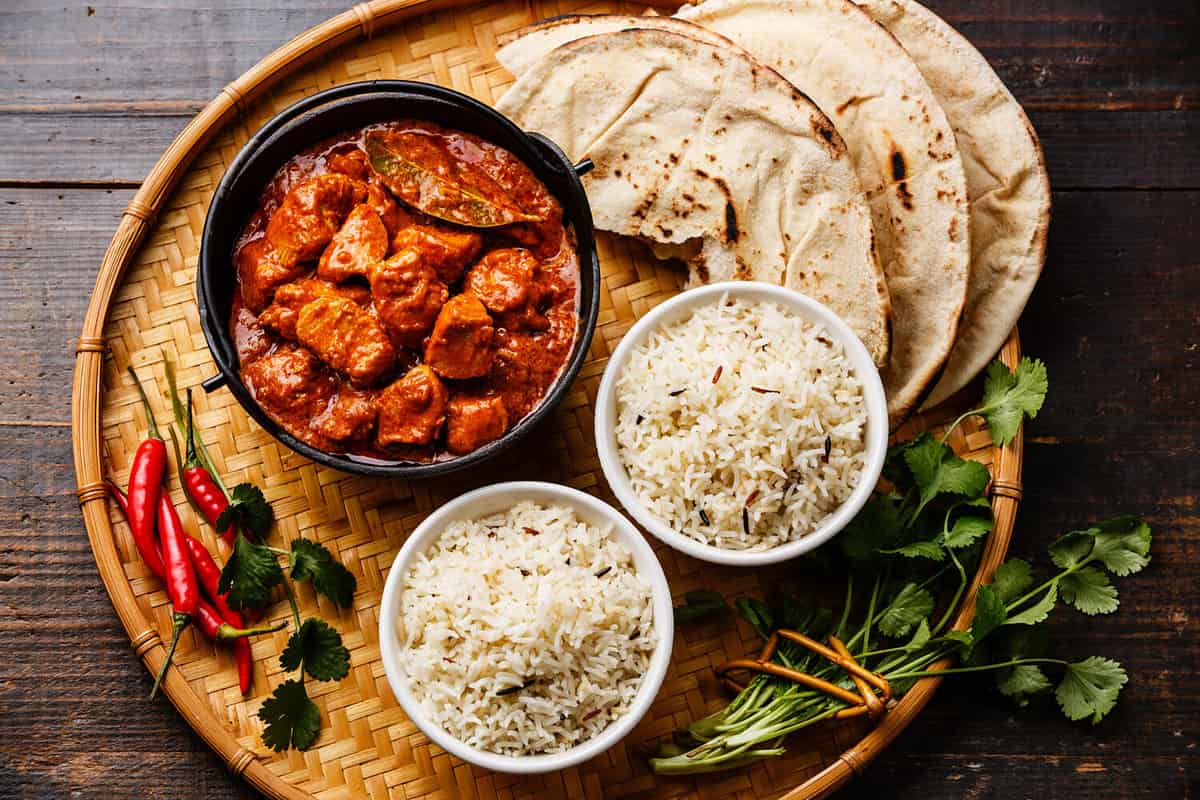 Can You Substitute Chicken Curry for Chicken Tikka Masala?
Although they are very similar, chicken curry and chicken tikka masala are different dishes. The flavor profile of both will vary depending on the recipes. It is not common to substitute one for the other. However, adding chicken tikka masala to chicken curry is possible to dial up the heat and add a creamier texture.
In Conclusion
Chicken curry contains more oil than chicken tikka masala.
Chicken tikka masala is quite creamy, but is usually less creamy and greasy than chicken curry.
Chicken curry has a rich and robust flavor, while chicken tikka masala has a hot and salty flavor.
Chicken curry and chicken tikka masala are excellent dishes if you enjoy heat and spice. Chicken curry is a bit more mild in flavor than chicken tikka masala. However, this does not mean the rich flavor still doesn't pack a punch!
Chicken tikka masala's creamy texture and orange gravy set it apart from chicken curry. Both dishes have many variations, making finding the perfect dish for your next weeknight dinner easy!
If you want to give chicken curry a try, we've got the perfect recipe for you:
Print
Chicken Curry
---
1 Tablespoon olive oil
1 medium onion, sliced thin
Salt and freshly ground pepper
2 teaspoons yellow curry powder
4 skinless, boneless, chicken breast halves (1 to 1 1/2 pounds)
1 cup sour cream
---
Instructions
1. Heat the oil in a large skillet over medium high heat.
2. When hot, add the onions, sprinkle with salt and pepper, and cook, stirring occasionally, until onions are translucent, about 5 minutes.
3. Turn the heat down to medium, sprinkle the onions with half of the curry powder, and continue to cook an additional minute.
4. Meanwhile, season the chicken with salt and pepper to taste and season it with the remaining curry powder.
5. Move the onion to one side of the skillet and add the chicken in one layer. Cook for about 3 minutes on each side. Transfer the chicken to a plate.
6. Add the sour cream to the skillet and stir constantly over medium-low heat until the mixture thickens.
7. Place the chicken back in the skillet and cook for about 5 minutes, or until cooked through, turning once. Serve with rice.
Comparison Posts