When it comes to chicken, there are many different ways to prepare this popular meat. Two of the more prevalent ways are baking and broiling. So, what is the difference between baked chicken and broiled chicken? The main difference is the heating device used for each method. Broiling your chicken means using the top-down heat on a high or extra-high setting. The high heat will brown the top of the chicken, creating a crispy outer layer.
On the other hand, baking uses a medium or moderate temperature to cook the chicken. The entire oven, top, bottom, and sides heat up during this method.
Bake Chicken vs. Broil Chicken: What are the Differences?
Chicken is a very popular meat consumed worldwide and in the United States. People consume close to 100 pounds a year per person. There are several reasons for this.
First, chicken can be a cheaper alternative to the pricier meats today. Secondly, chicken has many health benefits and has reached the top of the healthy recipe recommendations.
Regardless of this meat's popularity, there are several ways to cook it! Some people enjoy their chicken fried; others love dark meat. However, two healthy ways to cook chicken are baking or broiling it. We break down the differences between baked chicken and broiled chicken below.
Texture and Taste
The texture and taste of chicken are somewhat mild and chewy. However, the texture and flavor can vary depending on your cooking method. That is where broiling and baking come in.
When you broil your chicken, it is like grilling upside down. The broiler sends intense heat through the chicken in a fast way. This direct heat then locks in the moisture and juice. As a result, the outside layer will become caramelized and a bit charred. When this happens, the outer layer of your chicken will be crispy, and the inner layer will be tender and flavorful. Again, this is because of the juices that lock into the chicken.
Contrarily, baking uses moderate heating to cook the chicken through. Since the heat doesn't lock in the moisture, baked chicken is less juicy and tender than broiled chicken. However, it can still be delicate and succulent when cooked at the right temperature for the right time.
Overcooking your chicken can create a rubbery and tough texture.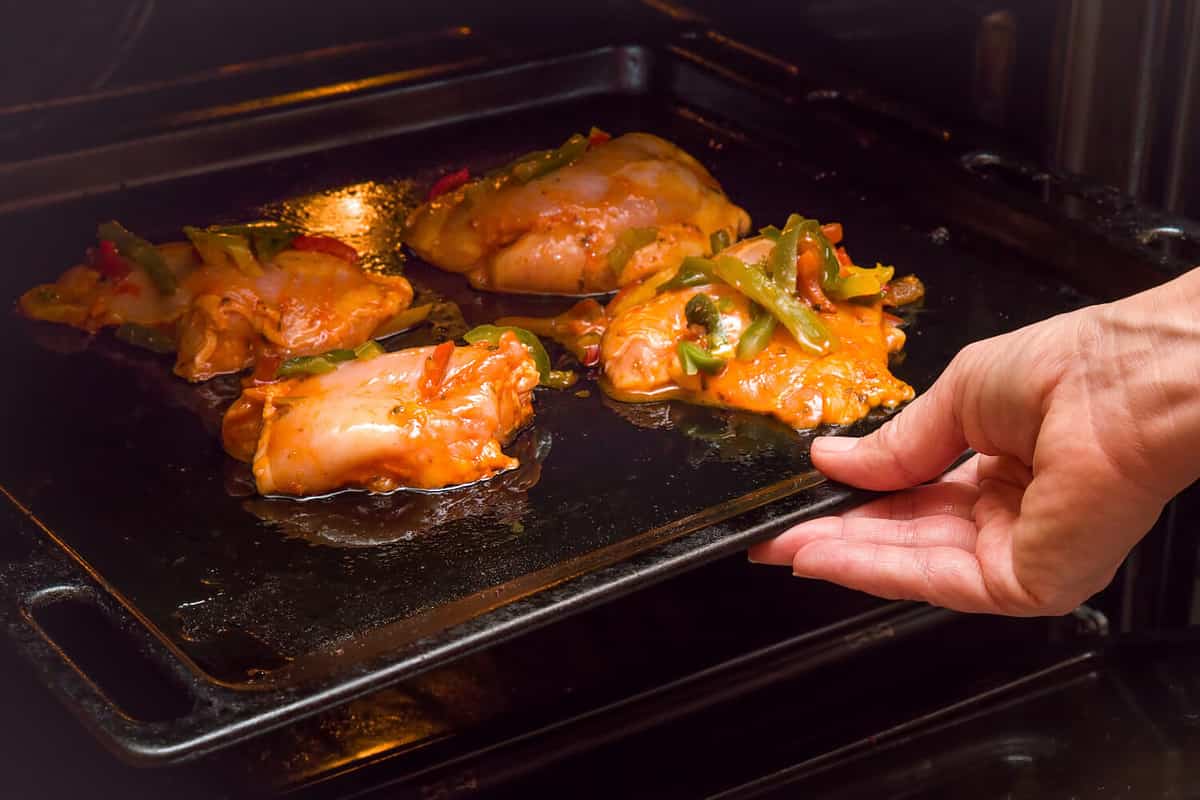 Preparation Methods
We touched on the preparation methods a bit but let's go further. The key difference between broiled and baked chicken is the cooking methods used.
Baked chicken is typically cooked at a moderate temperature, usually between 350 and 400 degrees Fahrenheit, depending on the size. However, be mindful of how high and long you cook your chicken when baking. Sometimes the chicken will become overcooked, leading to disappointment. One way to keep your baked chicken moist and juicy is by marinating it beforehand. The marinade will help create more juices for the chicken to cook in, leading to a more succulent chicken.
Broil chicken uses the very intense broiler placed at the top of your oven. The broiler has a high heat that sears your chicken very soon after placing it in the oven. In doing so, the outer layer becomes crispy and traps in the juices. Broiling your chicken is an excellent way to create a juicy and tender chicken to enjoy. The result is that the inner layer will create its own marinade, so to speak, allowing the chicken to cook in its own liquids.
Baked Chicken vs. Broil Chicken Nutritional Value
When it comes to nutritional value, there is not a lot of difference between baked chicken and broiled chicken. This nutritional value comparison chart is a great way to get a snapshot of the health benefits.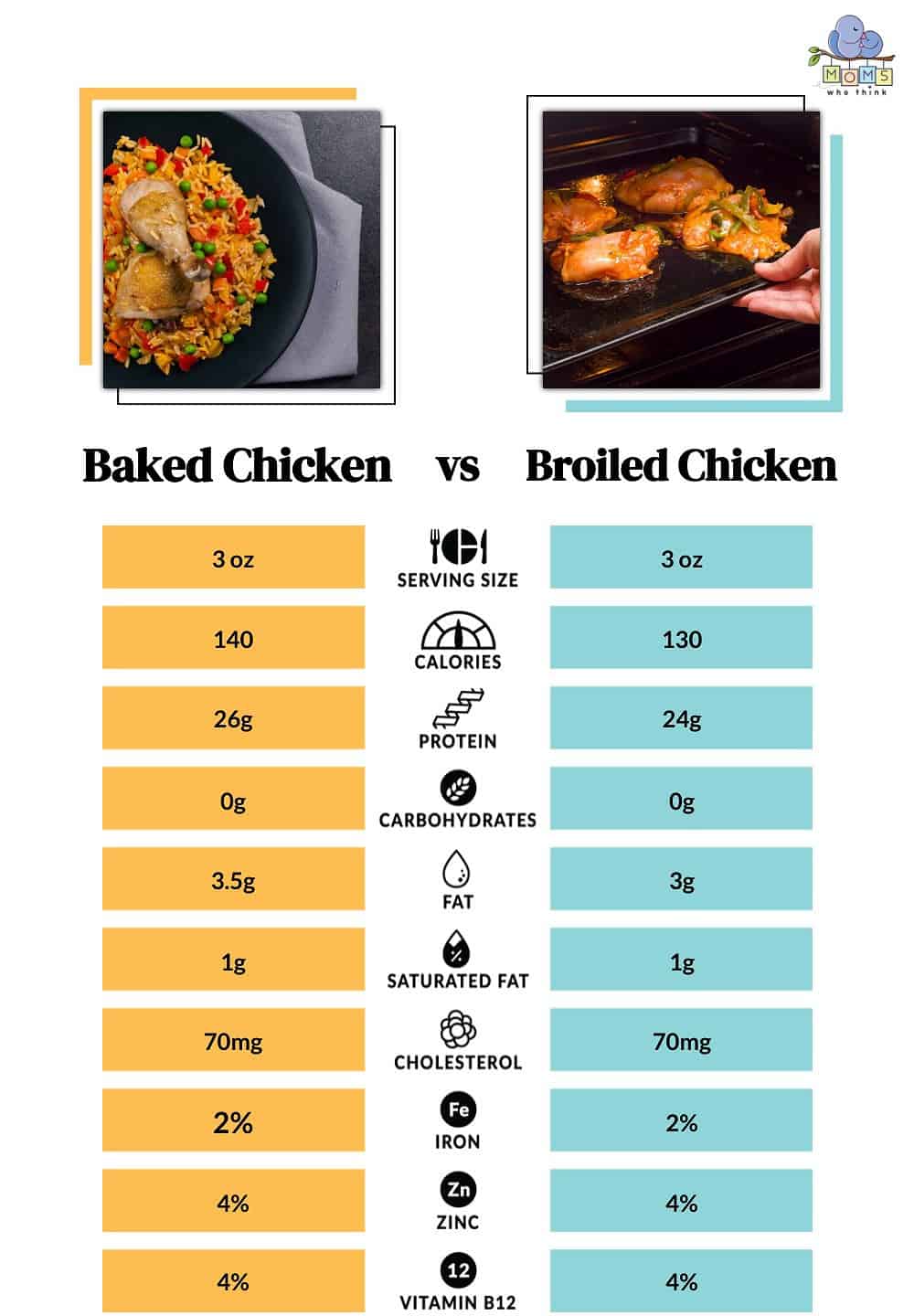 What Is Baked Chicken?
When someone says they eat baked chicken for dinner, they refer to the cooking method used. However, baked chicken can mean many different types of chicken. Typically, baked chicken consists of chicken breasts. It can also be chicken thighs, chicken tenders, or a whole chicken.
Baked chicken can also use different marinades or seasonings to create a diverse flavor. For example, some people enjoy Italian baked chicken, others will bread it, while others may still marinate their chicken in barbeque sauce.
Baked chicken refers to the method used to cook the chicken. If you are wondering how to make the perfect baked chicken, read the simple directions below.
Season and marinade your chicken with your desired marinade and seasoning. Bake your chicken at a temperature between 350 to 400 degrees Fahrenheit. Remember that the higher the temperature, the faster your chicken will cook. It can be good to cook your chicken faster; however, chicken can become dry and overcooked when baked too fast.
Therefore, if you cook at a lower temperature, keeping an eye on your chicken may be easier while not risking overcooking before you realize it.
How long you cook the chicken will depend upon the size of the meat. The general rule is to go by 20 to 25 minutes per pound.
Cook your chicken until it reaches an internal temperature of 165 degrees Fahrenheit.
What is Broiled Chicken?
Broiled chicken refers to the method of cooking the chicken with a broiler. Most ovens contain a broiler at the top, making this method effortless.
Broiling, in comparison, is an upside-down grill. It gives your chicken the same effect; the outer layer of the chicken sears at very high heat, typically between 500 to 550 degrees Fahrenheit.
Many people broil their chicken because it produces a crispy outer layer and a juicy and tender middle, similar to grilling a steak.
When you broil chicken, it will take less time than baking. The time typically takes around eight minutes, depending on the size of the chicken. As always, check the internal temperature of your chicken before serving.
Is It Possible to Substitute Baked Chicken for Broiled Chicken?
When it comes to substituting baked chicken for broiled chicken, yes, you can. However, there are a few factors to remember before substituting baked chicken with broiled chicken.
Chicken flavors are relatively the same, no matter your cooking method. However, broiled chicken does produce a crispy outer layer, while baking omits that layer. Also, baked chicken can quickly dry out because it does not have that seared outside, trapping the juices in. They both also vary in cook times. Therefore, it's important to be mindful of how long you are baking or broiling your chicken.
Whether you bake or broil a chicken all comes down to personal preference. Cooking methods are not a one size fits all.
Substitutes for Chicken
If you are looking for a substitute for chicken, there are many you can choose from. Ground turkey, lean ground beef, and turkey burgers offer similar health benefits but cook differently than chicken. If you want something similar in texture yet meatless, try tofu, seitan, or tempeh.
These are all excellent substitutes that carry many health advantages.
In Conclusion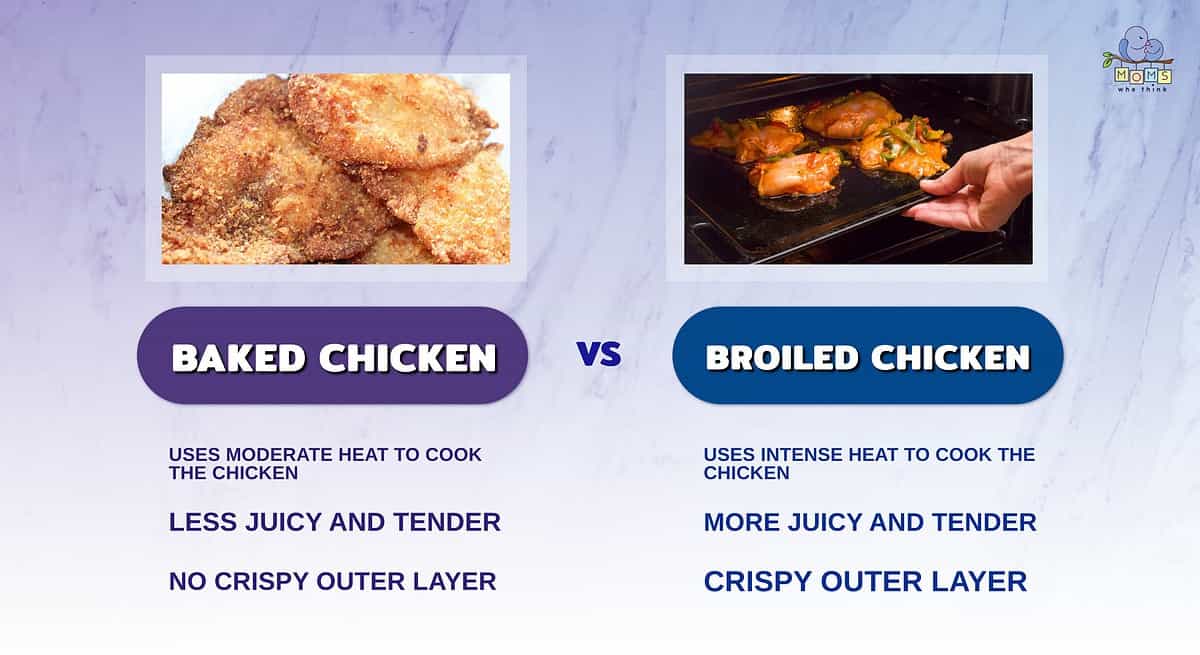 Broiling chicken is essentially like grilling in an oven, as the broiling process blasts the chicken with heat. Baking chicken, on the other hand, hits the meat with much more moderate heat.
Baked chicken loses its moisture much more easily than broiled chicken, meaning that it takes more effort on your part to ensure it stays juicy and tender.
Broiling a chicken produces a crispy outer layer; this layer is absent in baked chicken.
Chicken is the second highest consumed meat worldwide. Therefore, it's no wonder many ways have been invented to enjoy it! Whether you love chicken fried or something more decadent like chicken Francese, the methods used to prepare chicken are not lacking.
Baking or broiling chicken can be excellent ways to prepare a delicious weeknight meal. Baking your chicken uses moderate heat and doesn't trap in the juice as broiling does. However, it still produces delicious meat alongside yummy sides like pasta or green beans. You can add extra moisture to your baked chicken by marinating it for several hours or overnight in your favorite marinade.
Broiling your chicken, on the other hand, is a quick way to sear the outside and trap in the juices. The fast searing will create a juicy and tender inside with only a little prep work. Regardless of what method you choose, one thing is for sure, both cooking methods are excellent ways to enjoy a delicious chicken! 
We have an incredible cheesy baked chicken and mushrooms recipe for you to try:
Print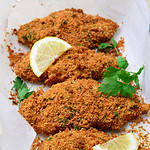 Cheesy Baked Chicken and Mushrooms
---
Author:

Yield:

6

servings

1

x
6 boneless skinless chicken breast halves (4 ounces each)
1/4 teaspoon paprika
1/2 pound fresh mushrooms, sliced
1 Tablespoon butter
1/2 cup sherry or chicken broth
3 green onions, chopped
1 garlic clove, minced
1/2 teaspoon salt
1/8 teaspoon pepper
3/4 cup shredded part skim mozzarella cheese
---
Instructions
1. Arrange chicken in a 13 in. x 9 in. baking dish coated with cooking spray. Sprinkle with paprika. Bake, uncovered, at 350° for 15 minutes.
2. Meanwhile, in a large nonstick skillet, sauté mushrooms in butter for 5 minutes.
3. Add the sherry or broth, green onions, garlic, salt and pepper. Bring to a boil. Pour over chicken.
4. Bake 10 to 15 minutes longer or until a meat thermometer reads 170°. Top with cheese. Bake for 3 to 5 minutes or until cheese is melted.
Nutrition
Serving Size:

1 chicken breast half

Calories:

198

Sodium:

361mg

Fat:

6g

Saturated Fat:

3g

Cholesterol:

79mg
Chicken Posts