Chicken is versatile and the second most popular meat consumed yearly. There are also many different ways to prepare chicken. Humans have been developing ways to cook and eat this popular meat for decades, or maybe even longer. One of the most loved dishes is chicken Francese and chicken Piccata. The two are very similar and only have very subtle differences. However, maybe you are asking, what is the difference between chicken Francese and Piccata? With many similarities, it can be easy to mix these two delicious meals up. Similarities aside, there are some fundamental differences. These differences are in the preparation methods of both. The chicken Francese gets dipped in flour, an egg wash, and then is cooked in oil and lemon sauce. Chicken Piccata, on the other hand, omits the egg wash. Instead, it sears in butter, white wine, lemon juice, and capers top it.
These two meals make excellent weeknight dinners. They can be quick and easy, and even children love them! If you are wondering which of these to choose for your dinners this week, read below for some fundamental differences and similarities between the two to help in making your decision!
Chicken Francese vs. Piccata: What are the Differences?
Chicken Francese and Piccata have subtle differences that set the flavors apart. Both meals are decadent, packed with flavor, and easily enjoyed with several sides, but there are some fundamental differences. Let's take a look below at a few of them.
Texture and Taste
Chicken Piccata can taste like chicken parmesan because of the breaded outer layer. However, cooking the chicken piccata in lemon juice and adding capers creates a tart flavor.
On the other hand, Chicken Francese dips in an egg wash, creating a unique texture compared to chicken piccata. The texture is light and crispy. Chicken Francese also has a lemony, buttery taste; however, the tartness of chicken Piccata is stronger because of the capers.
Preparation Methods
One of the main differences between these two dishes is the preparation method. Let's first get started with chicken Francese. This chicken is dipped in an egg batter and then coated with breadcrumbs; it is then dipped in the egg wash again. The egg wash gives the chicken Francese a crispy outer layer uniquely different from Piccata. It is pan-seared and cooked in butter and lemon sauce.
In contrast, chicken Piccata does not get the double egg wash that Chicken Francese does. Instead, it is dipped in an egg mixture, breadcrumbs, or flour and then pan-seared. Chicken Piccata cooks with a white wine base with added capers. The capers add a zesty flavor with a bit of a tang.
Chicken Francese vs. Piccata Nutritional Value
Chicken Francese and Piccata cook in a similar fashion. There is little difference when it comes to the nutritional value of both. Look below at the comparison chart to see the differences and similarities between the two.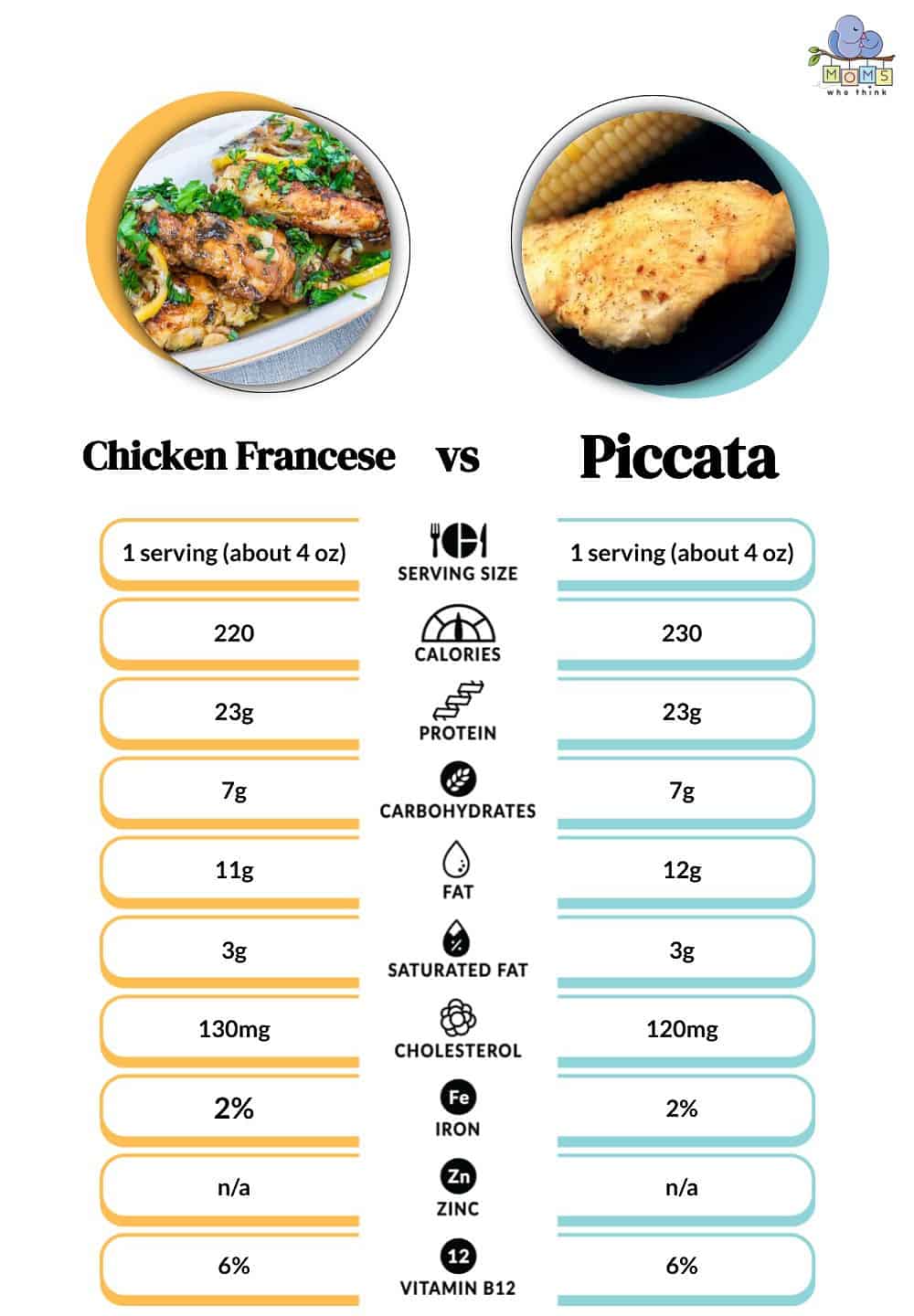 What is Chicken Francese?
The roots of chicken Francese date back to the 1940s or 1950s, although the original story is vague. Regardless of the origin story, one thing is sure; this dish is an easy Italian-American meal that pairs well with various sides.
White chicken breast is first breaded and then dipped in an egg wash. This order gives the chicken a crispy light texture and taste. The style of preparation is French. Chicken Francese's flavor mainly comes from the egg wash and the lemon sauce. The taste is delicate and airy. Chicken Francese is an easy meal to make at home that will be a hit with many family members.
What is Piccata?
Chicken Piccata dates back to Milan in the 19th century. While there are many similarities between chicken Piccata and chicken Francese, there are also a few differences.
Chicken Piccata does not use a basic egg wash like chicken Francese. Instead, chicken Piccata is dipped in egg, breaded, and sauteed in oil or butter. The sauce is also a lemon base and typically uses white wine. Additionally, using capers on chicken Piccata gives it a more robust and tart taste than chicken Francese.
When it comes to the ease of making this meal, Chicken Piccata requires a bit more footwork. The extra effort, however, produces a bursting flavor that sends your taste buds soaring. It is creamy, lemony, and a little more biting.
Can You Substitute Chicken Francese for Piccata?
Both chicken Francese and Piccata are considered easy and fast meals to make. The recipe for each could easily be substituted and twerked, making it one or the other.
For example, if you like the crunchy taste of chicken Francese but also enjoy capers, you could add some to the Francese to create a tangier flavor.
It all boils down to your own personal preference. Do you love chicken Francese's soft and delicate flavors, or are you looking for a zesty and powerful taste that packs a punch? Either one of these chickens pairs excellently with pasta and roasted vegetables. The ease of these meals also means it can be simple to make either one for a delicious weeknight meal that your family will enjoy!
What To Eat With Chicken Francese?
Chicken Francese is an excellent dish served over angel hair pasta. This dish is delicious with a type of potato, either sweet or mashed potatoes. Many people also love eating chicken Francese with green beans, rice, asparagus, salad, or roasted vegetables.
What to Eat With Chicken Piccata?
The tangy flavor of chicken Piccata goes well with pasta or roasted vegetables. Many also enjoy eating potatoes, spinach, rice, dinner rolls, or asparagus.
Both of these meals are fantastic filling and hearty, flavorful dinners. They go great with a vegetable or carbohydrate that is milder in taste but still complements the main course.
One Last Note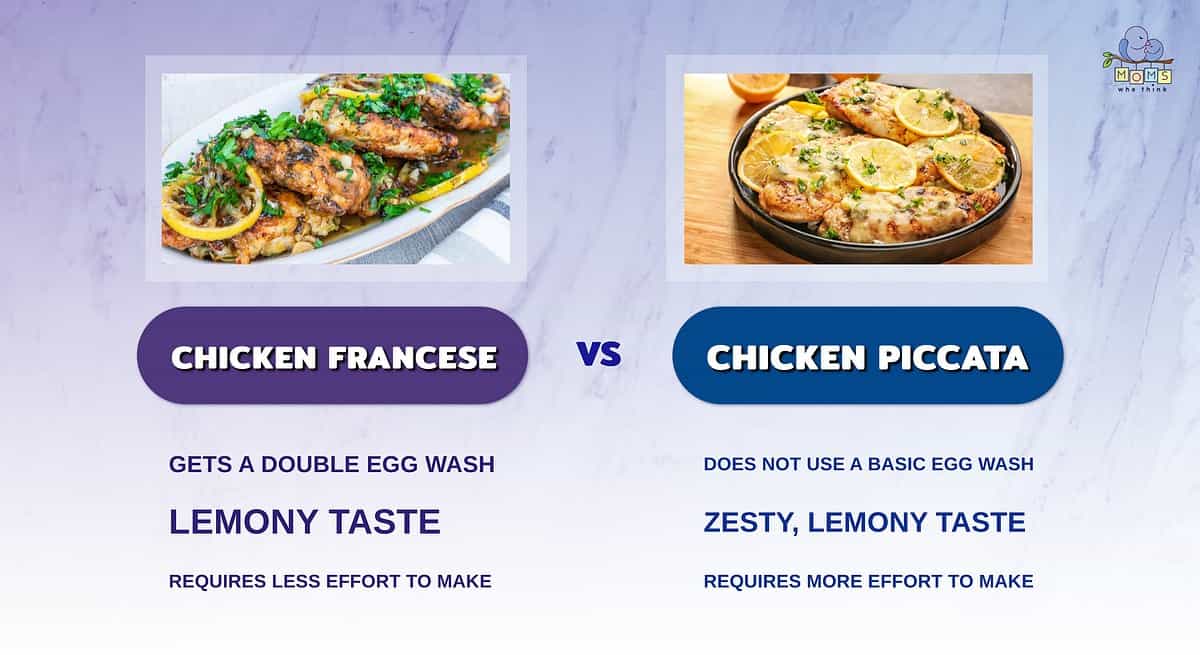 One of the biggest differences between these two chicken dishes is their preparation. Chicken Francese gets a double egg wash, while chicken Piccata does not get a basic egg wash.
Both of these chicken dishes have a lemony taste, but using capers in chicken Piccata means it has a zestier taste.
Chicken Piccata is generally the more labor-intensive dish to make. This may steer some people towards chicken Francese, but both dishes deserve your love and time.
Quick and Easy Meals For the Win
Regarding weeknight dinners, most parents are looking for something easy and quick yet still satisfies their desire for strong flavor. Chicken Francese and chicken Piccata are two excellent choices!
The footwork in making these two meals is simple; while chicken Piccata takes a bit more time, the flavor is fantastic!
If you are trying to decide which one of these meals to serve, it all boils down to personal preference. The main characteristic that sets these two apart is the preparation and cooking methods.
Chicken Francese has a breading and a double egg wash, then is pan-seared. The chicken cooks in a lemon sauce, resulting in a buttery, lemony flavor with a crispy outer layer. On the other hand, chicken piccata omits the egg wash but still deserves your love. The capers create a zesty and biting flavor, adding a kick to the dish.
Although these two ways of preparing chicken are very similar, there are some subtle differences. The differences contribute to the flavor of the chicken itself. Whether mild or tangy, chicken Francese and chicken Piccata are delicious, lemony, and flavorful dishes to enjoy any day of the week! If you are looking for more chicken recipes and chicken posts, take a look below at some great ones!
Chicken Recipes
Print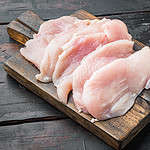 Chicken Francaise
---
1 egg, beaten
1/2 lemon, juiced
1 cup all-purpose flour
1 pinch garlic powder
1 pinch paprika
6 skinless, boneless chicken breast halves
2 Tablespoons butter
1 (14.5 ounce) can chicken broth
1 lemon, juiced
6 slices lemon, for garnish
2 sprigs fresh parsley, for garnish
---
Instructions
1. In a shallow dish or bowl, mix together the egg and juice of 1/2 lemon.
2. In another shallow dish or bowl mix together the flour, garlic powder and paprika.
3. Dip chicken breasts in egg mixture, then flour mixture.
4. Heat butter or margarine in a large skillet over medium heat. Add chicken breasts and cook until golden on each side.
5. In a medium bowl, mix together broth and juice of 1 lemon, and pour mixture over chicken in skillet.
6. Reduce heat to medium low and let simmer for about 8 minutes.
7. Place on serving platter, and garnish with fresh lemon slices and parsley sprigs.
Chicken Posts