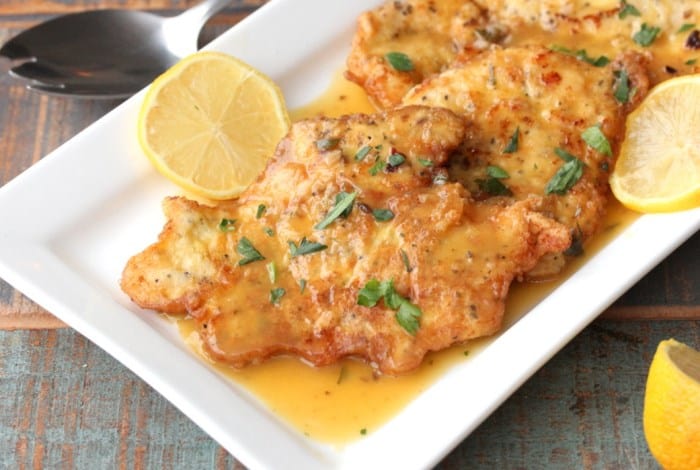 Chicken Francaise
Chicken Francaise (or Chicken Francese) can be a bit of a deceptive dish. The recipe is Italian American in origin, so no one is quite sure how its name came to incorporate the word Francaise which also means French.
But today, the word Francese is also known to be defined as 'dredged in flour, dipped in beaten egg, sautéed and served with a lemon butter sauce', which is exactly how chicken Francaise is prepared!
The dish gained popularity in Rochester, NY, a common settling place for Italian American immigrants. The immigrants brought over many of the recipes they made in the old county.
It was believed that veal Francaise was one of the more popular dishes in Italy but the immigrants who came to America were forced to use chicken as a more affordable substitute.
However, others say that the chicken substitution came about as a result of the veal boycott, an animal rights movement that took place in the 1970's and was one of the most successful of its kind in the United States.
But whatever it was that lead to Chicken Francaise's rise in popularity, it became a favorite in the area and was soon nicknamed Chicken Rochester.
Chicken Francaise is a flavorful alternative to plain chicken breasts. Here, plain chicken breasts get an egg batter coating with lemon and garlic and are then treated to a lemony sauce that makes chicken Francaise an all time favorite chicken dish in our house.
Chicken breasts can be bland, or the texture just isn't right in some recipes. Not this one.
The chicken is flattened to perfection, so you get thinner bites which are tender and firm at the same time. The lemon sauce is a tangy, creamy mate to the light breading…making it burst with flavor without getting the breading soggy. Every bite combines all the flavors seamlessly, so your taste buds never stop dancing. Viva Chicken Francaise!
Chicken Francaise Recipe
Ingredients:
1 egg, beaten
1/2 lemon, juiced
1 cup all-purpose flour
1 pinch garlic powder
1 pinch paprika
6 skinless, boneless chicken breast halves
2 Tablespoons butter
1 (14.5 ounce) can chicken broth
1 lemon, juiced
6 slices lemon, for garnish
2 sprigs fresh parsley, for garnish
Directions:
1. In a shallow dish or bowl, mix together the egg and juice of 1/2 lemon.
2. In another shallow dish or bowl mix together the flour, garlic powder and paprika.
3. Dip chicken breasts in egg mixture, then flour mixture.
4. Heat butter or margarine in a large skillet over medium heat. Add chicken breasts and cook until golden on each side.
5. In a medium bowl, mix together broth and juice of 1 lemon, and pour mixture over chicken in skillet.
6. Reduce heat to medium low and let simmer for about 8 minutes.
7. Place on serving platter, and garnish with fresh lemon slices and parsley sprigs.
Try one of our fan-favorite chicken recipes:
Click for more Chicken recipes