When it comes to the cooking and tasting profiles of cod vs. salmon, there are multiple differences to keep in mind. As far as nutritional value goes, salmon has more calories and protein than cod. Flavorwise, cod has a more mild flavor, while salmon has a more intense taste. Salmon also takes a bit longer to cook than cod. We'll discuss these differences and much more in our comparison of cod vs. salmon.
Cod vs. Salmon: What are the Differences?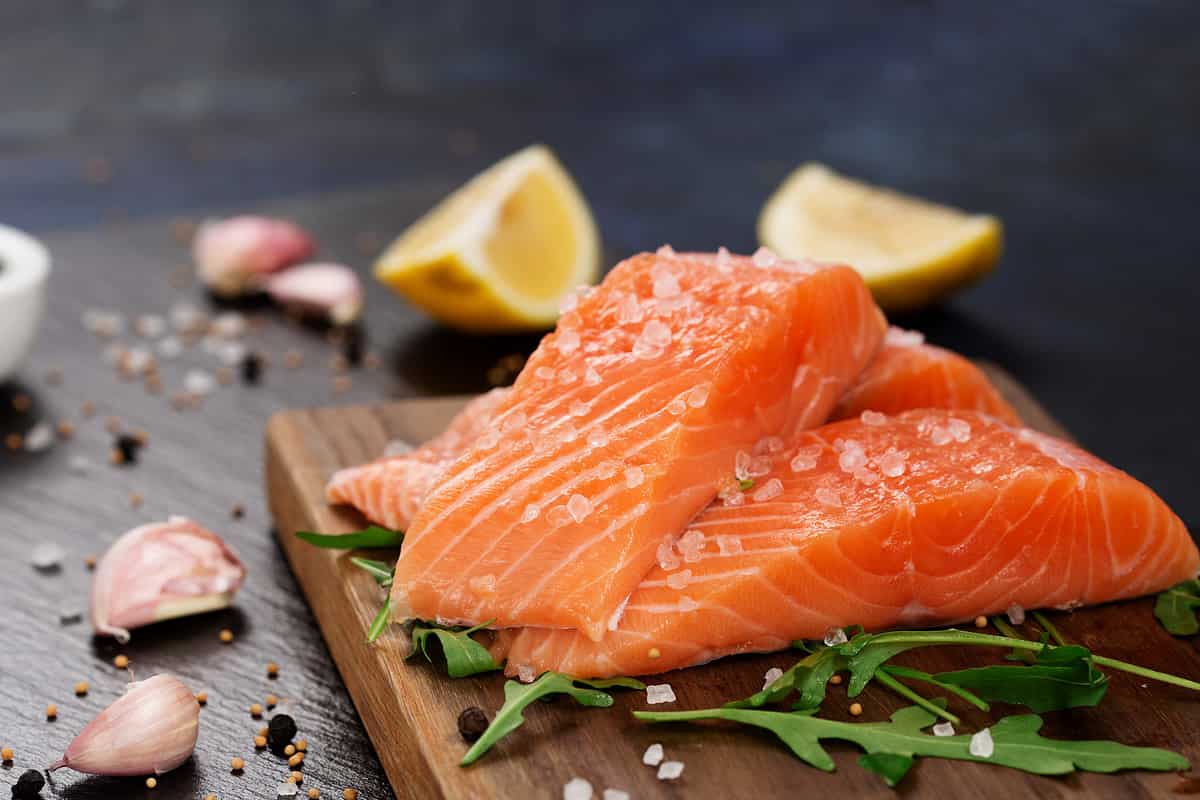 When you're discussing cod vs. salmon, you need to realize that they're two different kinds of fish with different attributes, both when they're in the wild and when they're on your dinner plate. With that in mind, they'll be cooked a bit differently, they'll have unique tastes, and offer different nutritional values. Let's look at all the subtle and larger differences.
Texture and Taste
While both cod and salmon will have vaguely similar fish flavors, they have radically different flavor profiles. Cod is the leaner of the two fish, so it generally has a more mild taste than salmon. Cod also has a sweeter flavor and a firm texture. Many people compare it to chicken in that regard.
Most people believe that salmon has more of a rich and distinct flavor that's often described as buttery or oily. The flesh of salmon is also more delicate than that of cod, which is why it's typically used to make sushi and similar dishes.
Both fish will have a different color when cooked. Cod will have a white flesh color, while salmon has a reddish-pink color.
How They're Cooked
For starters, if you're planning to cook either of these fish as a meal, know that salmon takes longer to cook at about 15-20 minutes. Cod typically takes 10-15 minutes. Other than that, both fish can be cooked in similar ways depending on your preference. They can be cooked in the oven, fried, or prepared with your preferred method.
Price
You need to be careful when shopping for cod. While Pacific cod are abundant, Atlantic cod is considered to be an endangered species. Because of that, cod will typically be the more expensive option, though it's not an outrageous difference. Depending on where you buy your fish, you'll see varying price differences, though cod is almost always more expensive.
There's also a sustainability factor at play here. Cod is typically more protected than salmon, and their population is more heavily regulated around the world, so if that matters to you, then keep it in mind.
Cod vs. Salmon: Nutritional Value
One of the differentiating factors between cod vs. salmon is its nutrients, minerals, mercury content, and nutritional value.
Mercury Considerations
When you're eating fish, you need to be cautious of the mercury that they contain. Fish that are high in mercury should be avoided because extended exposure can lead to health issues, like kidney damage, blood loss, and damage to the central nervous system, among other concerns.
The good news is that both cod and salmon are relatively low in mercury, especially when compared to many other fish. Still, you need to be careful. Salmon is low in mercury, but the mercury content can also depend on where the fish was harvested. Wild salmon typically have less mercury than farmed salmon. It's a similar situation for cod, although it should be said that cod that's taken from colder waters will have even less mercury.
Even with that said, mercury in any dose can be harmful to pregnant women, so it's wise to avoid fish meals until the baby is born. If you're not pregnant, you should still be cautious and only consume small portions 2-3 times per week at most.
Weight Loss Considerations
Many people add fish to their diet to lose weight, but in the battle of cod vs. salmon, what's the better option? If you're looking to drop pounds, then consider cod, which has over 100 fewer calories per serving. However, salmon typically has more protein, so you'd be fuller for longer, and it increases your metabolism. If you're fuller for longer, then you're less likely to go hunting for snacks later on.
Building Muscle
You also need to consider protein and calories when you're looking to build muscle. You need to have a caloric surplus to get those big muscles, and you'll also need more protein.
To help you better understand the nutrition impact of either cod or salmon, review the chart below: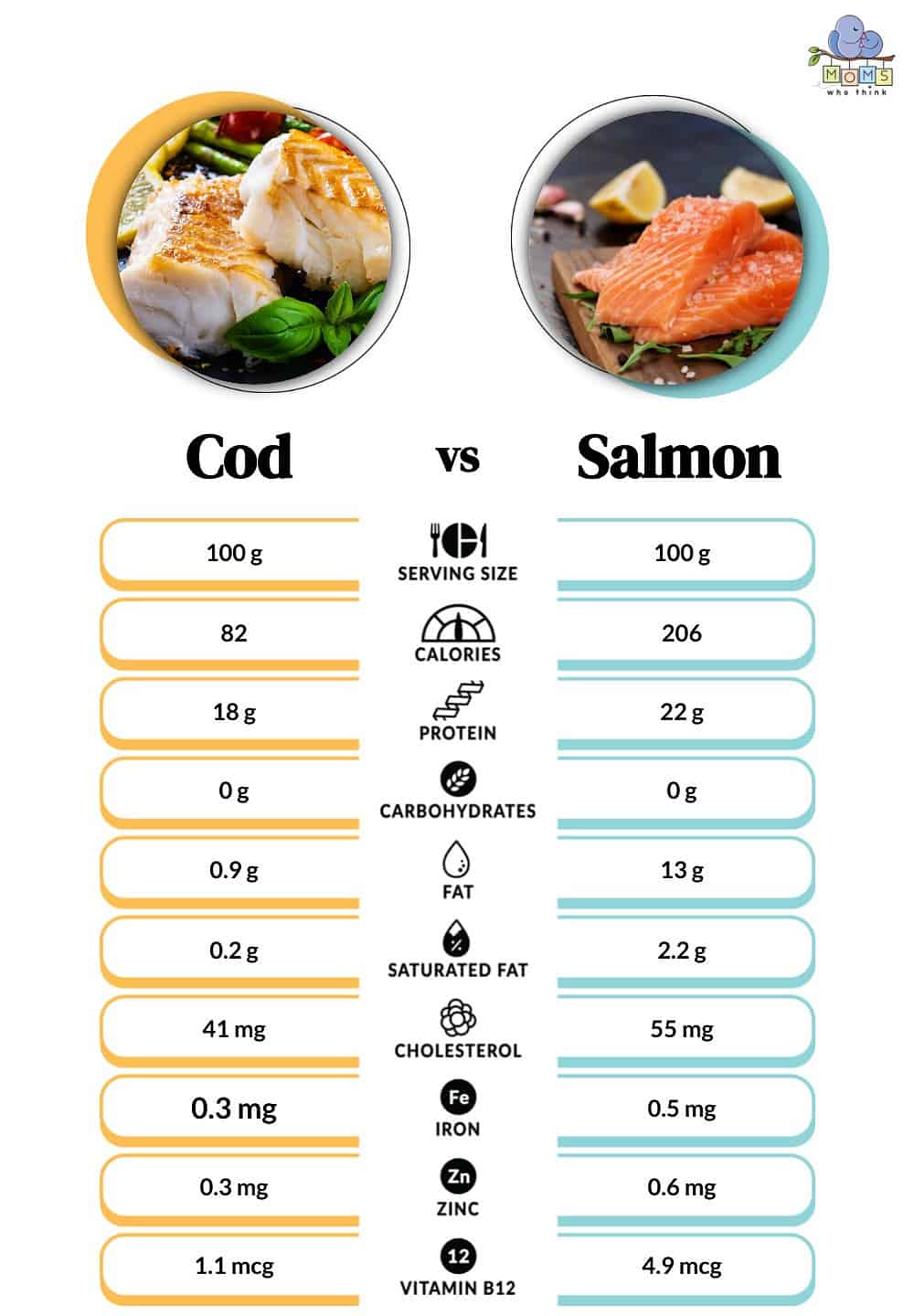 What are Substitutes for Salmon?
If you enjoy the healthy aspects of salmon, but you're just not a fan of the flavor profile, then you're in luck. There are tasty substitutes that you can consider, including:
Arctic Char
This fish variety has a very similar color and texture to salmon, and it's often typically less expensive. However, you won't be able to find it at all stores.
Rainbow Trout
This is a very sustainable fish that lives under strict environmental standards, so you're left with food with great nutritional aspects. Trout has a similar color to salmon, and it's also less expensive than salmon.
Tilapia
Tilapia offers a mild flavor and lean protein, and it's also very affordable. Note that this type of fish has a lower omega-3 fatty acid component.
Milkfish
The milkfish has a rather mild flavor that won't overpower your senses, but it does have a higher omega-3 fatty acid count. The downside is that it's a smaller fish with many bones.
What are Substitutes for Cod?
Likewise, there are also many alternatives to cod that you can use during your next family meal. Many of these offer similar flavors and nutritional values.
Haddock
This fish, which is popular in the North Atlantic, offers a mild taste, which makes it good for people who don't love the taste of fish. It's also a great source of protein.
Pollock
This is a whitefish that's a more affordable alternative to cod. It has a firm, yet flaky texture and a mild flavor. It can taste bland if not properly seasoned, so keep that in mind during preparation.
Catfish
Catfish is a famously versatile fish that can work as a substitute for cod and other fish varieties. It also has a flaky and firm texture, and it's a great source of omega-3 fatty acids.
Bass
Bass has a rather distinct flavor, and many even compare the experience to eating chicken. It also has fewer bones, which is nice. It's a less expensive alternative, and it's readily available at the supermarket.
Salmon Recipes
If the details we have provided for these fish dishes get your mouth watering, then you're in luck because we have several recipes you'll want to try. Let's start with salmon:
Print
1½ cups soft bread crumbs
2 Tablespoons minced fresh parsley
1 Tablespoon minced fresh thyme or 1 teaspoon dried thyme
2 garlic cloves, minced
1 teaspoon grated lemon peel
½ teaspoon salt
½ teaspoon lemon pepper seasoning
½ teaspoon paprika
4 salmon filets (6 ounces each)
Refrigerated butter flavored spray
---
Instructions
1. In a large bowl, combine everything but the salmon and set aside.
2. Pat salmon dry. Place skin side down, in a 13×9 inch baking dish coated with cooking spray.
3. Evenly spray salmon with butter flavored spray. Cover salmon with crumb mixture.
4. Evenly spray crumbs with butter flavored spray.
3. Bake, uncovered, at 350° for 15 minutes or until fish flakes easily with a fork.
Cod Recipes
There are also many amazing cod recipes on Momswhothink.com that your family will love, including:
Conclusion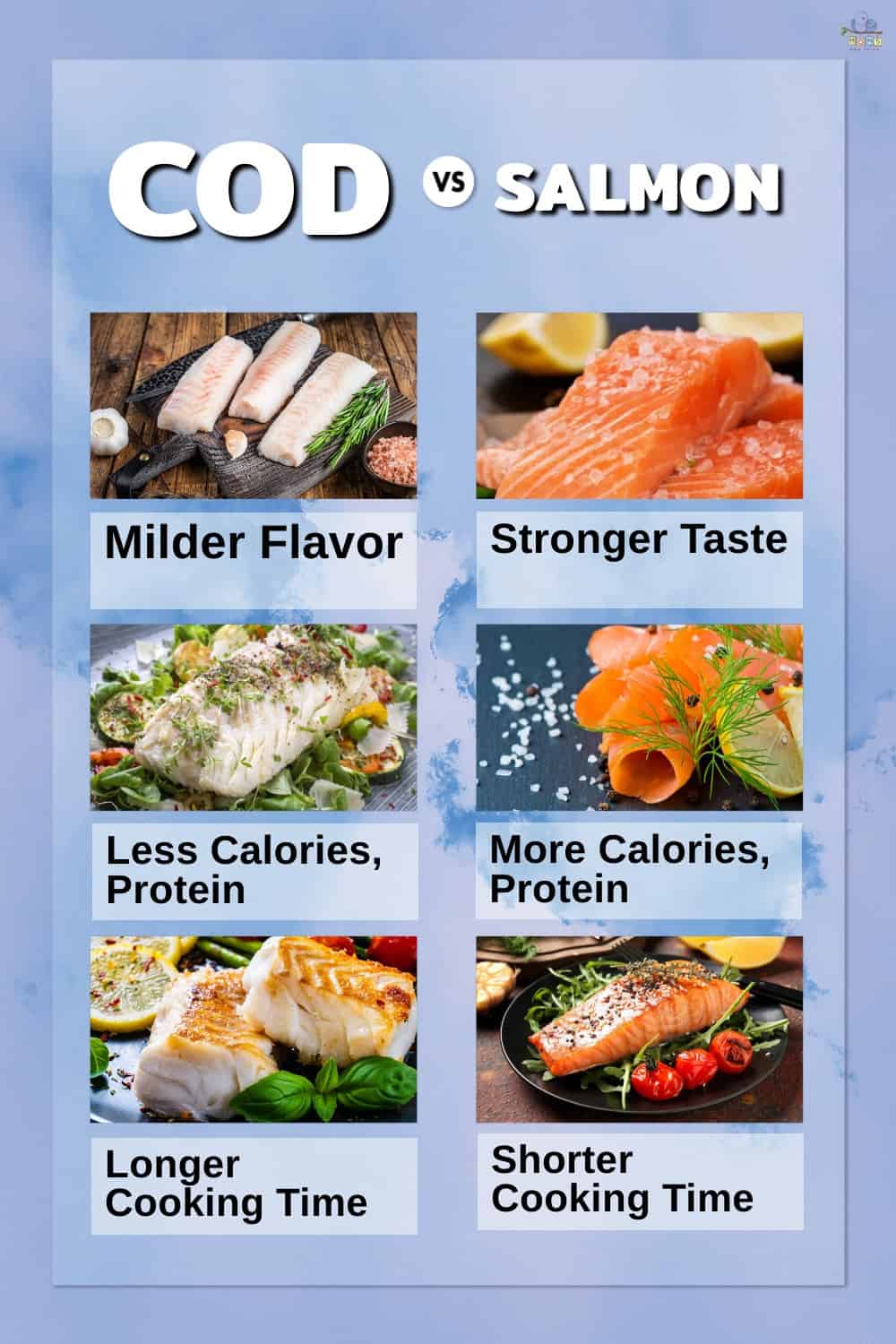 Cod and salmon are great choices if you are looking for a healthy meal. However, they do have quite a few differences in terms of taste, texture, and more. Let's recap how these two fish differ:
Because cod is leaner than salmon, it has much fewer calories.
One of the biggest differences is the fact that cod is a white fish, whereas salmon is not.
Salmon has a much stronger, intense flavor, whereas cod has a much milder taste.
These are the primary differences in the debate over cod vs. salmon. Both fish offer a yummy taste profile, and they're relatively healthy when compared to other fish. However, you must pay attention to the difference in caloric content and cooking times. Whatever you try, we hope you enjoy your meal!