[addtoany]
Nothing says the taste of summertime quite like delicious chicken, fresh off the grill. Add in some seasonal vegetables and you're sure to enjoy the fresh flavors coming together. There's just something special and delicious about grilled chicken and vegetables for a perfect summertime meal.
Even better: summertime chicken is an easy meal. While it requires some overnight marinating, it comes together quickly. Most of the prep time is just spent marinating the chicken and vegetables, which doesn't require much active effort.
As this recipe is written, it's so easy that even a child could do most of the prep work. That's perfect if you want to get your kids involved in cooking with you. It's a misconception that home cooking has to be time-consuming and labor-intensive. You don't have to be a slave to the kitchen or spend a fortune to get dinner on the table. What's really important is that you have a family meal together that's healthy, affordable, and simple to prepare.
Once the chicken and vegetables have been marinated long enough to let the flavors really soak in, the cooking time is also fast. This is the kind of meal that you can start before you go to bed at night and have ready to grill as soon as you get home from work the next day. It's a must in any
busy family's repertoire.
Grilled Chicken Recipes
Who doesn't love grilled chicken? It's versatile, healthy, and doesn't tend to be the kind of meal your family will find boring. Unlike some more complex meals like lasagna or enchiladas, what makes grilled chicken a star is the fact that it can be served in many different ways. Chicken's simplicity is what makes it so welcome on your dinner table.
As with this recipe, grilled chicken recipes can be served with roasted and marinated vegetables on the side. But you can also use grilled chicken on kebabs, alternating cubes of chicken with other vegetables, such as peppers, tomatoes, or onions.
Grilled chicken is also delicious when served with pasta, which can include vegetables or not. A combination of grilled chicken and vegetables tossed over pasta with a drizzle of olive oil and topped with parmesan cheese makes a family-pleasing pasta primavera.
Grilled chicken is also an ideal protein choice to serve with a dinner-sized portion of salad. When you're making grilled chicken with salad, you can decide which vegetables will be the best additions to the recipe. You can go with a classic American palate and add ranch, tomatoes, carrots, cucumbers, and shredded cheese. You can make a Greek-inspired salad with black or kalamata olives, tomatoes, pepperoncini, Greek dressing, and crumbled feta. The possibilities are endless.
Grilled Chicken Marinade
Plain chicken can sometimes be kind of ho-hum. It's inoffensive but it's also not very exciting. That's why choosing the right grilled chicken marinade is so essential. A marinade takes chicken from mundane to magical.
Even better than adding delicious flavor and pizzazz to your chicken, a good marinade also preserves the natural juiciness of the chicken. One of the top complaints about chicken can be that it's sometimes too dry. You never have to worry about that again when you use a grilled chicken marinade!
This recipe calls for a bottle of Italian salad dressing as a marinade. But you can also dress up the marinade by adding a clove or two of minced garlic, a teaspoon of oregano or basil, or a teaspoon of lemon juice.
But you can also change the recipe by using any of a variety of other dressings. A balsamic vinaigrette is a good, flavorful choice, as is a bottle of Greek vinaigrette. Even a raspberry vinaigrette has a tangy flavor that you may love.
You can even make your own marinade, which doesn't take long to whip up. Combine 1/3 cup each of lemon juice, olive oil, and red wine vinegar and add a teaspoon each of dry basil and oregano.
Another popular marinade is a take on the Hawaiian dish shoyu chicken. Sold by street vendors, shoyu chicken is flavorful and delicious. Shoyu chicken is a combination of brown sugar, soy sauce, and garlic, providing a complex sweet and savory flavor.
Of course, you can also try just pouring a bottle of barbecue sauce over the chicken as a marinade. Grilled barbecue chicken is a summertime family favorite for good reason; everybody loves it!
Even though this recipe is called summertime chicken, it's really great at any time of year. As long as you can use the grill, this recipe can deliver a delicious meal you'll proudly serve your family.
If you enjoyed this recipe, make sure to check out our Olive Oil Chicken and our Sweet and Saucy Chicken.
Print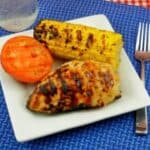 Summertime Chicken Recipe
---
Author:

Total Time:

25 minutes
Description
Summertime chicken is an easy meal. While it requires some overnight marinating, it comes together quickly. Most of the prep time is just spent marinating the chicken and vegetables, which doesn't require much active effort.
---
1 cup

Italian dressing

4

chicken breast halves, about

2

pounds

4

ears fresh corn or frozen ears of corn (thawed)

2

large ripe tomatoes, cut in half crosswise
---
Instructions
In shallow dish, pour 1/2 cup dressing over chicken.
In another dish, pour remaining dressing over corn and tomatoes.
Marinate both, covered, in refrigerator at least 3 hours or overnight, turning occasionally.
Remove chicken and vegetables, reserving marinades.
Grill or broil chicken and corn 20 minutes or until chicken is done, turning and basting with marinades.
Arrange tomatoes, cut-side up, on grill or broiler pan.
Grill 10 minutes, frequently basting.
Prep Time:

10 Minutes

Cook Time:

15 Minutes

Category:

Main Course

Method:

Grilling

Cuisine:

American
Keywords: grilled chicken recipes, grilled chicken marinade
The image featured at the top of this post is ©PROMISED/Shutterstock.com.