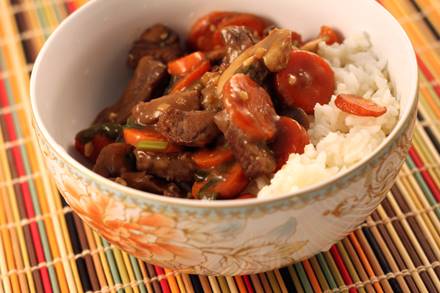 Beef and Mushroom Stir-Fry
Ingredients:
¾ pound flank steak
2 Tablespoons soy sauce
1 Tablespoon cornstarch
4 large carrots
½ pound small mushrooms
1 bunch scallions (about 6)
1/3 cup beef broth
3 drops hot pepper sauce
¼ teaspoon black pepper
2 Tablespoons vegetable oil
2 cloves garlic, minced
3 quarter-size slices (¼ inch thick) fresh ginger, unpeeled
3 Tablespoons chopped cilantro (optional)
Directions:
1. Cut the steak into 2 inch wide strips. Then cut each strip across the grain into ¼ inch thick slices.
2. In a medium bowl, combine the steak with 1 Tablespoon of the soy sauce and the cornstarch. Stir to coat steak and set aside.
3. Cut the carrots on the diagonal into ¼ inch thick slices. Cut the scallions into 2-inch lengths.
4. In a small bowl, combine the broth, remaining 1 Tablespoon soy sauce, hot pepper sauce and black pepper.
5. In a large skillet or wok, warm 1 Tablespoon of the oil over medium-high heat until hot but not smoking.
6. Add scallions, garlic, and ginger. Stir fry for few seconds.
7. Add the carrots and mushrooms and stir-fry until the carrots are crisp-tender, 3 to 5 minutes.
8. Remove the vegetables to a plate and cover loosely keep warm.
9. Add the remaining 1 Tablespoon oil to the skillet and warm over medium-high heat.
10. Add the steak and the marinade in stir fry until steak is browned, but still slightly pink in the center, 2 to 3 minutes.
11. Return the vegetables to skillet. Stir the broth mixture, add it to the skillet and bring the liquid to a boil.
12. Cook, stirring constantly, until vegetables are tender and the beef is cooked through, 2 to 3 minutes longer. Stir in the cilantro, if using, and serve hot. Makes 4 servings.
You might also like: