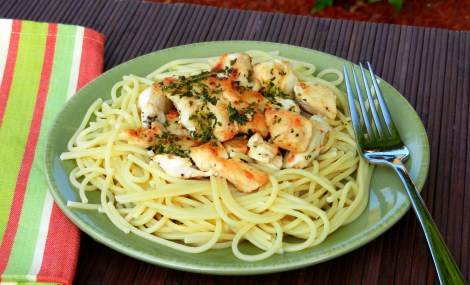 Chicken Scampi Recipe
I'm going to let you in on a little secret…shrimp scampi, chicken scampi…they don't actually contain scampi! Read on to find out more.
Scampi is an edible lobster that is found in the Mediterranean and northeastern Atlantic and it is considered a delicacy when included in dishes. Early scampi dishes originated in Italy and featured these langostines grilled with butter and garlic. The dish was commonly served with pasta as a take off on the meal.
Later, the recipe was adopted in Italian-American culture where is was defined as predominantly a pasta meal characterized by the use of a butter and garlic sauce. Rather than scampi, shrimp was used although the word 'scampi' was still included in the description of the dish.  It was used to signify the way the meal was prepared.
Since then, there have been many variations on the scampi dish. Asparagus scampi can be made with butter, lemon, garlic and parsley for a meal vegetarians will love. Red prawn crudo scampi has also been made by more experienced chefs which is a red prawn tartare with lemon, garlic and parsley.
Chicken scampi is the perfect alternative for anyone who doesn't like seafood but loves scampi. It's also a much less expensive choice compared to shrimp scampi, yet it still has all the robust flavor of the scampi sauce.
You can use a variety of pastas when making chicken scampi but we feel angel hair pasta goes perfectly with scampi because of its thinness. Each piece of pasta gets soaked in scampi sauce and doesn't overwhelm the chicken. This guarantees a perfect blend of flavors in each bite.
Serve with a nice crusty Italian bread (warmed for a few minutes in the oven) and crisp salad with a light dressing for the perfect Italian style meal that doesn't break your budget.
Chicken Scampi
Ingredients:
1 1/2 lb. skinless, boneless chicken breast halves (4 to 6), cut into cubes
Kosher salt and freshly ground black pepper
2 Tablespoons unsalted butter
2 teaspoons minced garlic
1/4 cup dry white vermouth
1 Tablespoon freshly squeezed lemon juice
2 teaspoons finely chopped parsley leaves
1/4 teaspoon grated lemon zest
hot cooked pasta
Directions:
1. Put the chicken on a large pie pan or plate and pat them completely dry with a paper towel. Arrange the chicken so it lays flat and is evenly spaced.
2. Heat a large skillet over medium heat. Season the chicken with salt and pepper. Add the butter to the skillet. When the foaming subsides, raise the heat to high, and invert the plate of chicken over the pan so the pieces fall into the pan all at once.
3. Cook the chicken, until no longer pink (about 7 minutes). Add the garlic and cook for 1 minute. Turn the chicken over and cook for 2 minutes more.
4. Transfer the chicken to a bowl.
5. Return the skillet to the heat and pour in the vermouth and lemon juice. Boil the liquid until slightly thickened, about 30 seconds.
6. Scrape up any browned bits from the bottom of the pan with a wooden spoon. Stir the zest and parsley into the sauce.
7. Pour the sauce over the chicken, season with salt and pepper to taste and toss to combine.
8. Serve over hot cooked pasta.
Try one of our fan-favorite chicken recipes:
Click for more Chicken recipes