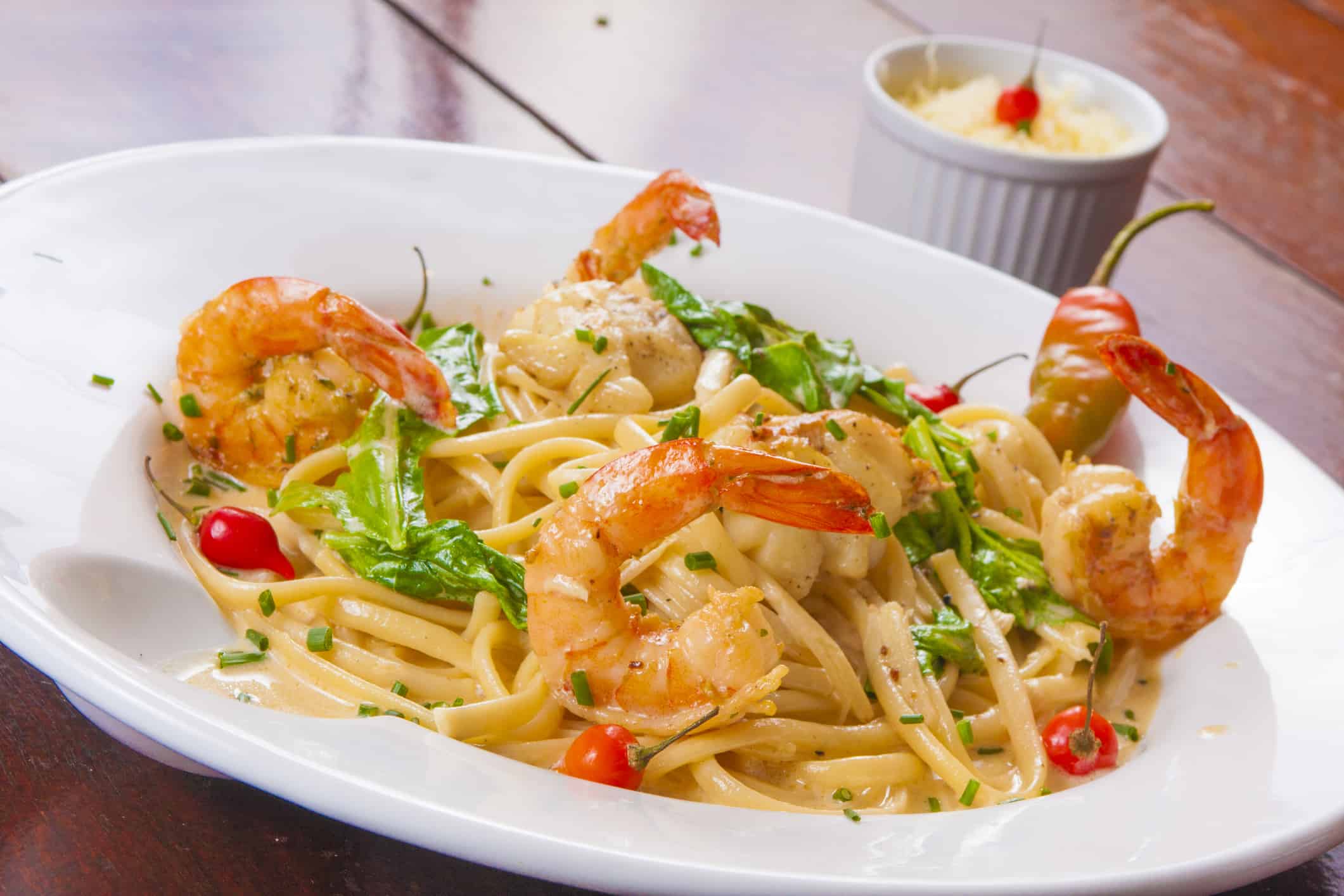 Shrimp Scampi
Shrimp Scampi literally means "shrimp shrimp". This meal means romance to many people, especially as they are looking for romantic meals for two for Valentines Day, anniversaries, or other celebrations. We really think it's nice to have a little seafood, and who can argue with seafood soaked in butter – not the healthiest recipe, but hey it's a special occasion and you're allowed to splurge a little.
The Recipe for Shrimp Scampi below is a great recipe for two as it is the perfect union of shrimp and pasta, of savory and tangy, and will have your beaux asking for more.
If you're looking for the "scampi without the shrimp", then check out our Chicken Scampi Recipe
Recipe for Shrimp Scampi
Ingredients:
2 pounds shrimp
8 tablespoons butter
4 large cloves garlic
4 tablespoons dry vermouth
2 tablespoons vegetable oil
4 tablespoons fresh parsley, or dried
2 teaspoons flour
Dash of lemon juice (1/2 of a lemon)
1 pound linguine (or your favorite pasta of choice)
Salt and pepper to taste
Directions:
1. Cook linguine according to package directions (al dente).
2. Rinse, peel, and de-vein the shrimp in cold water. Dry on paper towels.
3. Sauté garlic and parsley in butter and oil for 1 to 2 minutes.
4. DO NOT let the garlic turn brown.
5. Add the vermouth, then shrimp.
6. Raise heat to medium-high and cook for 3 to 5 minutes stirring frequently.
7. Do not overcook. Season with salt and pepper.
8. Add flour to slightly thicken the garlic butter.
9. Add the lemon juice during the last minute of cooking.
10. Remove from the heat. Serve immediately. Serves 4 to 6.
If this Shrimp Scampi recipe is not exactly what you're looking for, take a look at our Simple Recipes, there's definitely an Easy Recipe that will work for you.