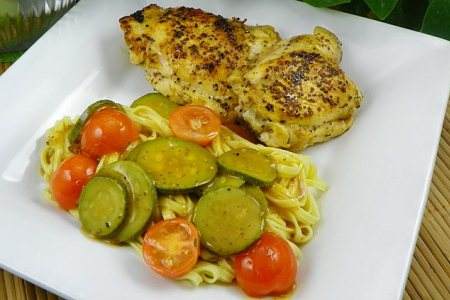 Rosemary Chicken and Vegetables
Let's Get Ready for Baby!
Sign up for our monthly pregnancy email series, and you'll get regular updates on your baby's development, helpful timelines to get ready for their arrival, must-have baby needs and so much more! PLUS, you'll get instant access to the MomsWhoThink "Ultimate Guide to Baby Naming in 2022."
CLICK HERE
to get started!
Ingredients:
4 medium skinless boneless chicken breast halves (about 1 ¼ pounds total)
½ teaspoon lemon-pepper seasoning
2 Tablespoons olive oil
1 teaspoon minced garlic
2 medium zucchini sliced ¼ inch thick (2 ½ cups)
½ cup apple juice or apple cider
½ teaspoon dried rosemary, crushed
1 9 ounce package refrigerated linguine
2 Tablespoons dry white wine
2 teaspoons cornstarch
12 cherry tomatoes, halved
Directions:
1.  Sprinkle chicken with lemon-pepper seasoning. In a large skillet heat oil over medium heat.
2.  Add chicken, cook over medium heat for 8 to 10 minutes (until chicken is no longer pink inside), turning once during cooking. Place cooked chicken on a platter and cover to keep warm.
3.  Add garlic to skillet; cook for 15 seconds. Add zucchini, apple juice, and rosemary.
4.  Bring to boiling, reduce heat. Cover and simmer for 2 minutes.
5.  Meanwhile, cook pasta according to package directions; drain.
6.  In a small bowl combine wine and cornstarch; add to zucchini mixture in skillet.
7.  Cook and stir until thickened and bubbly, cook for 2 minutes more.  Stir in tomatoes.
8.  Serve vegetables and pasta with chicken and hot buttered crescent rolls.  Makes 4 servings.
Try one of our favorite 30 Minute Meals: