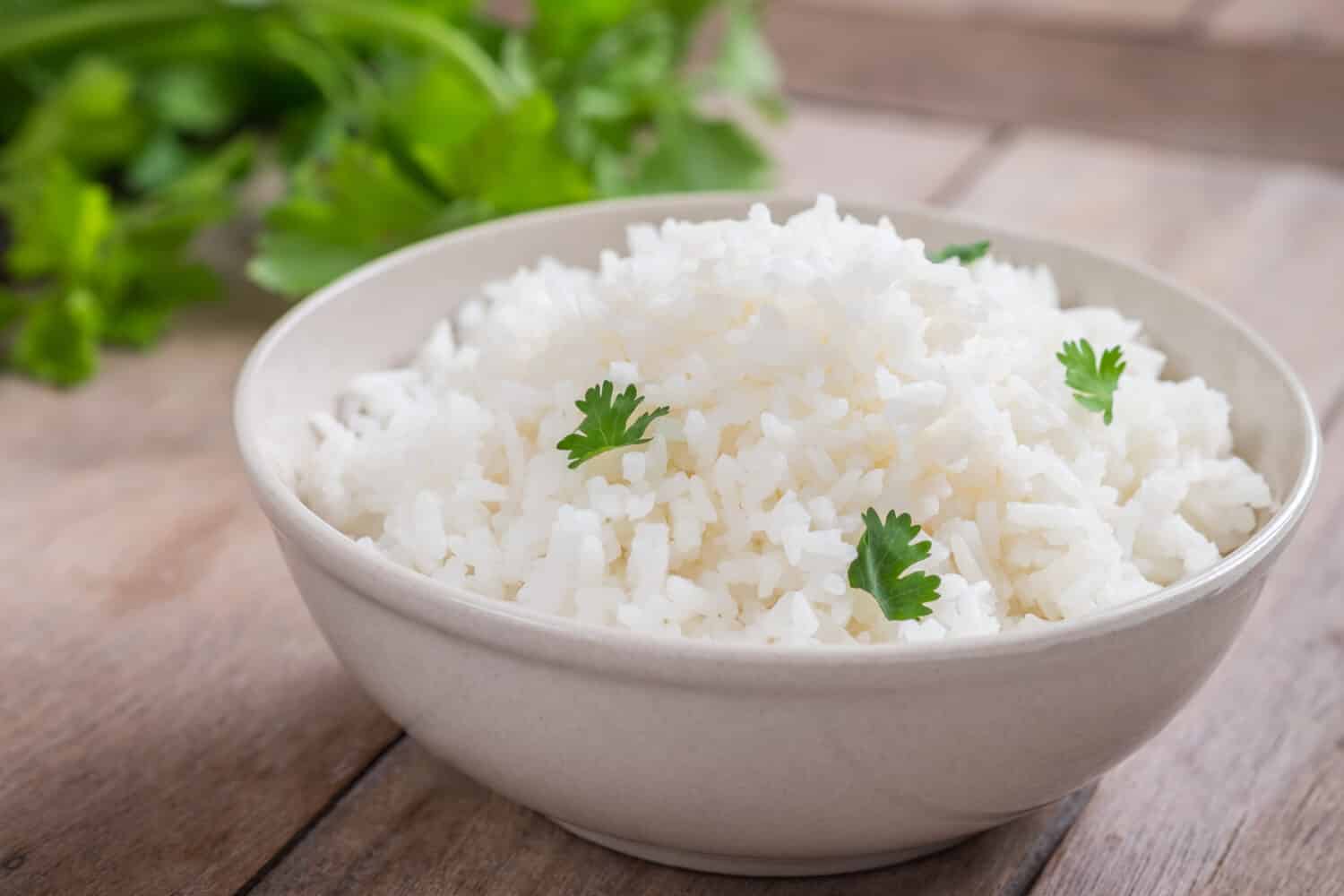 Rice has been a staple of the human diet for thousands of years, and it's no wonder. It's abundant and one of the easiest foods to cook. Basically, all you need is water to cover, maybe a pinch of salt, and in a few minutes you have a meal. Rice doesn't have much flavor of its own and is unmatched in absorbing and even enhancing the flavors of the other ingredients it's cooked with. Because of this, it pairs well with just about everything, including all types of fish. Here are 20 easy rice recipes to serve with that special fish course.
This mouth-watering rice recipe calls for fresh green peas, pancetta, garlic, dry white wine and arborio rice cooked in chicken broth. Arborio is a short-grain rice that's used often in Mediterranean dishes like this one. Pancetta, with its sweet, smoky taste, comes from the belly of the pig and is salt-cured. Some cooks embellish this dish with mint and fried scallions.
Another of the easy rice recipes, this delicious meal calls for white rice, a can of condensed cream of mushroom soup, frozen spinach, a can of corn, garlic, green chilies and cheddar cheese. Best of all, it all cooks in a crockpot. Just toss everything but the cheese in, and cook it on high for a little over two hours, Add the cheddar, and cook until it's melted.
This Asian-flavored rice dish features tofu and edamame. Edamame are soybeans, and tofu is soybean curd. Like rice, tofu has little flavor of its own and absorbs the flavors of what it's cooked with. This fried rice dish calls for already cooked brown rice that's enhanced with soybean products as well as red bell peppers, ginger, garlic and scallions.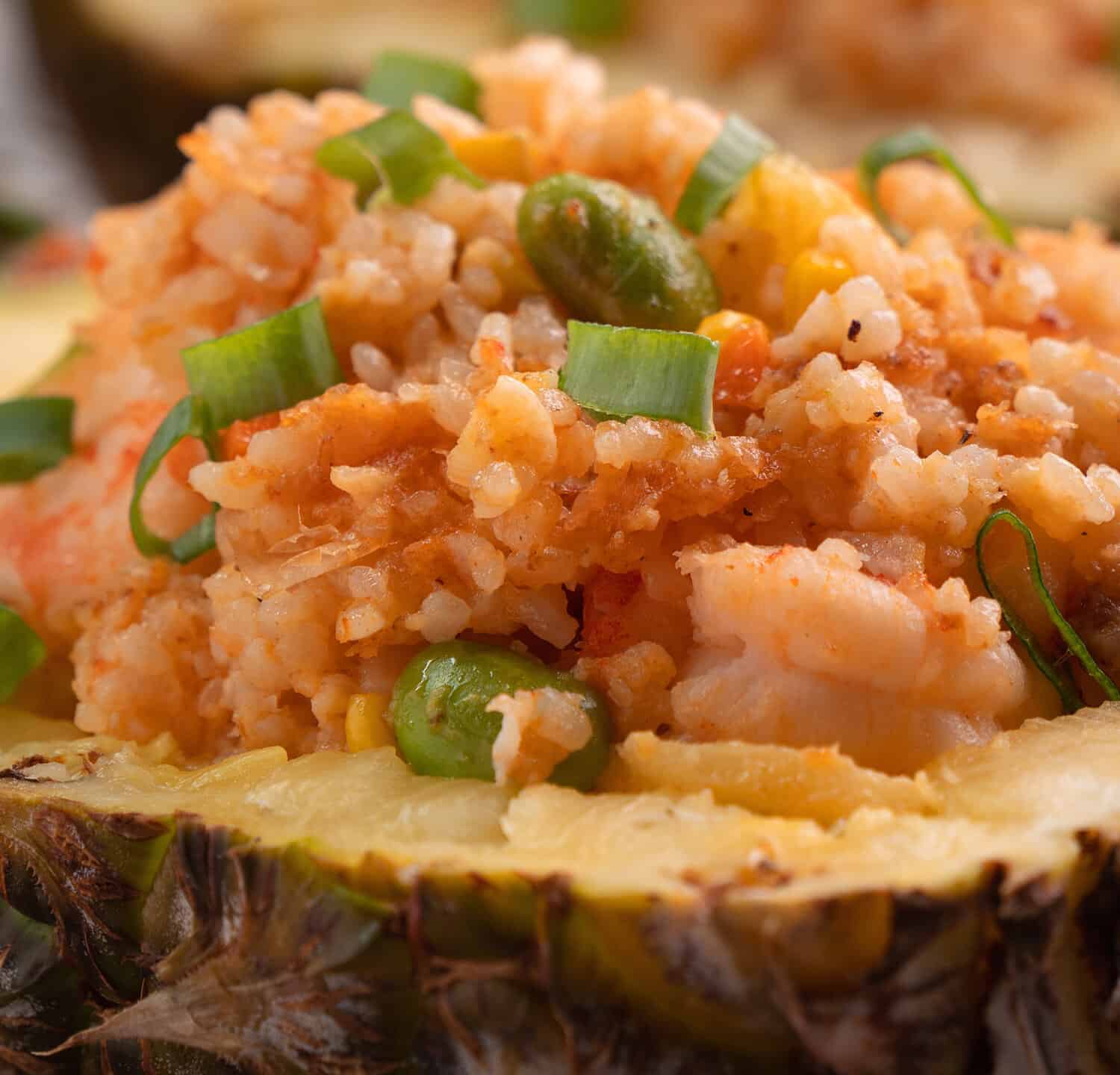 Most risotto dishes call for short-grain arborio rice, and this is no exception. On top of this, your recipe calls for a variety of delectable wild mushrooms, including shiitake, oyster mushrooms, wood ears, morels, chanterelles and others of your choice. It's a great recipe for foragers but be warned. Don't eat any wild mushroom unless you're absolutely sure that it's edible.
Of all the easy rice recipes, nothing beats plain old rice. This easy recipe is made even easier if you use a rice cooker. Rinse the rice until the water is cleared of starch, then add one cup of water to one cup of rice, depending on the grain. Bring to a boil, cover, cook on low. The time needed depends on the grain and the type. Long grain rice only needs 15 minutes, short grain rice needs about 20 and brown rice needs about a half an hour.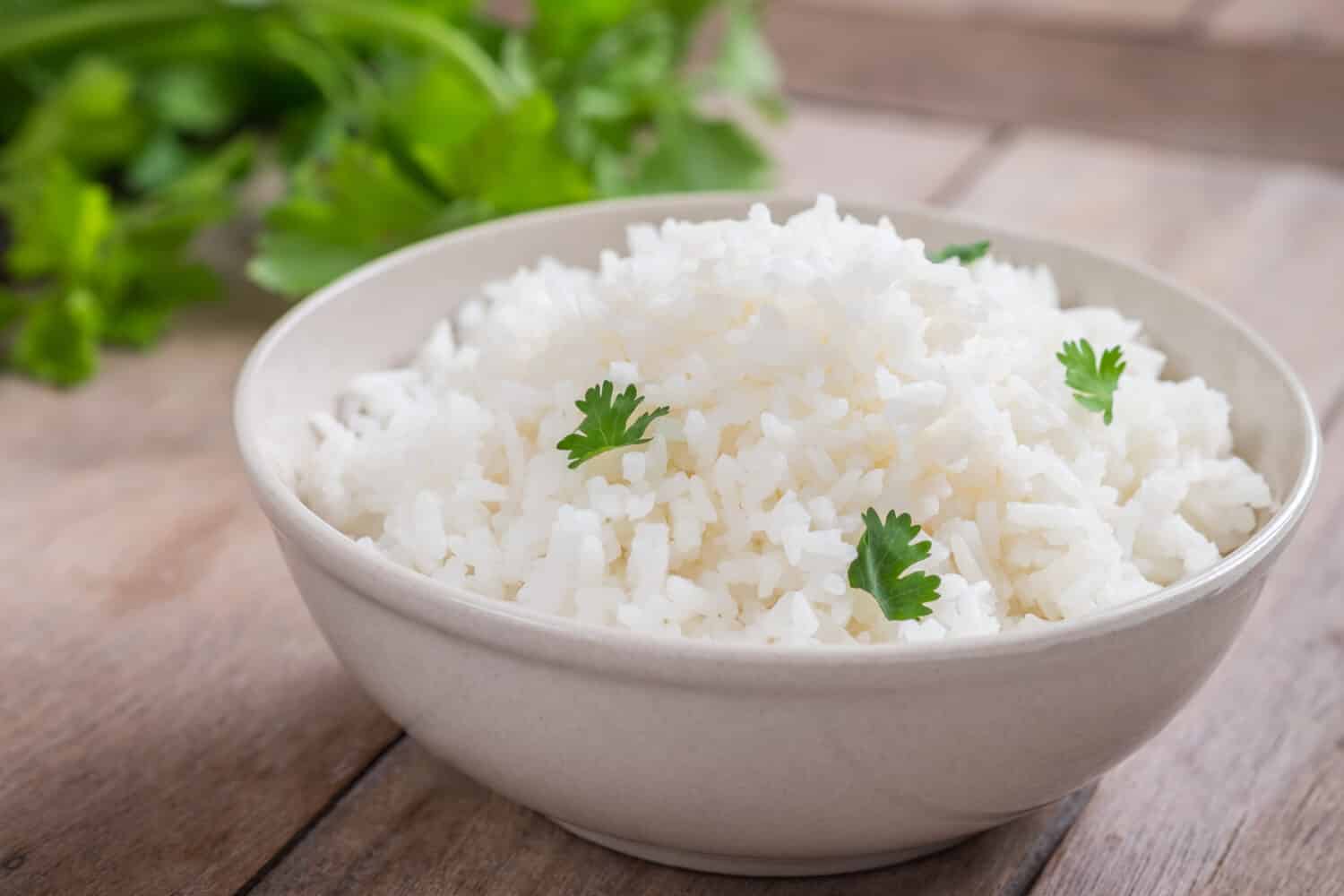 One of the easiest of the easy rice recipes, this flavorful dish gets its aroma and its color from the exotic spices of turmeric and cumin. You heat these spices along with some onion before you add them to the rice. This alone will make your kitchen smell amazing. Then you add basmati rice, some water, herbs and pine nuts. Basmati rice is a type of wonderfully fragrant, long-grain rice from the Himalayan foothills.
You don't have to wait till Thanksgiving to enjoy this rice-based stuffing. Indeed, you don't even have to tell your family or friends that it's stuffing if you don't want to. This recipe calls for wild rice, which is native to North America and isn't quite the same as domesticated rice, though they're close relatives. Wild rice is prized for both its nutty taste and its nutty fragrance. Though you can experiment with this recipe, it often utilizes turkey bacon or turkey sausage, dried sage and oregano, onion, celery and mushrooms.
This wonderfully savory side dish features rice, red beans, celery, onions, garlic and green peppers and salt pork along with Louisiana's trademark andouille sausage. It's all simmered for a couple of hours. To make it even more savory, mash the beans after they've softened, add them back to the pot then cook for about a half an hour more.
Unlike many of the other easy rice recipes mentioned, this one is baked in the oven instead of cooked on the stove. Just toss the rice, salt, butter, minced onion and boiling water in a greased one-and-a-half quart casserole, pop in a 350 degrees Fahrenheit oven for a half an hour, and you've got it.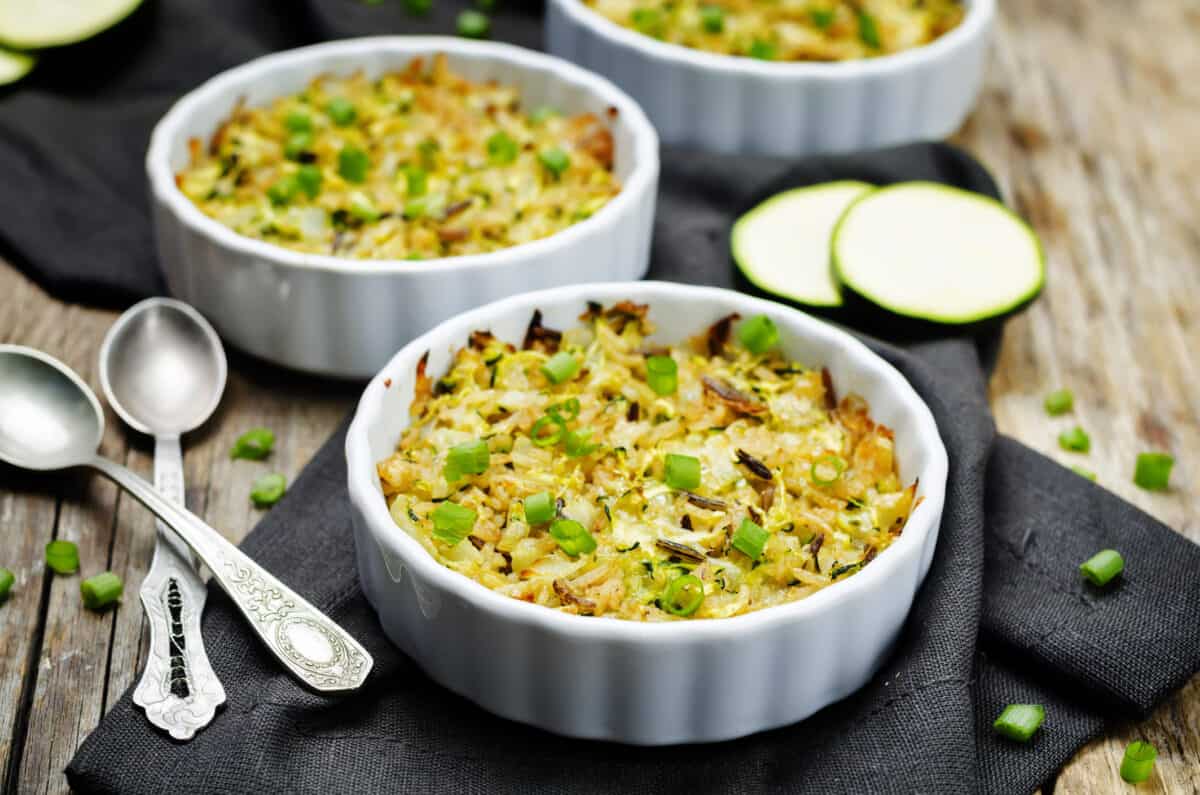 Ever had Rice-A-Roni? This rice recipe is sort of like that in that it calls for broken-up vermicelli that's sautéed in olive oil until it's golden brown. Then, the rice, green pepper, water, chicken stock and a bay leaf are added. Add a sprinkle of Parmesan just before serving.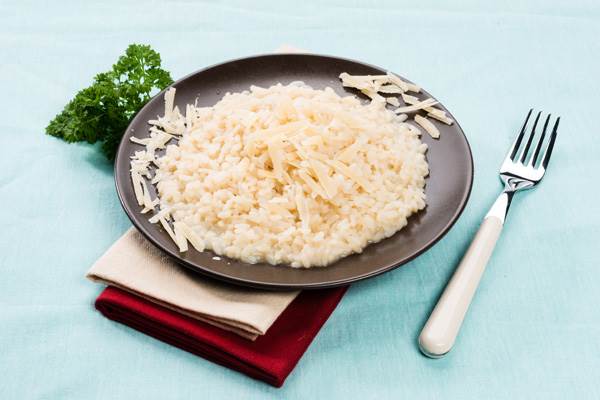 Don't be intimidated by garlic. The right amount of this aromatic adds flavor to a dish like no other. This easy recipe calls for three finely minced garlic cloves, long grain rice, dried thyme, chopped parsley, onions, a bay leaf and chicken broth. First, sauté the onions then the garlic in olive oil until they're golden.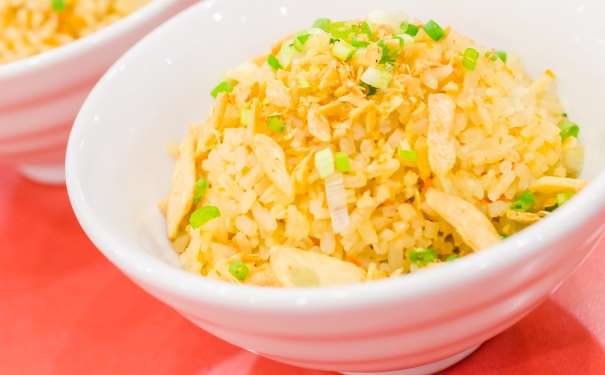 Like arborio rice, sushi rice is a type of short-grain rice, which makes it ideal for clinging together and forming shapes such as sushi "fingers." Sushi rice can also be eaten as a delicious side dish. Making sushi rice is fun, because after you cook it you transfer it to a wooden bowl and add a mix of sweet rice wine, rice vinegar and sugar and use a fan to cool it down quickly. Make sure that you get all the rice kernels. As a master sushi chef said, a lonely rice kernel will dry up and die.
Saffron comes from the hand-picked styles and stigma of a type of crocus flower. This makes it pricey, but it's unmatched when adding aroma and bright yellow color to rice. On top of that, this recipe calls for fragrant basmati rice and flakes of dried onion.
In Cuba, this dish is called Moros y Cristianos. You can use dried black beans that you soak for a few hours or preferably overnight, though it's quicker to use canned black beans. Other ingredients include bay leaves, garlic, pimento, green pepper, onions and even a dash of vinegar of lemon juice.
Ever heard of kippers? They're whole herring that have been split, salted and cold-smoked, and folks in the United Kingdom love them for breakfast. This rice cereal recipe is just the thing to accompany. It's also one of the easier recipes, as all it needs is rice, milk, sugar and ground cinnamon.
This very easy rice dish begins with sweating your onions to sweeten it then adding fresh lemons to brighten it. Other ingredients are one garlic clove, dried oregano and vegetable broth. Garnish it with fresh oregano or parsley or a drizzle of extra virgin olive oil.
Like Louisiana red beans and rice, this is a southern staple. Ideally, you'll use Carolina Gold rice, which is found off the coast of the Carolinas and in the bogs of Georgia. It's even better if the rice is toasted first in butter and olive oil before adding diced onion, chicken stock and finally the tomatoes.
Don't let the French name scare you. This is just buttered rice. All you need to do is cook some white rice, melt four tablespoons of butter in a pan, and add the rice and fluff it until it's dripping with butter. Add salt and pepper, then serve. To make it really fragrant, use jasmine rice.
This rice gets its green shade and much of its flavor from poblano peppers. Don't forget to roast the peppers first. After they're roasted, toss them in a blender with a bunch of cilantro, a garlic clove, half of a small onion and some spinach if you want, then add to the rice as it cooks.
This is a recipe that solves the problem of what to do with leftover rice. There are many variations, but the easiest is to fry up a can of marinated artichoke hearts, small mushrooms and a couple of tomatoes. Cook till the mushrooms are tender then toss in a bowl with the rice and olives. Chill overnight then add salt and pepper.