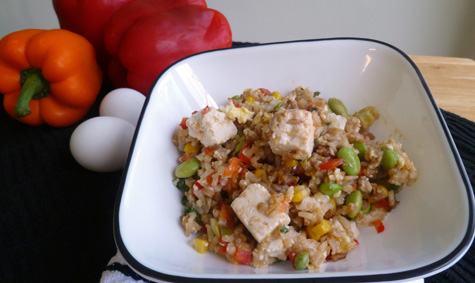 Fried Rice with Scallions, Edamame, and Tofu
Let's Get Ready for Baby!
Sign up for our monthly pregnancy email series, and you'll get regular updates on your baby's development, helpful timelines to get ready for their arrival, must-have baby needs and so much more! PLUS, you'll get instant access to the MomsWhoThink "Ultimate Guide to Baby Naming in 2022."
CLICK HERE
to get started!
Ingredients:
1 tablespoon plus 1 teaspoon canola oil
2 large cloves garlic, minced (about 2 teaspoons)
4 scallions (white and green parts), thinly sliced
1 tablespoon peeled and minced fresh ginger
4 cups cooked brown rice
¾ cup seeded and finely diced red bell pepper
¾ cup frozen shelled edamame, cooked according to package directions and drained
½ cup fresh or frozen (thawed) corn kernels
6 ounces firm tofu, cut into ¼-inch cubes
2 large eggs, beaten
3 tablespoons low-sodium soy sauce
Directions:
1. Heat 1 tablespoon of the oil in a wok or large skillet over high heat until very hot but not smoking. Add the garlic, scallions, and ginger and cook, stirring, until softened and aromatic, 1 to 2 minutes. Add the rice, red pepper, edamame, corn, and tofu and cook, stirring, until heated through, about 5 minutes.
2. Make a 3-inch well in the center of the rice mixture. Add the remaining 1 teaspoon oil, then add the eggs and cook until nearly fully scrambled. Stir the eggs into the rice mixture, then add the soy sauce and incorporate thoroughly. Serve hot.
Serves 4
Serving size: about 1½ cups
Per serving
Calories: 400
Total fat: 12.5 g
Mono: 4.5 g
Poly: 2.5 g
Sat: 2 g
Protein: 16.5 g
Carbohydrates: 56 g
Fiber: 7 g
Cholesterol: 106 mg
Sodium: 465 mg
Excellent source of
Iron
Magnesium
Niacin
Phosphorus
Protein
Selenium
Vitamin A
Vitamin B6
Vitamin C
Vitamin K
Good source of
Calcium
Folate
Pantothenic
Acid
Riboflavin
Thiamin
Zinc