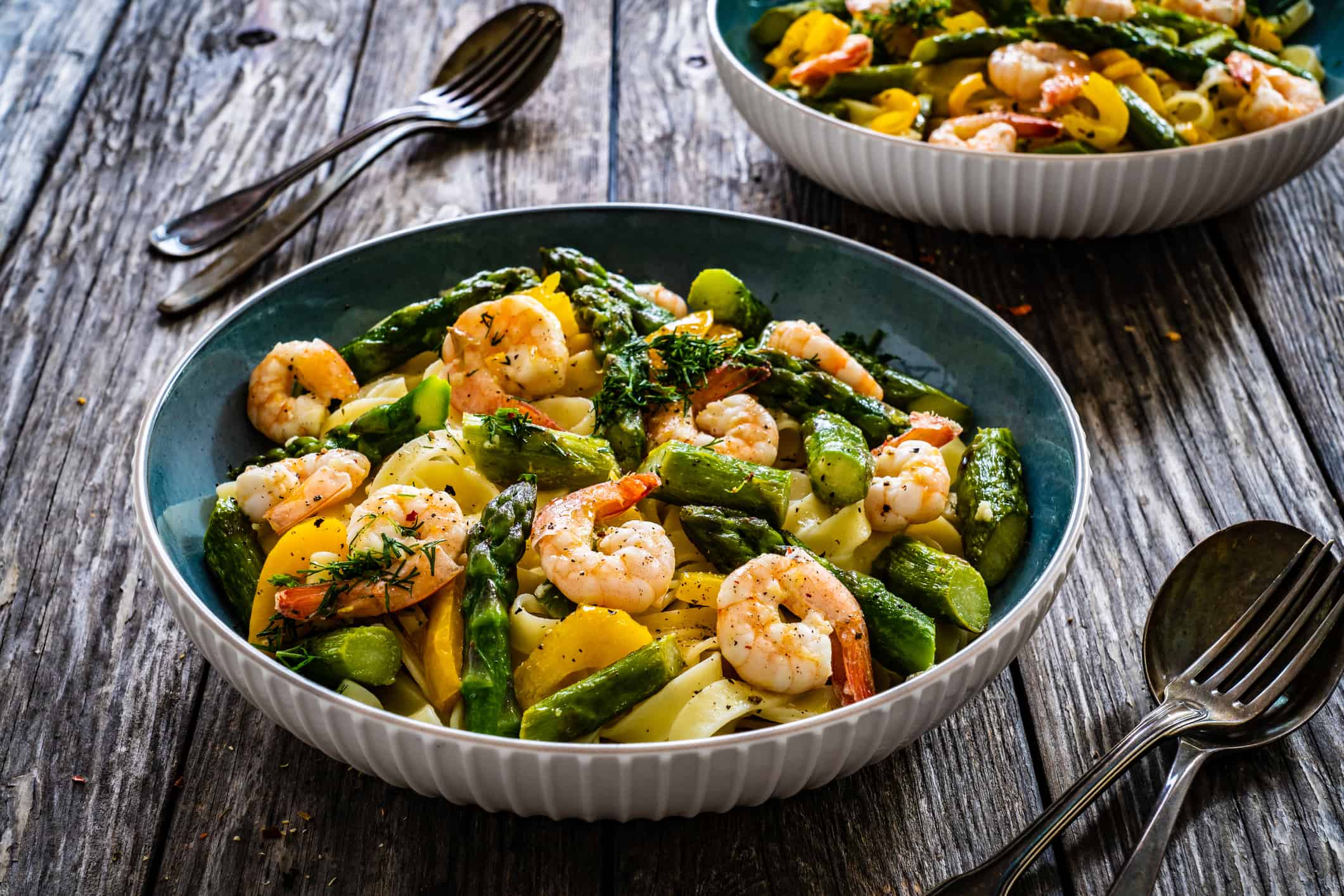 Stir-Fried Lemon Shrimp and Asparagus
Ingredients:
1 pound extra-large shrimp (21 to 25 per pound), peeled and deveined
2 teaspoons  low-sodium soy sauce
2 teaspoons Chinese rice cooking wine or dry sherry
3 scallions, minced
3 garlic cloves, minced
1 tablespoon grated fresh ginger
5 teaspoons canola oil
1 bunch asparagus (about 1 pound), tough ends trimmed, sliced on the bias into 2-inch lengths
2 carrots, peeled and cut into matchsticks
6 tablespoons low-sodium chicken broth
¼ cup fresh lemon juice from 2 lemons
¼ cup Chinese rice cooking wine or dry sherry
2 tablespoons low-sodium soy sauce
2 teaspoons sugar
2 teaspoons cornstarch
¼ teaspoon pepper
Directions:
1. Toss the shrimp with 2 teaspoons each soy sauce and rice wine in a bowl and marinate for at least 10 minutes or up to 1 hour.
2. Combine the scallions, garlic, ginger, and 1 teaspoon of the oil in a bowl.
3. Heat 2 teaspoons more oil in a 12-inch nonstick skillet over high heat until just smoking. Add the shrimp, break up any shrimp that stick together, cook until lightly browned on all sides but not fully cooked, about 1 ½ minutes. Transfer to a bowl, cover, and set aside.
4. Add the remaining 2 teaspoons oil to the skillet and return to high heat until shimmering. Add the asparagus and carrots and cook until the vegetables are crisp-tender, 3 to 4 minutes.
5. Clear the center of the skillet, add the garlic mixture, and cook, mashing the mixture into the pan, until fragrant, 15 to 30 seconds. Stir it into the vegetables.
6. Return the shrimp, with any accumulated juice, to the skillet. Whisk remaining ingredients together in a bowl, then add to skillet. Simmer, tossing constantly, until the shrimp are cooked through and the sauce has thickened, 30 seconds to 2 minutes. Serve.
Serves 4
Serving size: 1¼ cup
Per serving
Calories 230
Fat 8g
Saturated 0.5g
Cholesterol 130mg
Sodium 560mg
Carb 17g
Fiber 4g
Protein 21g
Try one of our fan-favorite Healthy Meals: