Salt is a staple for almost every recipe in the kitchen. Whether you are cooking breakfast, lunch, or dinner, almost all recipes call for a pinch or two of salt. Salt can enhance and contribute a great deal to any meal. It's noticeable when a dish is lacking in the salt department. While salt is a staple in all recipes and kitchens, there are many differences in salt to note and know. Different types of salt can give off different flavors and also other textures to a dish. Two common types of salt in the kitchen are kosher and regular table salt. While the two sometimes get confused and mixed up, it's important to note they are different in a variety of ways.
What Is Salt
Salt is a mineral in itself. It is usually found underground or in the ocean, in salt water. Salt that is used for food and recipes is an essential part of overall human health. In addition, salt is used a preservative for many different things.
Kosher Salt
Kosher salt is a salt that is primarily used in Jewish recipes and kitchens. However, despite being named "kosher salt," this type of salt in itself is not kosher. The reason that kosher salt is called this is because of its ability to pull blood from the meat. This process is essential in Judaism and determining whether meat is kosher or not. Kosher salt flakes are much larger than traditional salt flakes. It is also good when seasoning anything because it stays on the food well, especially raw meat and poultry. In addition, it is pure and does not have any additives to the mixture.
Table Salt
Table salt is essentially just granulated white salt. It is what is served in most restaurants or placed on the table at home, hence its name. The way that it is made is through mining from underground minerals.
Key Differences Between the Two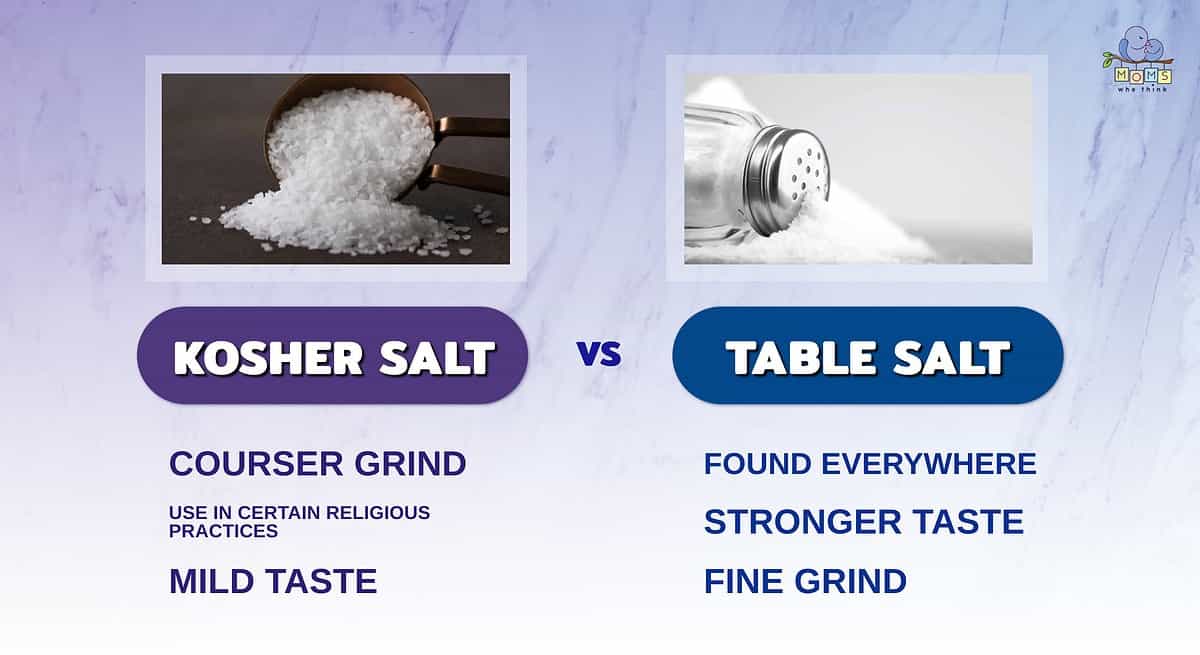 Contents:
Kosher salt is a much more pure form of salt than table salt happens to be. This is because table salt goes through a process that allows for different things to be removed from it. It also allows for the salt to be much smaller than kosher salt. The grains of kosher salt appear much bigger because it does not go through this process. In addition, there are additives in table salt that do not exist in kosher salt.
Flavor:
Despite having larger flakes in size, kosher salt has a much more mild taste than table salt. When using table salt, you will have a much "saltier" taste that comes along with it. This is why it is left on the table, to easily flavor dishes after the cooking process. However, when cooking, chefs do prefer to have kosher salt in their dishes, as they can control the flavor pallet easily.
Texture:
The difference in texture is easily noted through size. Because table salt is finely smashed into smaller grains, the texture is much smoother and almost powder-like. Kosher salt, on the other hand, has larger flakes, which makes it a more coarse and noticeable salt in terms of visualization.
Uses in the Kitchen:
Kosher salt is mainly used to marinade dishes and also during the cooking process. This is because the flavor is less potent. Table salt is used after cooking to add more salt and flavor to a dish. To use kosher salt and table salt interchangeably, it's important to note these flavor differences. You will need more kosher salt to get to the same flavor as using a smaller amount of table salt, and less table salt if you are replacing kosher salt.
The Takeaway
Both kosher salt and table salt are made from the mineral, which is usually mined from the ground. Kosher salt comes in larger grains that produce a more subtle salt flavor, while table salt comes in small grain-like powder, giving off a much more intense flavor. Both are used in the kitchen often, but during different times through the culinary process.
Looking for a new recipe to use the salt you have on hand in? We've got you covered:
Print
Chicken Saltimbocca with Mushroom Sauce
---
Author:

Yield:

8

servings

1

x
½ cup all-purpose flour
¼ teaspoon salt
½ teaspoon pepper, divided
8 boneless skinless chicken thighs (2 pounds)
2 Tablespoons olive oil, divided
2 cups sliced fresh mushrooms
2 thin slices prosciutto or deli ham
½ cup chopped shallots
2 garlic cloves, minced
1 cup white wine or reduced sodium chicken broth
1 cup reduced sodium chicken broth
⅓ cup half and half cream
3 Tablespoons fresh sage or 3 teaspoons dried sage leaves, divided
1 can (15 ounces) white kidney or cannellini beans, rinsed and drained, divided
¼ cup water
---
Instructions
1. In a large resealable plastic bag, combine the flour, salt, and ¼ teaspoon pepper. Add chicken, a few pieces at a time, and shake to coat.
2. In a large skillet over medium heat, cook chicken in 1 Tablespoon oil for 6 to 8 minutes on each side or until juices run clear. Remove and keep warm.
3. In the same skillet, sauté the mushrooms, prosciutto, shallots, and garlic in remaining oil until tender.
4. Stir in wine. Bring to a boil; cook until liquid is reduced to about ⅓ cup, about 10 minutes.
5. Stir in broth. Simmer, uncovered, for 5 minutes or until slightly reduced.
6. Stir in cream and 2 Tablespoons sage; heat through (do not boil).
7. Meanwhile, in a small saucepan, lightly mash ½ cup beans; add the water. Stir in the remaining pepper, sage and beans. Heat through.
8. Add chicken to the mushroom mixture and heat through. Serve with beans.
Nutrition
Serving Size:

1 serving

Calories:

290

Sodium:

371mg

Fat:

13g

Saturated Fat:

4g

Carbohydrates:

14g

Fiber:

3g

Protein:

26g

Cholesterol:

84mg
The image featured at the top of this post is ©wavebreakmedia/Shutterstock.com.