Have you ever been in the specialty meats aisle and wondered about the difference between speck and prosciutto? If so, you're in the right place now. Both prosciutto and speck come from pig meat, and both go through the process of salt-curing. However, their differences are the key to their uses, taste, and texture. It really comes down to the production process in speck vs. prosciutto. There are a few extra steps when it comes to speck than prosciutto, and while they're both salt-cured, the final flavor profiles are quite different. They hail from varying regions of Italy, something you'll learn more about if you keep on reading!
In this post, we'll discuss the process for creating these delicious salt-cured meats. You'll learn about their histories, how they are used, and what they pair best with. You'll get some ideas for possible recipes that use prosciutto or speck. Use it as a garnish or in hors d'oeuvres. There are all kinds of ways to incorporate these meats into some wonderful recipes to share with friends or make all on your own. Let's get into it!
Speck vs. Prosciutto: What is the Difference?
The largest differences between speck vs. prosciutto are in its production, coloring, general flavoring, and the fact that speck is smoked after it has been cured. Proscuitto is decidedly raw as it is being salt-cured. So, this is one way in which the flavor profiles of these two types of meat are really different. Let's get into the details of what makes these two ingredients unique in their own right.
What is Speck?
Speck, also known as Speck Alto Adige, is a cut of pork that comes from the hind leg or the rump of the pig. The process for curing and smoking speck combines drying techniques that hail from the Mediterranean and a smoking process that hails from Central Europe. The meat is cured in salt and rubbed with a combination of spices. This spice combination can include pepper, juniper berries, rosemary, and bay leaf. Speck needs to be aged at least 22 weeks, but can be cured for longer. The final product is a red sliced meat, with visible spice build-up on the exterior (via Martha Stewart).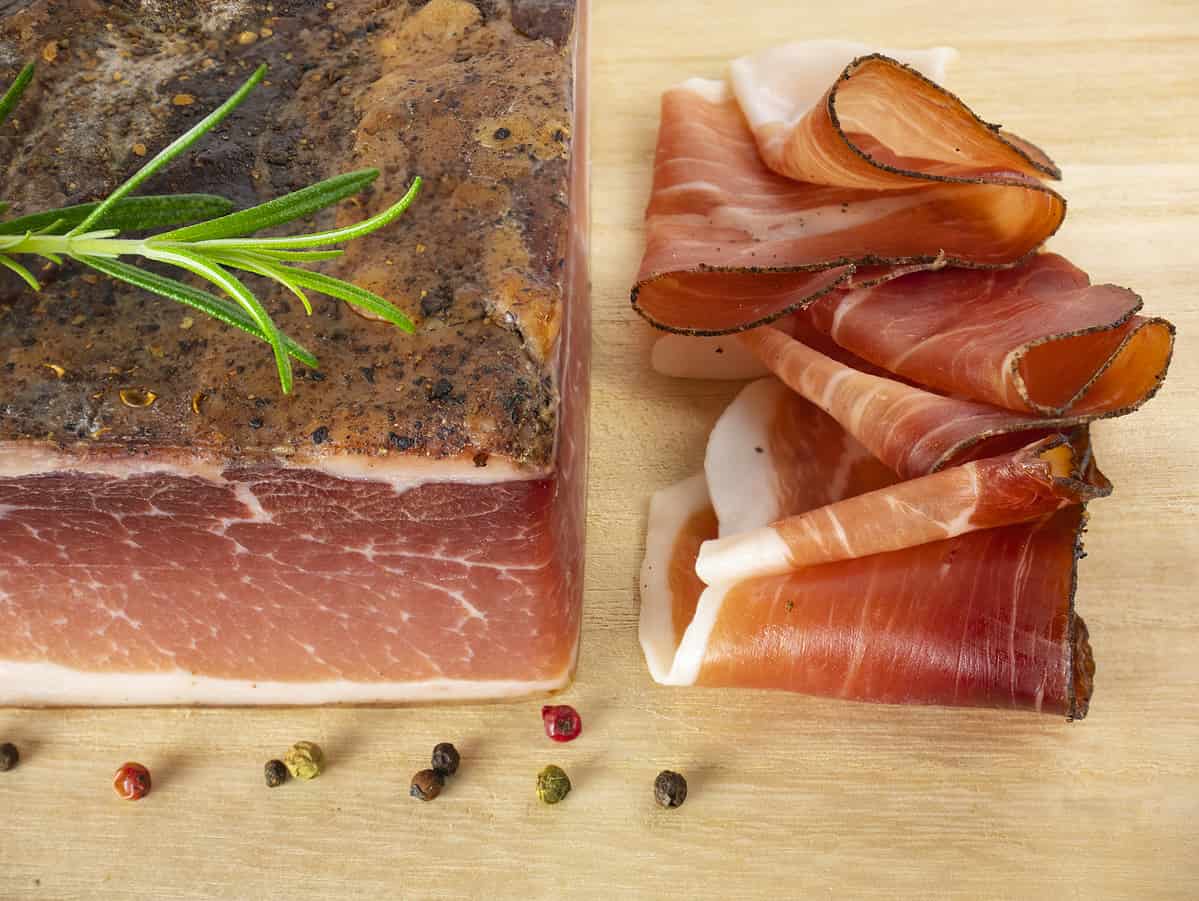 How Speck is Made
Authentic speck is packaged with the label Speck Alto Adige IGP, to prove its quality and curing process. The meat is sourced from pigs who have been raised with a certain diet, and while in transport, the meat is not allowed to be frozen. The meat is deboned before going through the curing process, which is different than the process of making prosciutto. The raw meat is rubbed with a spice mixture that combines salt, juniper, bay leaves, and pepper. Although the mix can depend on the maker. The pork cuts are left to marinate in a temperature-controlled room for at least three weeks. The final step in the process is lightly smoking the meat. The temperature in the smoker stays at or around 68 degrees Fahrenheit. Finally, it goes to the curing cellar for at least 22 weeks, before being packaged and shipped (via Eataly).
History and Origin of Speck
Speck has roots in Northern Italy, specifically the Tyrolean region. Its name can be connected to the Middle High German word "spek," which translates to a thick cut of meat. Speck was a great option for curing meat to have throughout the colder months when livestock was still being raised. This cured meat is used in traditional Northern and Southern Tyrolean dishes, like Speck Dumplings. It is often used as an appetizer to be paired with wine and as part of meat platters for standard hors d'oeuvres (via Speck.it)
What is Prosciutto?
Prosciutto is a type of Italian ham, that comes from the hind leg cuts of a pig. There are many types of prosciutto in Italy, but the most common ones in the States are prosciutto cotto, a cooked form, and prosciutto crudo, a raw, cured form. It appears a lighter shade of pink than speck, and will often have fatty strips of the cured meat, the white portions, as part of its cut.
History and Production of Prosciutto
Prosciutto has a long history, dating back to the ancient Romans. This is because salt-curing meats allow them to last much longer, and they definitely didn't have fridges back then. The process is fairly simple. First, the pork legs are salt-cured and left to marinate for a few weeks. It is this step that makes the dried meat safe to eat because the salt stops bacteria from entering the meat. Once the salt curing is done, a spice rub is added, and they cure for another 14-36 months. These details are left up to the maker, and certain types of prosciutto brands are super specific as to where the meat is sourced and raised (via Eataly).
Uses For Prosciutto
The easiest way to include prosciutto in a meal is to serve it on a platter alongside other cured meats, cheese, bread, and crackers. However, there are many recipes that incorporate the meat directly into the process. Insanely Good Recipes recommends them cooked with white wine scallops, baked into the crust of egg cups, or baked into pasta dishes. They get crispy in the oven and can be made into chips for dipping sauces, as well as a flavor enhancer in classic recipes. For instance, paired with melon they enhance the sweetness of the fruit. On pizza, they add a salty, crispy flavoring. There are simply so many ways to add prosciutto to your meals and to make it a truly delicious addition.
Nutritional Value
The nutritional value of speck vs. prosciutto depends a lot on what they are paired with. However, for the meat-specific nutritional measurements, you can refer to this handy chart below. As you'll see that 3 ounces of either meat are comparable on a number of markers. Speck, which is often a thicker cut of meat than prosciutto has a higher fat content. Prosciutto on the other hand has a slightly higher percentage of iron content than speck. Pair them with a vegetable dish versus adding pasta and the nutritional profile of the dish as a whole will change. That's the great thing about home cooking!
Possible Alternatives to Speck and/or Prosciutto
Other popular cuts of cured meats to try include Serrano ham, prosciuttini, and other Spanish Jamons. Bacon can provide a similar salty, crispy flavor to many dishes. However, it doesn't have the same texture as raw, salt-cured meat. For meat alternatives, there are tempeh and tofu substitutes. For a totally vegan option, you can marinate mushrooms with the same spices as these cured meats and have a comparable flavor profile in certain dishes.
Speck vs. Prosciutto: Are They the Same Thing?
Speck and prosciutto may have a strong resemblance to one another, but they definitely have quite a few differences. After reading this article, you may have learned what many of those differences are. But let's do a quick recap of how they differ:
Prosciutto is essentially raw due to it being salt-cured. However, speck is smoked after it has been cured.
In terms of appearance, speck has a darker red hue, whereas prosciutto has a light pink tone.
The tastes of both are somewhat different, with speck having a richer flavor and prosciutto being saltier.
When considering speck vs. prosciutto, it is clear they are not the same thing. There are enough differences in the processing of each meat as well as in the final step of lightly smoking speck vs. prosciutto, which typically remains raw. The two types of meat appear different, with speck possessing a darker red shade of meat, while prosciutto has a lighter pink appearance overall. In terms of flavor, speck is a heartier meat with a richer flavor than prosciutto, while prosciutto has a saltier, dryer flavor. While they can be shared on a platter and enjoyed in similar ways, these two types of salt-cured meats are different.
Give this recipe a try:
Print
Chicken Saltimbocca with Mushroom Sauce and Prosciutto
---
Author:

Yield:

8

servings

1

x
1/2 cup all-purpose flour
1/4 teaspoon salt
1/2 teaspoon pepper, divided
8 boneless skinless chicken thighs (2 pounds)
2 Tablespoons olive oil, divided
2 cups sliced fresh mushrooms
2 thin slices prosciutto or deli ham
1/2 cup chopped shallots
2 garlic cloves, minced
1 cup white wine or reduced sodium chicken broth
1 cup reduced sodium chicken broth
1/3 cup half and half cream
3 Tablespoons fresh sage or 3 teaspoons dried sage leaves, divided
1 can (15 ounces) white kidney or cannellini beans, rinsed and drained, divided
1/4 cup water
---
Instructions
1. In a large resealable plastic bag, combine the flour, salt, and ¼ teaspoon pepper. Add chicken, a few pieces at a time, and shake to coat.
2. In a large skillet over medium heat, cook chicken in 1 Tablespoon oil for 6 to 8 minutes on each side or until juices run clear. Remove and keep warm.
3. In the same skillet, sauté the mushrooms, prosciutto, shallots, and garlic in remaining oil until tender.
4. Stir in wine. Bring to a boil; cook until liquid is reduced to about ⅓ cup, about 10 minutes.
5. Stir in broth. Simmer, uncovered, for 5 minutes or until slightly reduced.
6. Stir in cream and 2 Tablespoons sage; heat through (do not boil).
7. Meanwhile, in a small saucepan, lightly mash ½ cup beans; add the water. Stir in the remaining pepper, sage and beans. Heat through.
8. Add chicken to the mushroom mixture and heat through. Serve with beans.
Nutrition
Serving Size:

1 serving

Calories:

290

Sodium:

371mg

Fat:

13g

Saturated Fat:

4g

Carbohydrates:

14g

Fiber:

3g

Protein:

26g

Cholesterol:

84mg
The image featured at the top of this post is ©iStock.com/Marco_de_Benedictis.