The differences between Parma ham vs. prosciutto aren't completely obvious, since pharma ham is a form of prosciutto. However, in addition to the fact that one comes from the Parma region of Italy while the other doesn't, Parma ham has other differences, including a more complex flavor profile than prosciutto since it's typically flavored with rosemary, garlic, and other spices.
Parma Ham vs. Prosciutto: What are the Similarities?
Before you can really understand the differences of Parma ham vs. prosciutto, you should know that there are many similarities. Both Parma ham and prosciutto are dry-cured ham varieties that come from Italy.
The general process of making Parma ham and prosciutto is the same, and it involves curing the meat with salt and then air drying it. Technically, Parma ham is a form of prosciutto. It just comes from a different region. Both meat varieties are cut from the hind leg of that pig. Both of these meats can be prepared in similar dishes or be served on their own.
Parma Ham vs. Prosciutto: What are the Differences?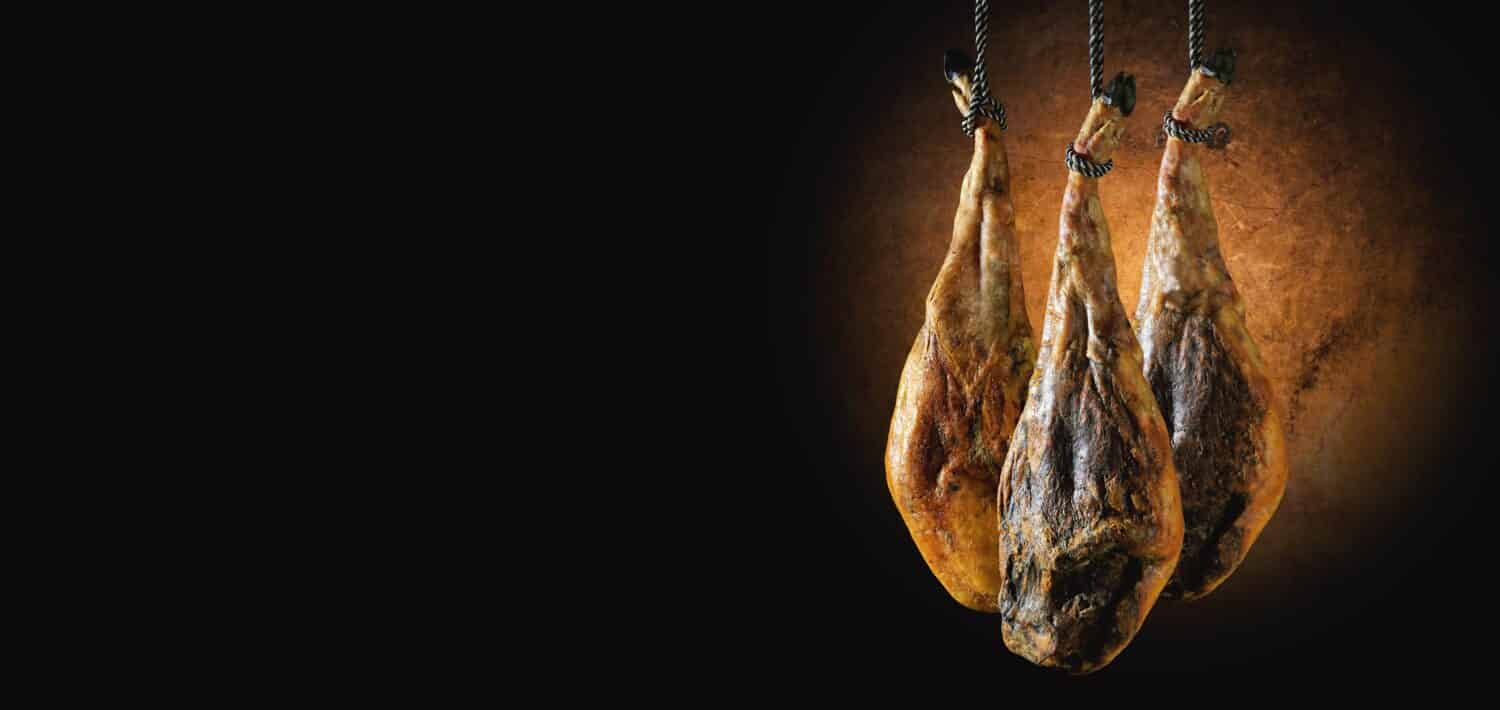 The differences between these two foods starts with the way they are prepared. The preparation is slightly different, and so is the taste. Prosciutto is often described as saltier and more pungent, while Parma ham is more delicate and sweet.
In addition to the added species, there are also differences in the type of pig that is used in both dishes and how both are prepared.
How Prosciutto is Prepared
In most cases, the meat used for prosciutto is from either a purebred or a crossbreed pig. Once the meat is cut off of the hind leg of the pig, it's cured for at least nine months, so it gets the trademark salty flavor. Here's the process in detail:
The meat is salted, and then it's left to rest for at least a few weeks. The point of doing so is that the salt draws out the moisture and blood so that bacteria is eliminated, and the meat gets that salty flavor.
Next, the pork is washed and then seasoned with garlic, salt and pepper, or whatever your family's secret recipe requires.
The meat is then left to dry-age for 14-36 months in a controlled temperature. That time is necessary because the salt combines with the air to provide an unforgettable flavor.
How Parma Ham is Prepared
One of the big differences between Parma ham vs. prosciutto is the pig and what it's fed. Parma ham is made from purebred pigs. Before they're slaughtered, the pig is fed a diet that consists of barley, wheat, and ayocote beans. Of course, the pigs must also be from the Parma region of Italy. That combination is really what gives this meat its unique flavor. The rest of the preparation goes as follows:
Once the meat is cut from the pig, it's salted, and then it rests in a refrigerator for about a week.
Next, it's taken out, and another thin layer of salt is added.
The ham then sits for another 15 to 18 days while the salt is absorbed. The meat is then put into a humidity-controlled room for between 60 to 90 days. Then, it's taken out, and any excess salt is washed off.
The meat is then hung in a drying room for a few days. Once dry, the meat is again placed in a well-ventilated room for three months.

Finally, the meat is cured by hanging in a cellar with very little light or air. Per Italian law, the aging period must be at least a month.
Once you believe the Parma ham meets all necessary standards, it must be checked for quality and the right maturity. If it is approved, then it's branded with the five-point Ducal Crown.
Parma Ham vs. Prosciutto: Health Considerations
While both of these meats are delicious, the question is are they healthy for you? This is another area where we will see some differences.
Prosciutto
If you're trying to lose weight then you shouldn't go on an all-prosciutto diet, but with that said, it isn't the least healthy food in the world. The main culprit in prosciutto or just about any type of ham is the salt content. Too much salt can lead to ailments like diabetes and heart disease. With that said, prosciutto does have a fair share of vitamins, including:
Vitamins B and E
Calcium
Iron
Magnesium
Selenium
Some people believe that ham is high in fat, but it's really high in oleic acid, which is considered a healthy fatty acid that's also found in olive oil. So, while it should be consumed in moderation, it's not the unhealthiest food in the world.
Parma Ham
Although there are typically more spices added to Parma ham, it is considered to be a healthier option, though it should still be consumed in moderation. When the ham is cured and made properly, it's free of preservatives and additives. Parma ham also has some of those healthy fats that our bodies need to thrive. Plus, it contains the following vitamins and minerals:
Vitamin B
Zinc
Iron
Selenium
This ham also has a high protein level, which means that it's rich in amino acids that are vital for strengthening our muscles.
Best Substitutes for Parma Ham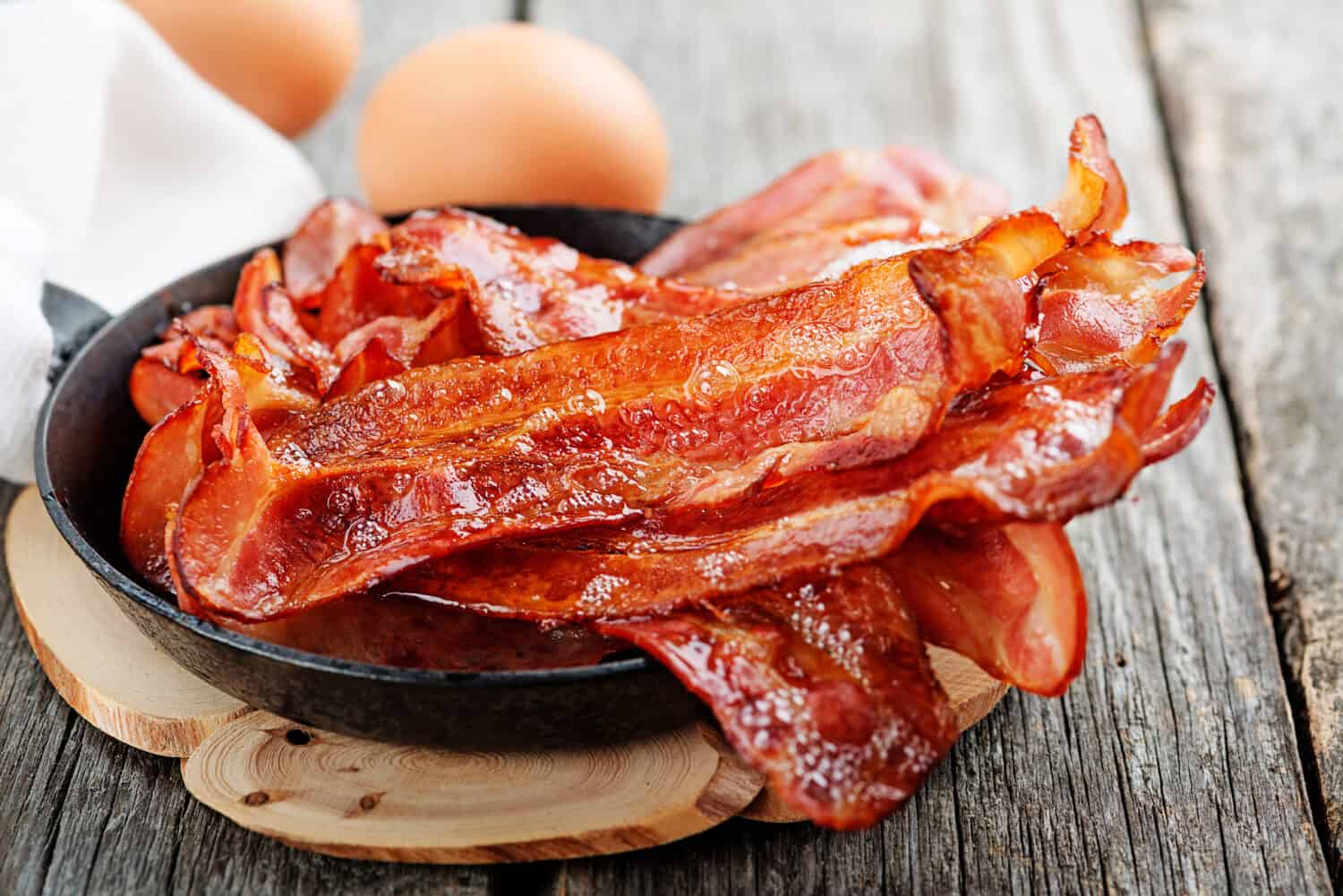 If you like the idea of Parma ham, but you're looking for something a little different, then there are many alternatives that can provide that same great taste profile.
Serrano Ham
This type of ham is also seasoned with salt and spices, and then it's cured for two months to a year. Serrano ham has a distinct salty and sweet flavor. It can also be used as an appetizer or a component of an overall dish.
Jamon Iberico
This is Spain's answer to Parma ham, and it's a tasty substitute. It's made from the hind leg of a Iberian pig, and it's aged for up to two years. The result is a rich and salty flavor. Beware that this is typically a more expensive option.
Ardennes Ham
This is a Belgian-style ham that's dried and prepared in a similar way to Parma ham. It may be hard to find, but it's work trying at least once, and it offers a great taste profile.
Bacon
If you're looking for the unique taste of Parma ham, but you're on a budget, then bacon is a nice alternative. Cook the bacon until it's crispy, and you'll get a very similar taste.
Pancetta
Pancetta is also cured for a long time and similarly seasoned. Note that Parma ham is smoked and Pancetta is not, so the Parma flavor will be a bit more bold. However, both are salty and a great addition to your next dish.
Pastrami
This is another deli meat that's easy to find when you're in a pinch. Pastrami is cured within a brine with various other spices, and it also has more moisture, so the flavor will be slightly different. However, an untrained pallet may not be able to tell the difference.
Prosciutto and Parma Ham Recipes
Regardless of where you fall in the Parma ham vs. prosciutto argument, there are many recipes that can benefit from either of these tasty meats. Here are a few to consider:
Print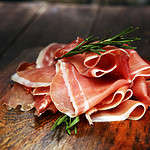 Chicken Saltimbocca with Mushroom Sauce
---
Author:

Yield:

8

servings

1

x
1/2 cup all-purpose flour
1/4 teaspoon salt
1/2 teaspoon pepper, divided
8 boneless skinless chicken thighs (2 pounds)
2 Tablespoons olive oil, divided
2 cups sliced fresh mushrooms
2 thin slices prosciutto or deli ham
1/2 cup chopped shallots
2 garlic cloves, minced
1 cup white wine or reduced sodium chicken broth
1 cup reduced sodium chicken broth
1/3 cup half and half cream
3 Tablespoons fresh sage or 3 teaspoons dried sage leaves, divided
1 can (15 ounces) white kidney or cannellini beans, rinsed and drained, divided
1/4 cup water
---
Instructions
1. In a large resealable plastic bag, combine the flour, salt, and ¼ teaspoon pepper. Add chicken, a few pieces at a time, and shake to coat.
2. In a large skillet over medium heat, cook chicken in 1 Tablespoon oil for 6 to 8 minutes on each side or until juices run clear. Remove and keep warm.
3. In the same skillet, sauté the mushrooms, prosciutto, shallots, and garlic in remaining oil until tender.
4. Stir in wine. Bring to a boil; cook until liquid is reduced to about ⅓ cup, about 10 minutes.
5. Stir in broth. Simmer, uncovered, for 5 minutes or until slightly reduced.
6. Stir in cream and 2 Tablespoons sage; heat through (do not boil).
7. Meanwhile, in a small saucepan, lightly mash ½ cup beans; add the water. Stir in the remaining pepper, sage and beans. Heat through.
8. Add chicken to the mushroom mixture and heat through. Serve with beans.
Nutrition
Serving Size:

1 serving

Calories:

290

Sodium:

371mg

Fat:

13g

Saturated Fat:

4g

Carbohydrates:

14g

Fiber:

3g

Protein:

26g

Cholesterol:

84mg
Charcuterie Board – Cut up your prosciutto into small snips and give them to guests at parties.
Conclusion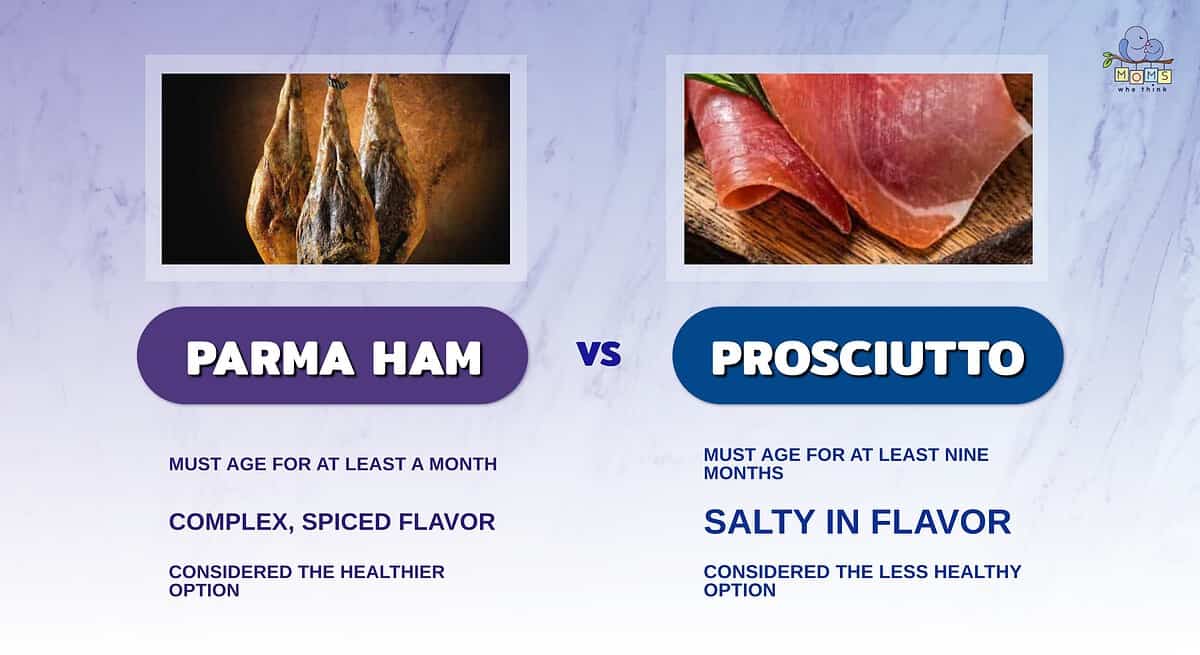 Parma ham has to age for at least a month, while prosciutto has to age for at least nine months. Typically, though, they will both age for longer; it's not uncommon for prosciutto to age for 14-36 months.
The spices that are added to Parma ham give it a distinct and complex flavor. Prosciutto is known for its saltiness; unlike Parma ham, it doesn't have spices added to it.
Parma ham is considered the healthier option between the two, although both meats offer a nice array of vitamins. It's important to consume both in moderation, especially if you need to watch your salt intake.
The main difference in the Parma ham vs. prosciutto discussion is the flavors and the slight modifications in how it's prepared. Both of these meat varieties are delicious, and they'll be a great addition to your next family dinner.
The image featured at the top of this post is ©iStock.com/Elena Katkova.