Peppers and chilis are both common spices used throughout our culinary world. Peppers are typically small, round, and circular in size. They are available in different colors such as black, red, green, and white; this may depend on when each pepper was harvested and how they were prepared.
While they may seem similar to chili, there are key differences between them. In this article, we will explore their origins, flavors, and heat levels, as well as provide you with valuable tips on how to use each one when preparing your next tasty dish.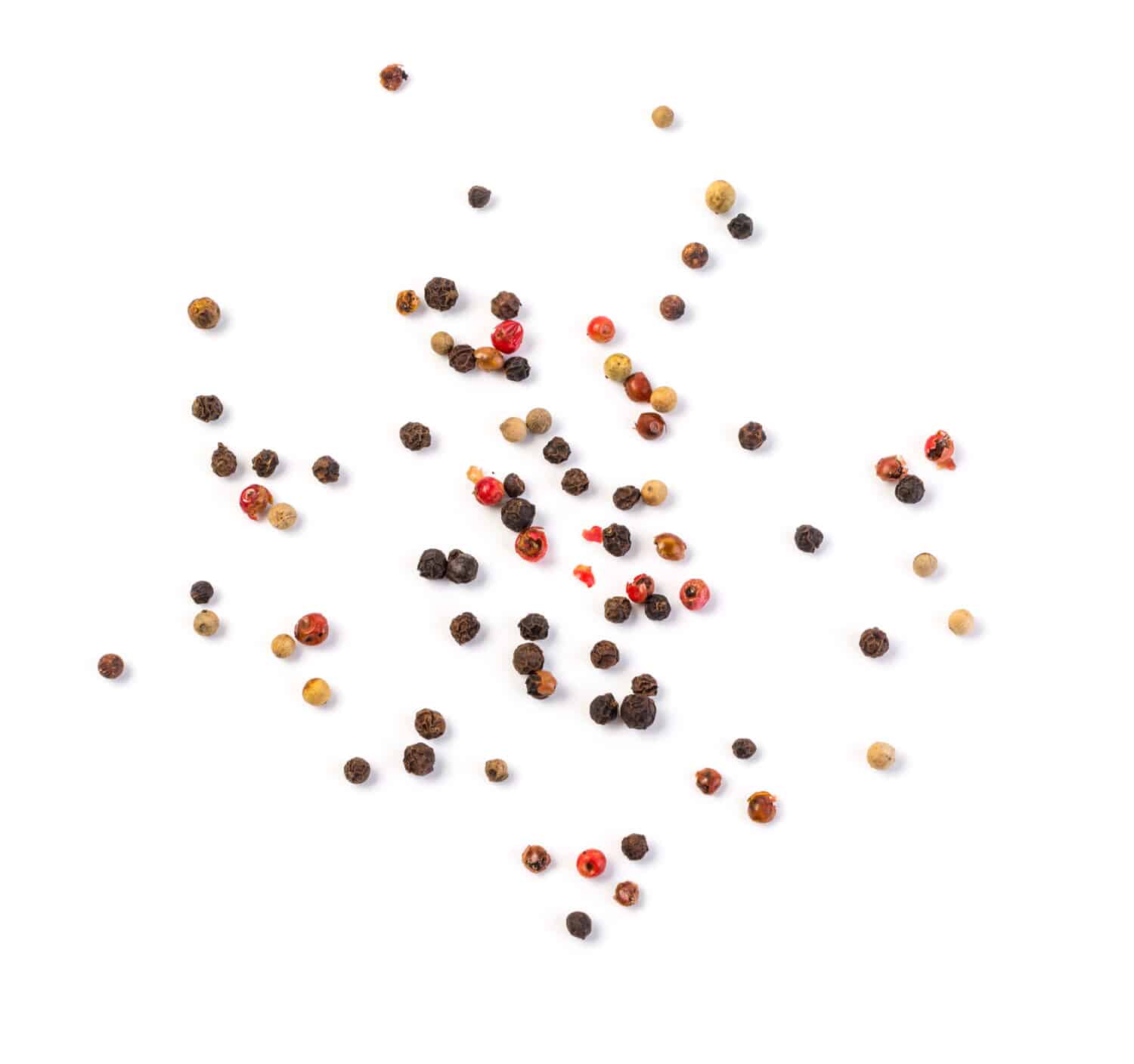 What is Pepper and Where Does It Originate?
Pepper is a dried fruit that comes from the Piper nigrum plant, which is a flowering vine from the Piperaceae family. It is well known for its peppercorns, which are utilized in many kitchens and restaurants to give that extra flavor to the dishes prepared.
In terms of size, the fruit, called a drop stone fruit, has a diameter of about 5 mm. It is black or dark red and contains a wrapped seed.
Black pepper is referred to as a cooked, dried, and unripe fruit. Whereas green pepper is referred to as a dried unripe fruit and white pepper as a dried fruit seed.
Pepper is a climbing vine native to the Malabar Coast of India and is also cultivated in other tropical regions. It is well known for its medicinal healing benefits and flavor. The chemical compound it holds for the spicy flavor is called piperine and is different from chili.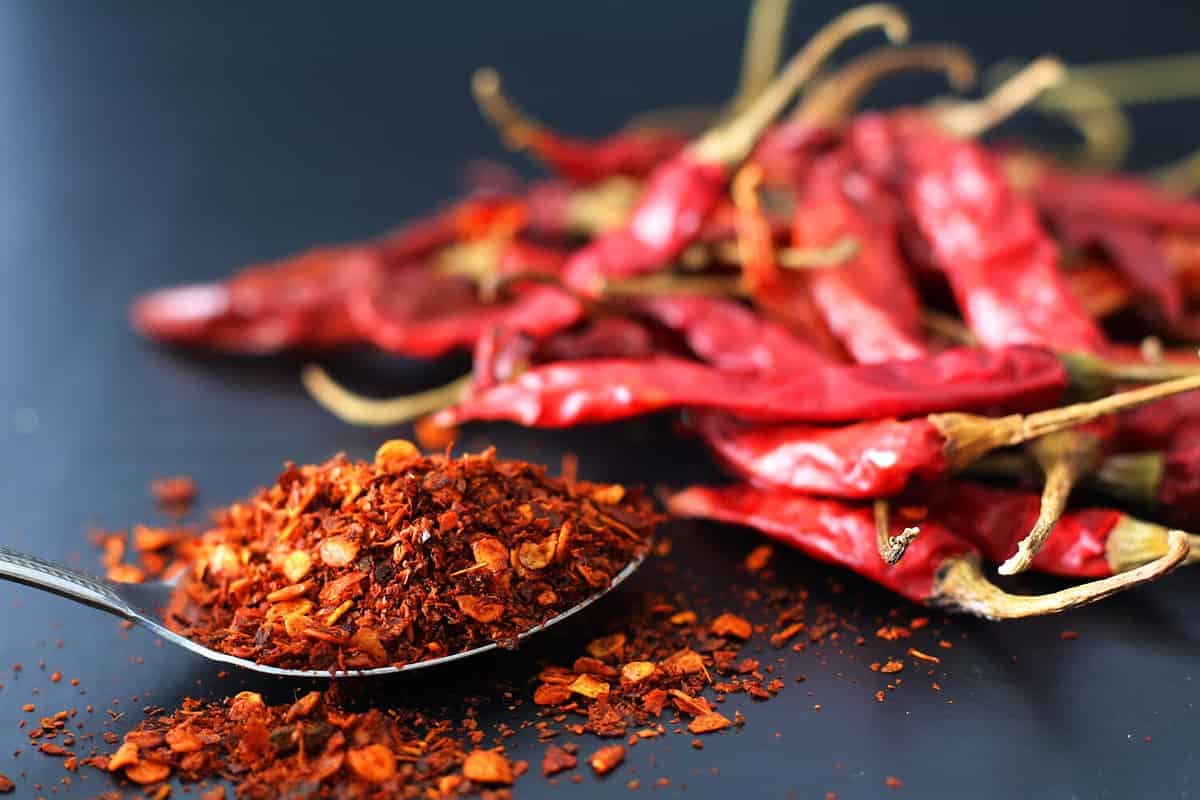 What is Chili and Where Does It Originate?
Chili refers to the fruit from the Capsicum plant, which is said to have originated in Mexico. In some countries, they are referred to as bell pepper and have a similar spiciness to black pepper. The original term chili relates to the Capsicum family variety, which has been cultivated since 3000 BC.
It is common to call the stronger varieties chili peppers or just chilis. As a large, mild pepper, it is called bell pepper in North America and South Africa. It is named a sweet pepper in the United Kingdom, Ireland, and Malaysia. However, it is usually known as capsicum in Australia, India, New Zealand, and Singapore.
Pepper vs. Chili Heat Profile
While pepper has a robust and powerful flavor, chili has a more complex flavor that can range from mild and fruity to smoky and spicy. In addition to adding depth and complexity to dishes, pepper can also add a little bit of hotness to your dish. Most small children do not like pepper added to their food; it is best to use it in small amounts. As children grow up, their taste buds change, and they will begin to appreciate and enjoy new flavors and different ingredients added to their meals.
There are many different types of peppers with diverse heat, ranging from 0 – up in SHU. Black pepper ranges between 30,000 and 100,000; take note that the heat intensity of pepper varies according to how the fruit was originally harvested.
Chili, on the other hand, has a wider range of heat running from 0 to over 2.2 million SHU. The ghost pepper is known to have a heat spectrum of 1 million. However, the hottest known chili in 2023, according to the Guinness Book of World Records, is called the Carolina Reaper, grown in the United Kingdom and California, holding a SHU of over 2.2 million. Only the very brave would try and consume one of these chilis.
What Are the Health Benefits of Pepper and Chili?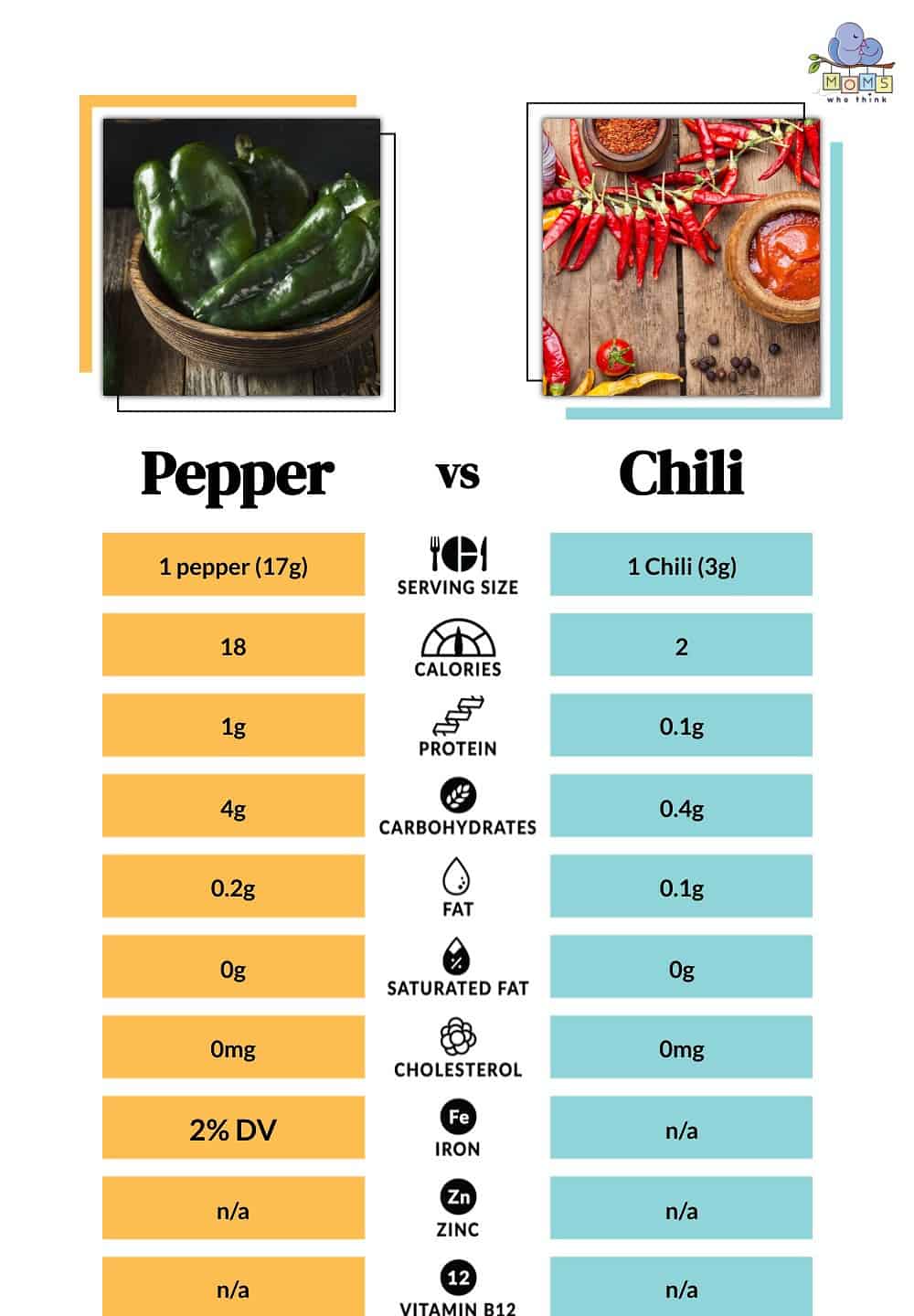 While pepper is loved by many and often sprinkled onto foods to disguise a bland taste, it also has many health benefits. Let's take a deeper look at the benefits of pepper vs. chili.
Being antibacterial and antimicrobial, pepper is high in antioxidants. Helping to prevent pain and inflammation, heart disease, and different types of cancer. Pepper also reduces blood pressure, helps to lose weight, and improves diabetes. It can be consumed daily; however, too much can lead to an upset stomach.
On the other hand, chili is often used to add that extra spice and heat intensity to your dish. Along with pepper, chili may prevent cancer, improve stomach health, and reduce inflammation, although there are other benefits to eating chilis.
Vitamins and Minerals in Pepper and Chili
Both pepper and chilis contain a decent source of the following vitamins and minerals:
Vitamin A: good for reproduction, growth, and vision.
Vitamin K: heals wounds and prevents blood clots.
Vitamin E: strengthens the body's immune system and maintains your skin and eyes.
Vitamin B6: promotes the function of sugars, fats, and proteins within the body.
Calcium: improves blood flow throughout the body.
Potassium: helps maintain fluids within our cells.
Vitamin B1 (also known as Thiamine (B1): helps metabolize body fats and proteins.
Vitamin B2 (also known as Riboflavin (B2): reduces inflammation of nerves and headaches.
Vitamin B5 (also known as Pantothenic Acid (B5): plays a critical role in manufacturing red blood cells, sex, and stress-related hormones.
Manganese: plays a role in regulating blood sugar levels and the absorption of calcium within the body.
Copper: improves brain development.
Phosphorus: helps the body to make protein.
Iron: the body uses iron to make hemoglobin, which is a protein in the red blood cells that carry oxygen from the lungs to different parts of the body.
Selenium: protects against cell damage and infection and helps produce DNA.
Chromium: helps control insulin levels in the body to regulate sugar levels.
Zinc: improves your immune system and metabolic function.
Benefits of Eating Chili
Interestingly, capsicum, which is what makes chilis hot, can help the body to produce natural healing powers which can heal stomach ulcers. When chili is in powdered form, it is rich in antioxidants, which have the benefit of healing stomach cramps and diarrhea. Eating chili also boosts your metabolism, which can help promote weight loss.
According to the National Headache Foundation, capsicum in chili helps to improve headaches by decreasing the CGRP (calcitonin gene-related peptide) that triggers migraines. Research has shown that the antioxidants in chili can fight off leukemia and prostate cancer cells.
Chili contains vitamin A and vitamin C, which boosts your immune system and can fight fungal infections, colds, and flu. Capsicum can also fight off sinus infections.
Culinary Uses of Pepper and Chili
Pepper is commonly used to add extra flavor to foods such as meats, soups, and vegetables, whereas chili is famous for being added to Asian, Latin American, and Indian cuisines such as salsas and curries.
Popular Asian Dishes
Thai green curry
Butter chicken
Biryani
Kung Pao Chicken
Kimchi Ramen
Popular Latin American Dishes
Sancocho
Taco soup
Chili Verde
Chili Rojo
Tamal
Conclusion
Pepper and chili have quite a few similarities in terms of adding heat to various dishes. However, they have quite a few distinctions discussed in this article. Here is a recap of those differences:
While the heat intensity of pepper can be pretty high, chili has a much higher range of heat intensity.
Both chili and pepper have quite a few health benefits. However, chili can actually improve stomach issues, whereas too much pepper can cause stomach issues.
Pepper has quite a robust flavor, while chili has a more complex taste.
Peppers and chilis are both delightful, versatile spices that you can add to many dishes. When choosing between the two, it all depends on your personal preference and whether you are in the mood for something mild or something fiery with a kick to it. Either way, try experimenting with both, take your cooking skills to the next level, and create a delicious and healthy meal designed to impress your guests.
If you are wondering what to cook for dinner tonight, don't worry; we've got you covered. There are plenty of options to choose from. You could prepare a classic dish such as spaghetti and meatballs, or try something new like taco soup. If you are looking for a quick and easy option, check out our recommended dishes below.
Recipes
Print
Meatless Monday Chili Mac
---
Author:

Yield:

8

servings

1

x
1 large onion, chopped
1 large green pepper, chopped
1 Tablespoon olive oil
2 garlic cloves, minced
2 cups water
1½ cups uncooked elbow macaroni
1 can (16 ounces) mild chili beans, undrained
1 can (15½ ounces) great northern beans, rinsed and drained
1 can (14½ ounces) diced tomatoes, undrained
1 can (8 ounces) tomato sauce
4 teaspoons chili powder
1 teaspoon salt
1 teaspoon ground cumin
½ cup fat free sour cream
---
Instructions
1. In a large saucepan, sauté onion and green pepper in oil until tender.
2. Add garlic; cook 1 minute longer.
3. Stir in the water, macaroni, beans, tomatoes, tomato sauce, chili powder, salt and cumin.
4. Bring to a boil. Reduce heat; cover and simmer for 15 to 20 minutes or until macaroni is tender.
5. Top each serving with 1 Tablespoon sour cream.
Nutrition
Serving Size:

1¼ cups

Calories:

214

Sodium:

857mg

Fat:

3g

Saturated Fat:

1g

Carbohydrates:

37g

Fiber:

8g

Protein:

10g

Cholesterol:

3mg