White pepper and black pepper come from the same plant, Piper nigrum. The first obvious difference between the two peppers is their color. Although, it doesn't stop there. Pepper is a common spice used in a variety of dishes that adds flavor and aroma. In this article, we will explore their key differences, origins, health benefits, uses, substitutes, and how to grow your own peppercorns. By the end, we hope you will have a better understanding of white pepper vs. black pepper and which one to choose when creating your next culinary masterpiece.
White Pepper vs. Black Pepper: What Are the Differences?
Apart from the color, the key difference is how each pepper is harvested and dried as a result this changes their fragrance and taste to a different flavor.
White peppercorns are berries left on the vine to ripen to their fullest. Once harvested they are left to soak in water for approximately 10 days. The skins are then removed and left to dry in the sun causing them to change to a white color. Unlike salt and sugar pepper does not dissolve in water it floats on the surface.
On the other hand, when making black pepper the berries are harvested unripe while they are still green and turning light red and, then left in the sun causing the skin to turn black and wrinkly around the seed.
Where Does White and Black Pepper Originate?
The piper nigrum pepper vine is a berry plant native to South and Southeast Asia in the Wayanad plateau of Kerala in Southern India. White pepper was first discovered more than 4,000 years ago and has been cultivated since 1,000 BC.
Like white pepper, black pepper is also native to South and Southeast Asia on the Malabar Coast of India. Pepper was considered a condiment and became a source of trade between India and Europe.
5 Benefits of White Pepper
White pepper is commonly used in Thai and Chinese cuisine it has become more popular worldwide and has numerous health benefits. Let's take a look.
Loaded with antioxidants: Which can help reduce the risk of heart disease and diabetes.
Anti-inflammatory properties: That may treat muscle cramps.
Reduces flatulence: The piperine compound found in peppers helps to reduce gas.
Digestion: White pepper contains fiber and fiber is needed to improve the muscles in the intestine.
Reduces blood pressure: White pepper is a decent source of vitamin A and vitamin C that might lower blood pressure.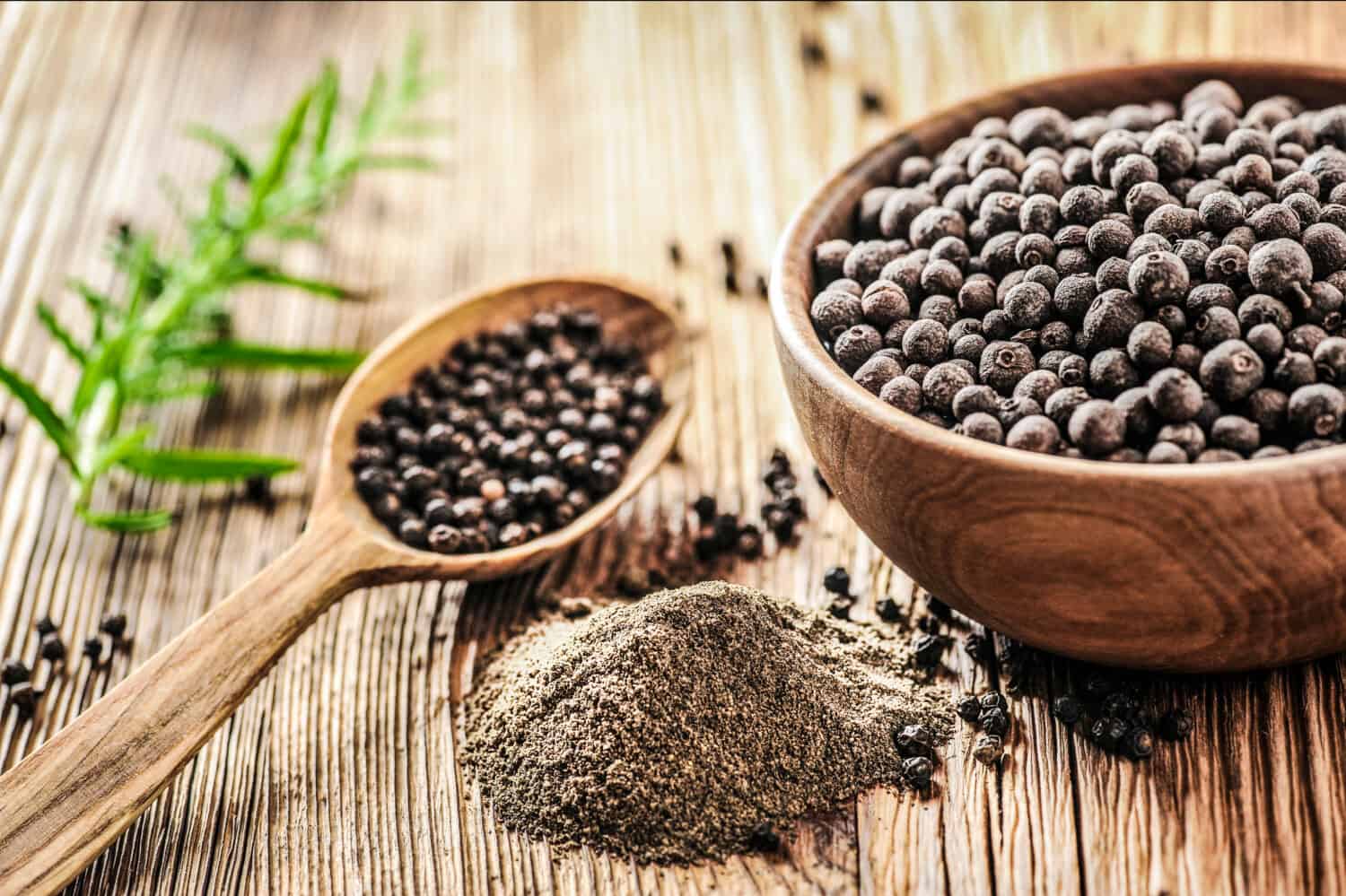 5 Benefits of Black Pepper
Black pepper has a spicy mild flavor and is commonly used in Indian, Vietnamese, and Indonesian cuisines, although, it has become popular in American and African dishes too. Let's take a closer look at the benefits of black pepper.
High in antioxidants: This may prevent the effects of free radicals.
May benefit the brain: In a case study performed on rats with Alzheimer's disease, the rats showed improved memory from the piperine although, this study has not yet been performed on humans.
May have cancer-fighting properties: According to researchers, black pepper's active compound, piperine, may be able to fight cancer.
May improve the bacteria in the stomach: Black pepper may increase the good bacteria in the stomach.
Anti-inflammatory properties: These may be able to reduce pain for those with arthritis.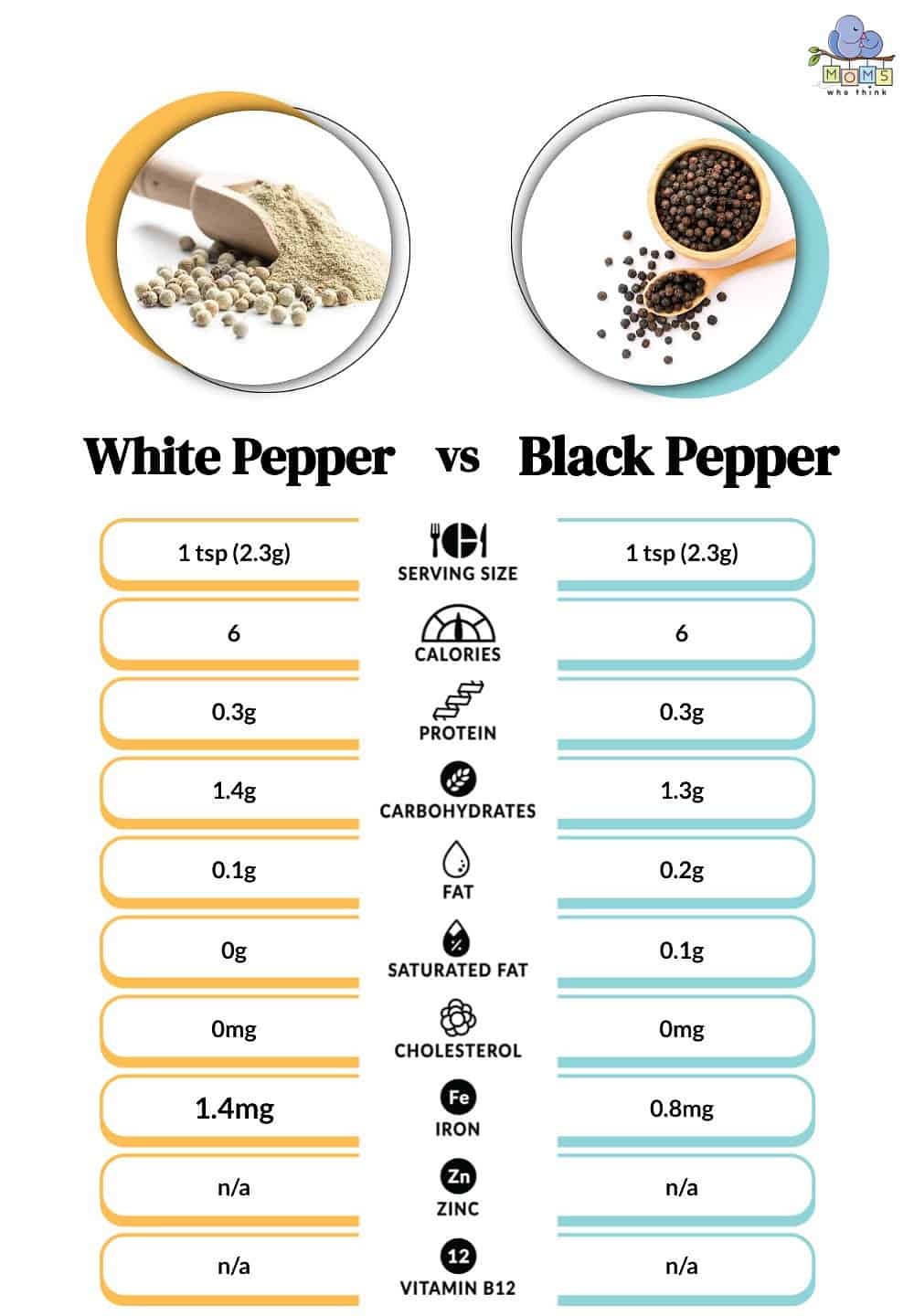 Substitutes for White Pepper vs. Black Pepper
White pepper can be used as a substitute in many dishes, however, if you don't have any on hand there is no need to rush out to the store. There are several other alternative spices you can use to incorporate that peppery taste into your dish.
Cayenne pepper: Tastes a little fiery but has a similar heat level, it is best to adjust the amount used according to your personal preference.
Paprika: Has a mild and sweet flavor.
Red pepper flakes: These have a mild heat level so use them sparingly.
Sichuan Peppercorns: Have a distinct flavor and can leave a tingling sensation on your tongue.
Mustard powder: Has a strong tangy taste, be careful not to add too much.
Allspice: Has a sweet flavor with hints of cloves, nutmeg, and cinnamon.
Turmeric: Has a mild fragrance and earthy flavor best used for curries.
How To Grow Black Pepper?
Black pepper is a flowering perennial woody plant that grows anywhere between 4m (13ft) – 10m (32ft). Furthermore, they grow through all seasons and can thrive anywhere between 10 and 40 years.
When planting pepper plants keep in mind that they prefer high temperatures between 75–85 °F and partial shade. Pepper plants require at least 6-8 hours of indirect sunlight per day.
Growing Peppercorns Step by Step
Black peppers grow on vines, so it is a good idea to install a trellis. Plant your peppers in well-draining rich soil. Before planting, it is best to soak your peppercorns for 24 hours in lukewarm or room-temperature water. Once they have soaked plant your seeds about 64cm (¼ inch) below the surface and cover with soil. Place them approximately 2.5cm – 5cm (1-2 inches) apart to give them space to grow.
Next, water your plant 2-3 times per week keep in mind that peppers prefer moist soil, so if you live in hotter climates you may need to water them more often.
Now, it is time to purchase a decent-quality fertilizer or make your own compost, to ensure that your plant thrives and gets all the nutrients it needs. It is advised to fertilize the plant twice per month. Collecting eggshells and crushing them into your fertilizer is a great way to provide calcium in the soil.
Every 6 months you should mulch your plants. What this mean is that you should lay down grass clippings, hay, manure, leaves, or compost around the plant and then water. Mulching helps the soil hold moister which reduces watering. Reduces weeds, warms up the soil in spring, and protects the plants rooting system during weather changes.
Eliminating Bugs
Invest in a non-toxic insecticide to prevent Lace bugs and Mealybugs. Follow the package directions.
Lace bugs are plant-eating bugs that have a lace-like pattern on their body and wings. They feed on the underleaf of the plant and lay their eggs in the tunnels they create. Mealybugs are small-scaled insects that have a white powdery coating, they can be a real pest as they suck the sap out of your plants, and they also spread very quickly.
To prevent wilting do not overwater your plant. Overwatering can cause root rot and other common plant diseases.
Within 2-5 years your pepper plant will begin to bear fruit in clusters. Once they are light red, bring a bucket it's time to harvest. Not all of them will ripen at the same time, so take care when you pluck each one.
Lay your peppercorns on a flat baking sheet and place them in the sun for 7-9 days to dry out and the skin is wrinkled and black.
Finally, store or grind the peppercorns in a cool sealed airtight container in a dry place. When stored correctly they can last for up to 4 years. Now you're ready to add them to your next awesome dish, fish, soup, pasta the options are endless.
Conclusion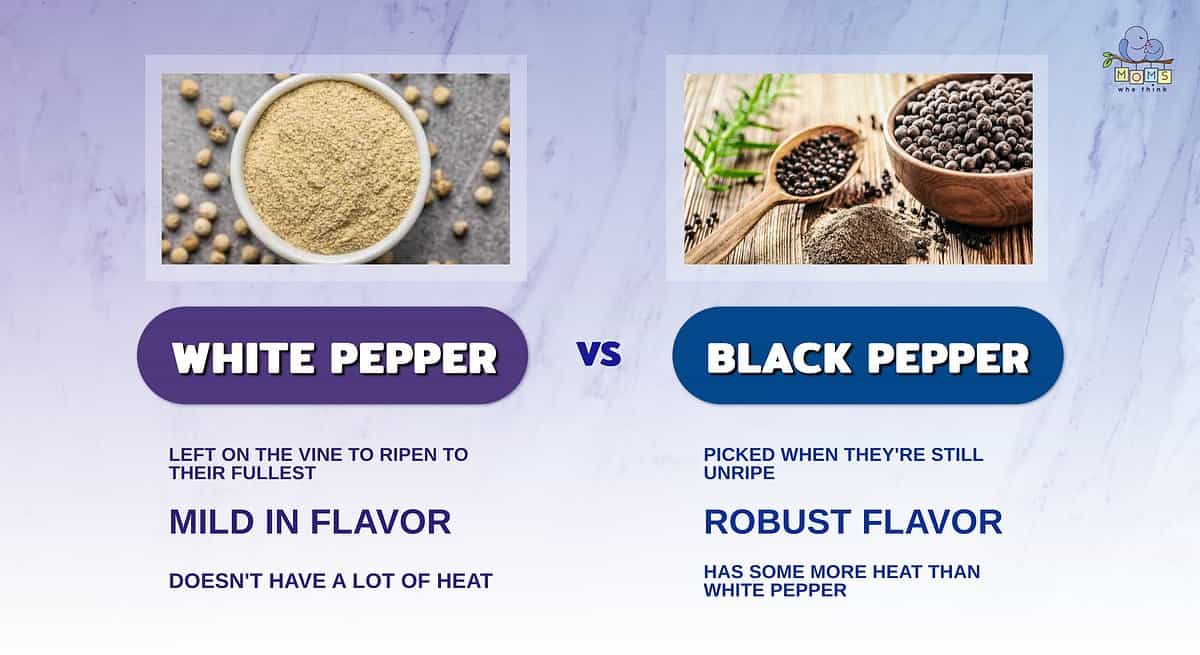 White pepper is left on the vine to ripen to its fullest, while black pepper is picked while it's still unripe. This difference in picking time is what gives each pepper type their differences in flavor, color, and heat.
Black pepper has a robust, earthy flavor, while white pepper has a milder flavor.
White pepper lacks significant heat. Meanwhile, black pepper has a fair amount of heat. This can make a big difference in some recipes.
In a nutshell, both peppers come from the same plant. White pepper has a mild, musty flavor whereas black pepper has a robust pine-like flavor and aroma giving it that little extra heat. Both peppers have similar health benefits and can be substituted for either. So, the next time you decide to cook up a storm try experimenting with white pepper vs. black pepper or any other alternative it all depends on your personal preference.
Recipes
Are you feeling hungry? Try one of these tasty dishes and experiment with one of these peppers:
Print
Blackened Catfish
---
1 tablespoon fresh thyme leaves, minced
1 teaspoon onion powder
1 teaspoon garlic powder
1 teaspoon paprika
1 teaspoon black pepper
1/2 teaspoon ground red pepper
1/4 teaspoon salt
3 teaspoons olive oil, divided
4 (6 ounce) catfish fillets
---
Instructions
1. Combine first 7 ingredients in a small bowl.
2. Heat a large nonstick skillet over medium-high heat. Add 2 teaspoons oil to pan.
3. Brush fillets with remaining olive oil. Rub fillets with spice mixture, and add to pan; cook 3 minutes on each side or until fillets flake easily when tested with a fork.
Nutrition
Serving Size:

Per serving

Calories:

200

Sodium:

220mg

Fat:

8g

Saturated Fat:

2g

Carbohydrates:

2g

Fiber:

1g

Protein:

28g

Cholesterol:

99mg