Has your child ever run to you carrying a handful of dandelions? "Here, mommy!" They proudly display their prize possession, handing you a bouquet of bright yellow weeds. However, before you throw them out, did you know dandelions have potential health benefits and are actually edible? It's true. This post will discuss the difference between wild lettuce, a close cousin to the dandelion, and dandelion. However, in a nutshell, the differences between the two are the uses, where they originate from, and appearance. Read below for all the interesting facts about these two natural plants.
Wild Lettuce vs. Dandelion: What are the Differences?
Dandelion and wild lettuce are similar in the type of plants; however, there are a few differences. Wild lettuce originates from Europe, America, and Asia. Dandelion is originally from Europe.
Dandelions also grow one flower on one green stalk. Wild lettuce produces several leaves and can produce more than one flower. They both grow yellow flowers.
Another one of the differences between wild lettuce and dandelion is its uses. This post will get into more detail later; however, let's briefly explore the uses.
Many consume dandelions for potential health benefits. Some even sing the praises of dandelion's ability to help with digestive and gut health. Dandelion also may possess anti-inflammation components and can lower blood pressure and sustain blood sugar. Another one of the benefits of dandelions is their diuretic ability. Dandelions may be a natural relief if you are having difficulty outputting urine.
Wild lettuce has a sedative effect and can offer pain relief. Many use it to treat anxiety, whooping cough, and joint pain. The use of wild lettuce dates back several centuries, to at least the early 1800s.
Taste and Texture
Wild lettuce has a strong and sharp bitter taste. The smell can be a bit displeasing. At the same time, dandelions also have a bitter taste and can be pungent. The texture and taste of both wild lettuce and dandelion are very similar.
What is Wild Lettuce?
Wild lettuce is prominent in many places in Germany, France, and Scotland. It is a green plant that grows in sunny areas. The steam is green, and while the leaves are also green, they sometimes can appear purple. They can grow multiple yellow flowers. Lactucarium comes out of the plant when you pick at it.
Wild lettuce in medicine dates back to at least the 1800s. One of the reasons for this is that when it is dry, it is very similar to opium and has pain-relieving effects. Therefore it was often used to treat conditions like whooping cough. Wild lettuce is still used as nature's medicine. It can also produce a slight buzz, which is one reason some people forage this lettuce and eat it raw.
Many claims that wild lettuce produces a variety of health benefits and can treat conditions such as anxiety, sleeping problems, and even joint pain. It also is a natural way to relieve pain. That is because the extract from wild lettuce has lactucin and lactucopicrin. These elements have a calming effect on people, which in turn helps to treat pain.
There have yet to be extensive studies on wild lettuce. This means that there may be potential side effects. It's possible the wild lettuce may interact with medicines, or someone may have an allergic reaction. Therefore, it's essential to take great care when consuming wild lettuce.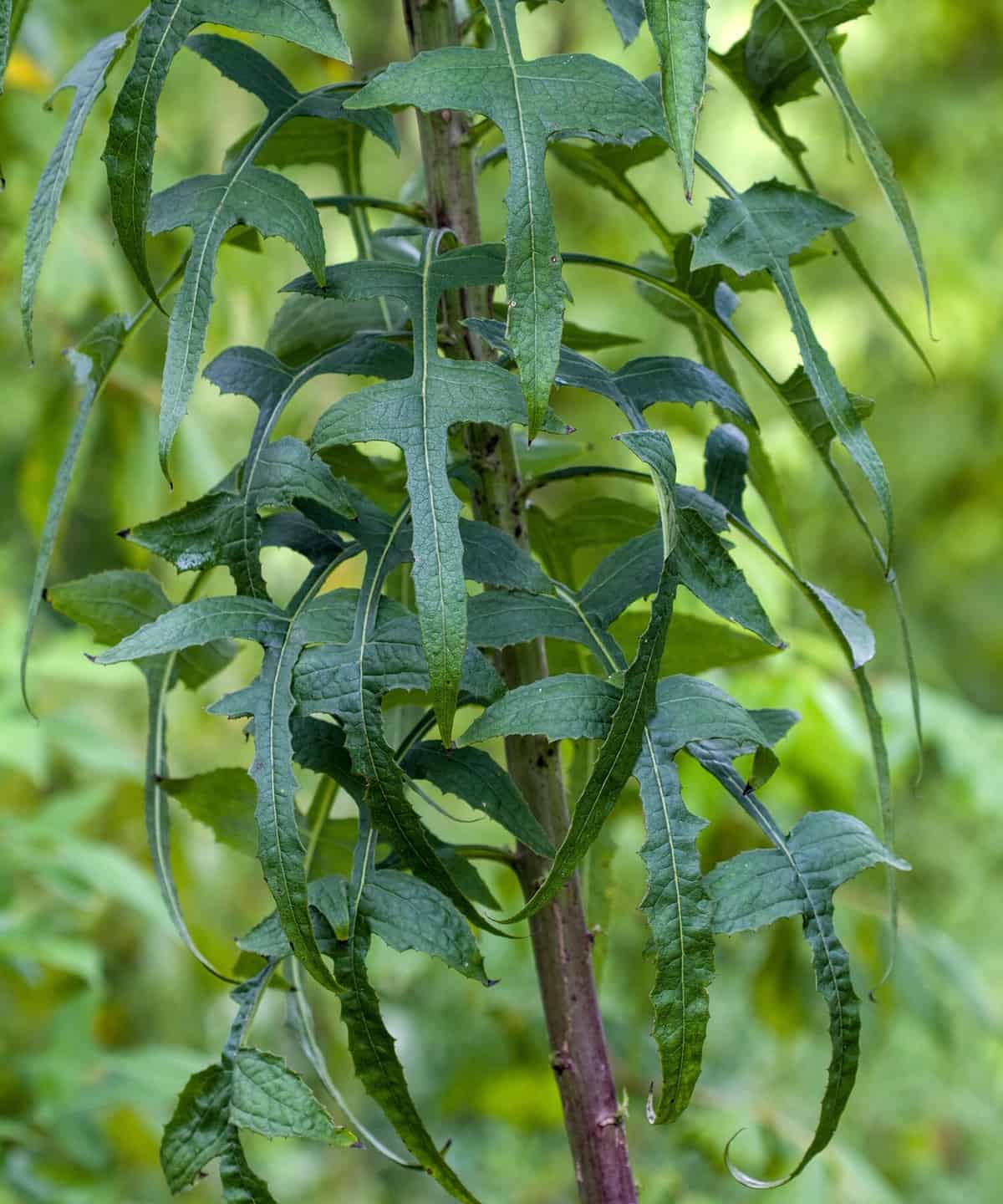 What is Dandelion?
Dandelion has long been known as a pesky weed that pops up where you least want it and grows rapidly in your yard. It is yellow, with a green stem. Often small children see these yellow flowers and are taken with them because they appear to be flowers. Although they can be annoying in your yard, dandelions are typically safe to consume and may have many health benefits. Let's take a look at those benefits below.
Dandelion contains nutrients like vitamins A, C, and K. It also has iron, magnesium, potassium, and calcium. Dandelion root is quite popular because it contains health benefits as well. Many people enjoy using this root to create an excellent tea for your gut and digestive system. The root contains a soluble fiber carbohydrate inulin.
Apart from the minerals that dandelion possesses, it also has antioxidants. Many also believe that dandelion can help with inflammation, blood sugar balance, lower blood pressure, and much more.
However, there may also be downfalls in eating dandelions. This is because more evidence is needed to back the claims of its health benefits. Dandelions may have potential interactions with medications. Also, it's possible to have an allergy to dandelion.
Many eat dandelions raw. It is also possible to cook dandelion. If you eat it raw, it has a bitter taste. While cooking, dandelion allows the flavor to loosen up a bit and pairs well with seasoning and oils.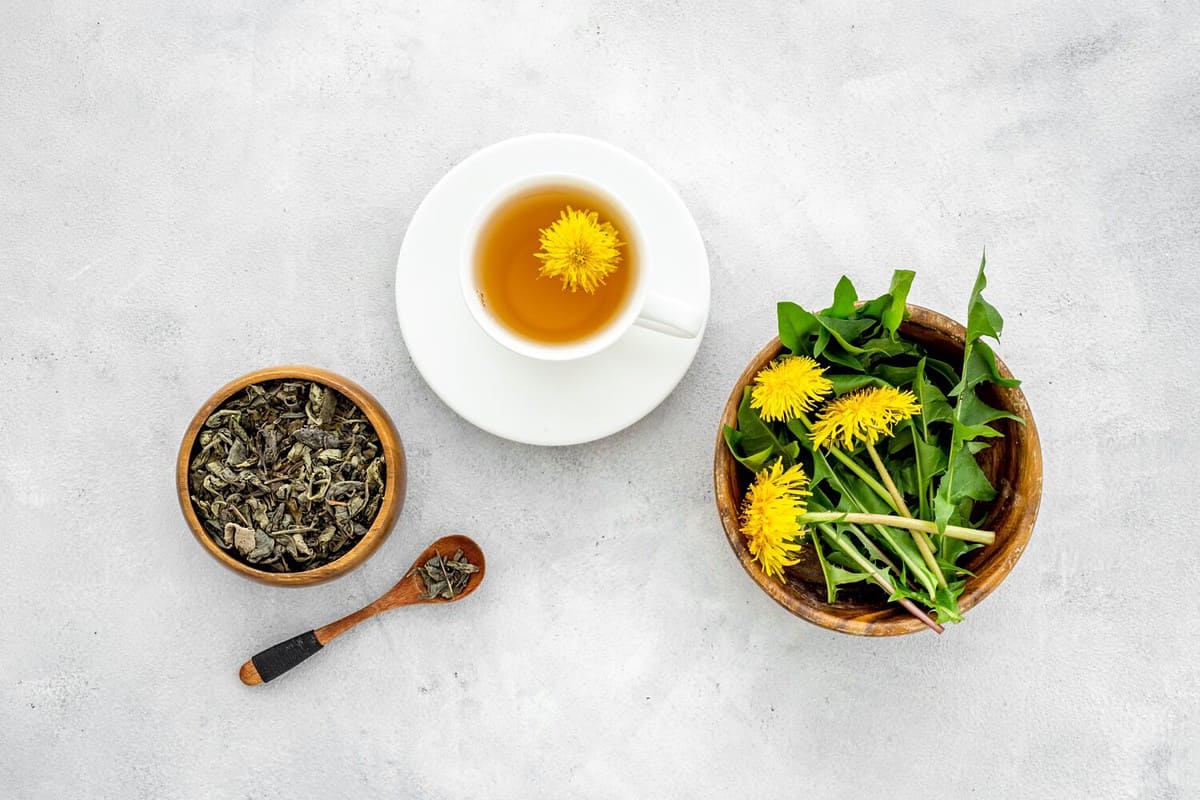 Uses of Wild Lettuce
Wild lettuce is used as a natural medicine to treat a variety of uses. It dates back to at least the early 1800s. Wild lettuce has been used to treat whooping cough, joint pain, menstrual cycle pain, and poor circulation. It has also been used as an opium substitute.
Many also apply the latex directly to their skin to kill germs. Others also use it recreationally to induce a small buzz.
Uses of Dandelion
Dandelion may have possible health benefits. Many believe dandelion is excellent at treating water retention and is a diuretic. Another use for dandelion is to lower blood pressure and lower inflammation.
Some people enjoy eating dandelion raw, while others prefer it cooked. If you are curious about eating dandelion, try baking, sauteeing, or adding it to your eggs, soup, or even juice.
Wild Lettuce vs. Dandelion: Nutritional Value
When it comes to the nutritional value of these two natural plants, dandelion offers more calories, protein, and carbohydrates. This snapshot chart offers a quick view of the nutritional value comparison between the two. Take a look below.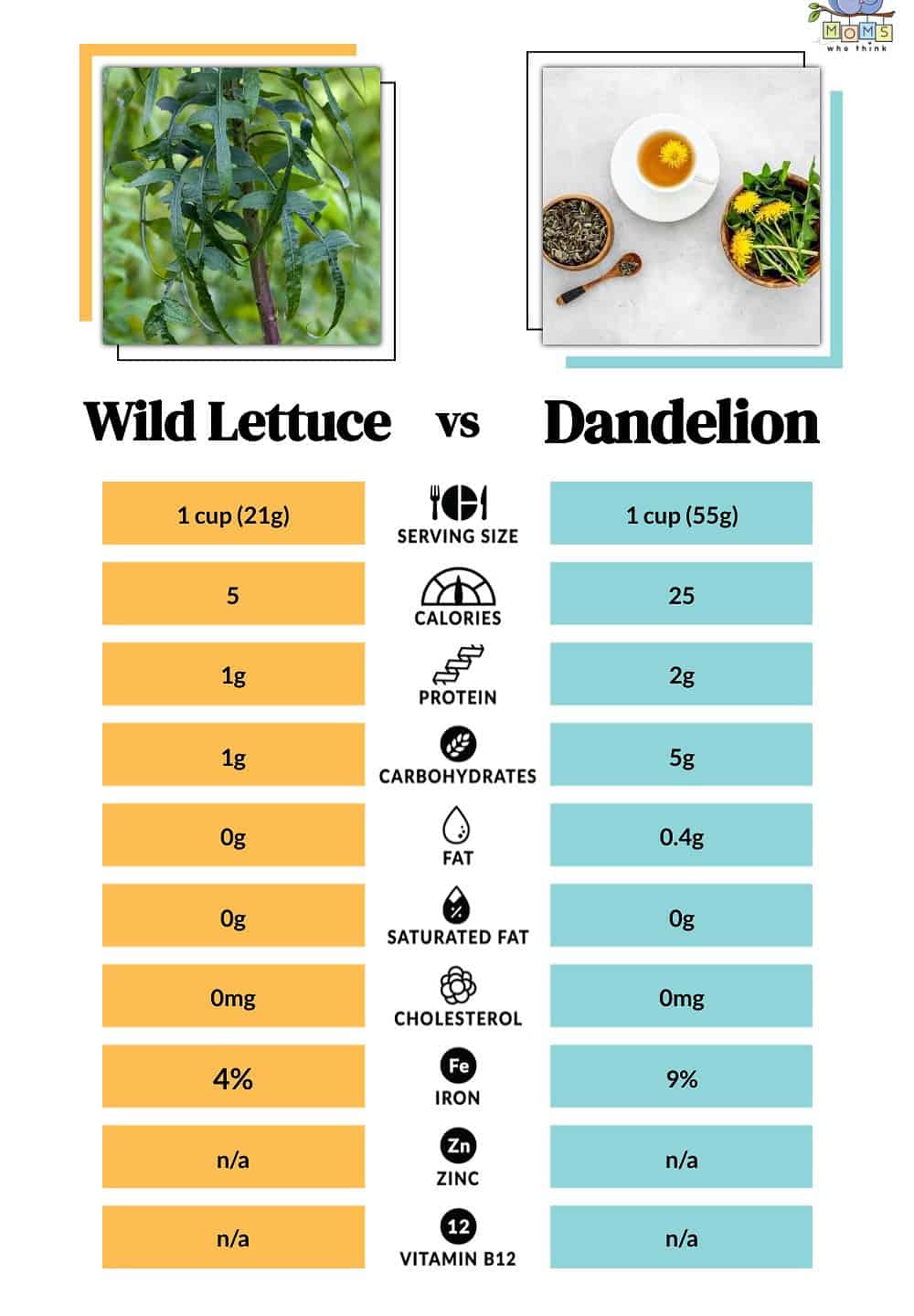 Can You Substitute Wild Lettuce for Dandelion?
Do not substitute wild lettuce and dandelion. Wild lettuce is mainly for medicinal purposes like pain relief. Find your wild lettuce from a professional if you want to use it for health. However, it is possible to prepare your own dandelion by adding it to smoothies, cooking it, or eating it raw.
In Conclusion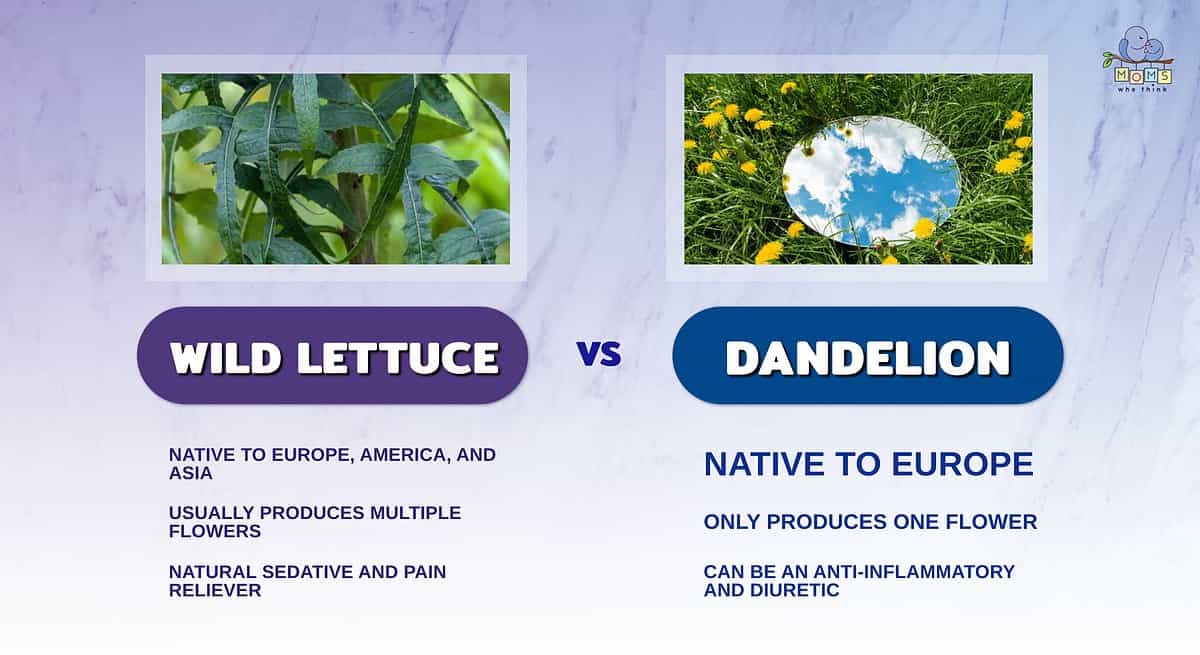 Wild lettuce has a vast natural range, while dandelions are only native to Europe. Dandelions can be found in the Americas, however, usually growing in abundance among lawns.
Dandelions are known for their single flower, while wild lettuce can grow many flowers.
Wild lettuce can act as a natural sedative and pain reliever, while dandelions have anti-inflammatory and diuretic properties. Always consult a physician before attempting to treat a medical condition on your own. Natural medicines can be dangerous if used incorrectly.
Dandelion and wild lettuce are both similar. Many view them as nature's medicine. Wild lettuce has been used as an effective pain reliever for centuries. It even dates back to the early 1800s to treat whooping cough.
Many people consume raw or cooked dandelion for its potential health benefits. Those health benefits include improving gut health, reducing inflammation, and as a diuretic.
However, it is important to remember that very little evidence supports the health benefits of wild lettuce and dandelion. There may be adverse side effects when consuming these. Therefore, paying attention to signs of a negative side effect or allergy is always important. Despite their possible adverse side effects, dandelion and wild lettuce can be a great alternative to pharmaceutical medicines for those who prefer an all-natural approach to health care.
Did you know that there are recipes out there that use dandelions? We've got one for you here:
Print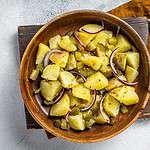 Bavarian Potato Salad with Dandelions
---
4 cups potatoes (peeled and sliced 1/4-inch thick)
2 cups chicken broth
1/2 teaspoon salt
1/4 cup vegetable oil
1/3 cup onion, chopped
1/2 teaspoon sugar
2 Tablespoons lemon juice
Pepper
Wild dandelions for garnish
---
Instructions
1. Boil potatoes in broth with 1/4 teaspoon salt for 5 to 8 minutes, until tender. Drain.
2. Toss warm potatoes with vegetable oil and onions.
3. Dissolve remaining 1/4 teaspoon salt and the sugar in lemon juice. Pour over potatoes. Add pepper to taste.
4. Marinate salad 1 to 2 hours before serving. Garnish with dandelions. Serve at room temperature.
Comparison Posts