Sparkling wine vs. champagne: What's the difference? The difference may surprise you because nearly every kind of Champagne is considered sparkling wine, but not every kind is Champagne. You'll find it confusing if you don't know that sparkling wine is made to be called champagne.
For example, sparkling wine is champagne if made in a particular region of France. This region is Champagne. However, beyond geographical differences, there's a lot more that distinguishes sparkling wine and champagne. There's the taste and the ingredients.
In this guide, we explore the differences between sparkling wine and champagne. We look at what makes them unique and how they can be used for different occasions.
What Is Sparkling Wine vs. Champagne?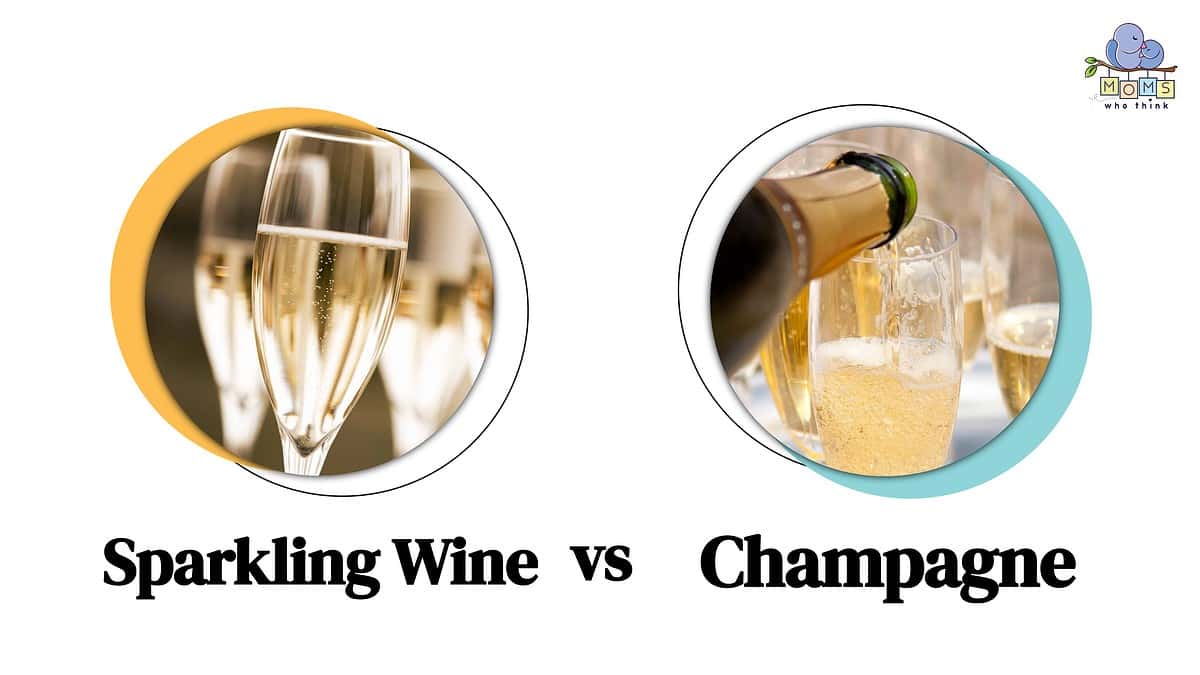 True champagne comes from France. However champagne is still made in the rest of the world, but the origin and uniqueness of champagne come from France. Part of this uniqueness comes from the grapes. While up to 7 distinct grapes can be used to make champagne, only a few select grapes, like Pinot Noir, Pinot Meunier, and Chardonnay, are used to make the champagne.
There's also a unique fermentation process that happens with the original champagne. It goes through the "the Traditional Method." This process involves handpicking the grapes and pressing them immediately. After you blend the juice, you store it in cellars. There's also a second fermentation process that involves carbon dioxide. It gives the wine its character and acidity.
Sparkling wine has a similar process. Apart from being made anywhere but Champagne, this process involves carbonated wine. Remember, if the sparkling wine is made only a short distance from the city of Champagne, it's called sparkling wine, not champagne.
While champagne has a two-step process that includes fermentation, there's sometimes a stainless steel tank process. This is a substitute for the 2nd fermentation process.
What's the Difference In Ingredients?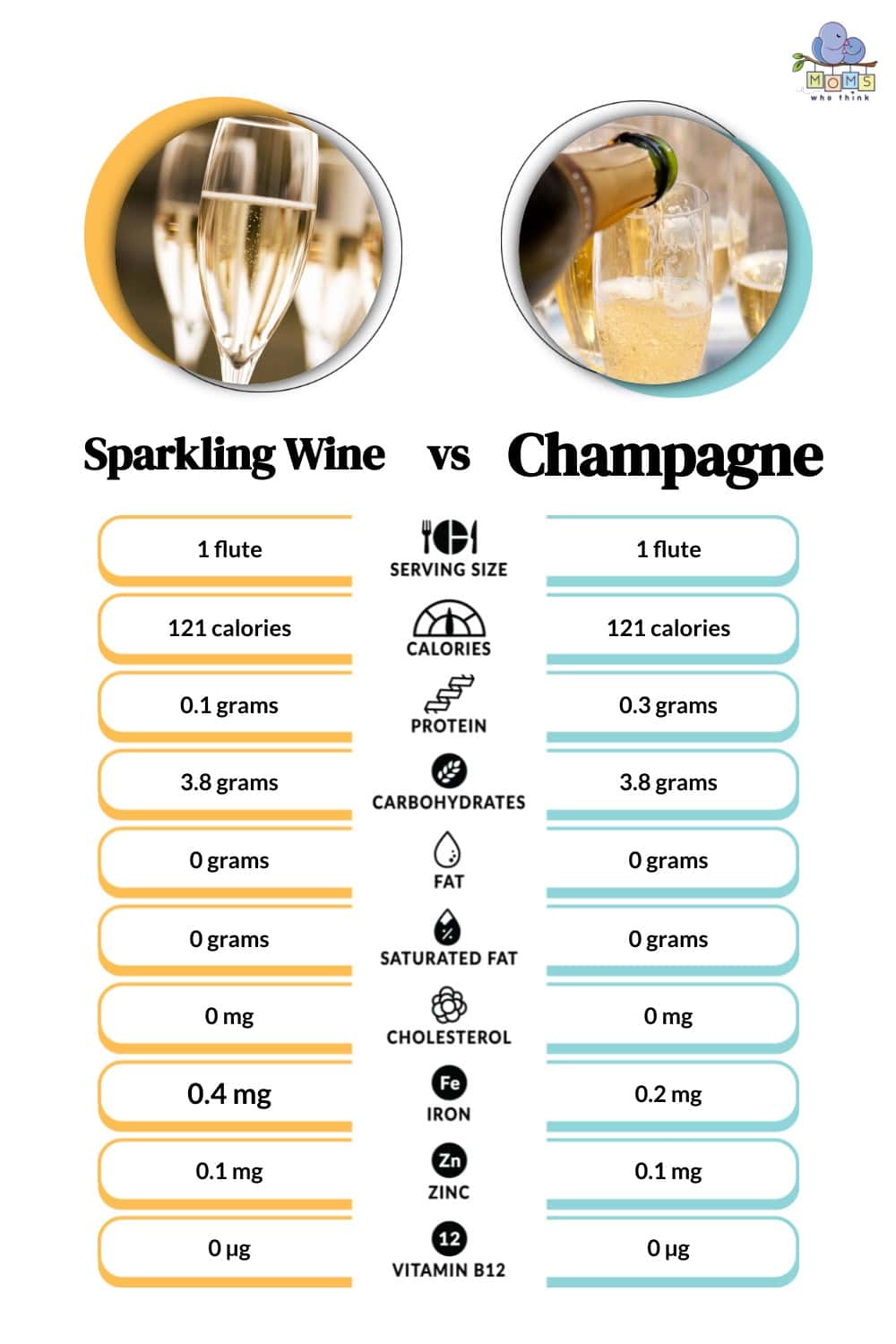 The ingredients of sparkling wine and champagne are nearly identical. The only difference that changes it from sparkling wine to champagne is the grapes.
Only a certain kind of grapes are made in the Champagne region. Various grapes are used to make sparkling wine outside of the Champagne area, making it sparkling wine. The other ingredients are nearly identical regarding vitamins, saturated fat, carbohydrates, protein, and calories.
Additionally, When putting these ingredients together to make the wine, you'll find two different techniques. There's the original or traditional process and then the Charmat method. The champagne method is the conventional method. This traps the bubbles in the wine via carbonation. It's also called the metodo Italiano method.
The traditional method is slightly different, beginning with the initial fermentation. It's a process that involves a tank of wine that is then transferred into individual bottles for the second fermentation process. After this process, the wine is aged for fifteen months or longer to remove any yeasts or seeds. The bottle of wine is then aged a bit longer before it is sold in grocery stores.
Sparkling wine and Champagne can be made with either process to perfection. It just depends on the brand and how they produce the wine. In the region of Champagne, the wine is made through the conventional method.
What's the Taste Difference?
What's the taste difference between Champagne and sparkling wine? The difference is how you like your champagne or sparkling wine. For example, champagne tends to have a full-bodied flavor. This is because Champagne is aged longer. If you have an affinity towards dry wines, like a Cabernet, you may like Champagne.
These are the most popular Champagne brands.
Veuve Clicquot
Nicolas Feuillatte
G.H
Laurent-Perrier
Taittinger
Pommery
Piper-Heidsieck
Lanson
Sparkline wine leans more on the sweeter side. Additionally, there are sparkling wines from different countries, from Italy, France, and the United States. Here are the most popular sparkling wines you can get:
Champagne
Cava
Prosecco
Asti Spumante
Crémant
English Sparkling Wine
Finding the right one depends on your style and taste. It depends on what you enjoy the most when it comes to flavor.
What Else Should You Know?
Choosing between sparkling wine and champagne is a matter of taste. They are not much different regarding differences, apart from regions and what kind of sparkling wine you enjoy the most. Trying different ones can give you an idea of what you like the most.
Overall, the history and process of sparkling wine and Champagne aren't vastly different. If you remember that nearly every kind of Champagne is considered sparkling wine, but not every kind of sparkling wine is Champagne, you'll have a better idea of what distinguishes them.