Gin vs. vodka? What are the differences that make it unique? They have more in common than you might realize. They are both neutral spirits with only slight variations in their production.
When it comes to history, vodka originates back to the 9th century in Russia. Gin is said to have been a medical component for a Dutch doctor dating back to the 15th century. While they have a similar process, they have a wildly different taste difference. Different kinds of gin and cocktail ideas exist, as well as other vodka cocktail ideas. Finding the right drink is a matter of preference.
Looking more into the unique differences between gin and vodka will show when you when to use each one properly. You'll have more ideas that can give you an idea of the best cocktail drink.
Gin vs. Vodka: The Key Differences
When it comes to gin, it's a neutral spirit distilled. It comes from something natural like wheat, barley, potatoes, or grapes. One of the distinguishing things about gin is that it's made with juniper. Otherwise, it's not considered gin. It also must contain 37.5% of alcohol.
When it comes to traditional gin, there are usually a few favorite kinds. For example, London Dry, Plymouth Gin, and Old Tom Gin are some of the most popular types of gin found in grocery stores.
The process of making gin is also a bit complex. For instance, you need a base like grain or wheat to make gin. Fermentation begins with grain, wheat, or even grapes. Different spices are then used along with juniper. The different spices are infused into the raw spirit to release their flavors. However, one of the unique things about gin is that you need vodka to make this spirit.
Here's how you can make gin.
Distilling a neutral grain alcohol with juniper berries
Filter out all the botanicals
Dilute to bring down alcohol content
Vodka is a much different process than gin. Traditionally, vodka is made with water and ethanol from the fermentation of wheat or grain. You can also use potatoes or beets. After the fermentation and distillery process, vodka undergoes another process. This involves filtration and refining processes, sometimes with charcoal or carbon, to refine the properties of the vodka.
To make the vodka smoother, the vodka needs to go through a final dilution step. This means that water is added to bring down the alcohol volume. Different flavors are often infused into vodka to make it more flavorful.
Here's a breakdown of the vodka-making process:
Combine base ingredients
Ferment the base
Strain the mixture
Distillation process
Filter
Dilute
Bottle
Gin vs. Vodka: The Different Flavors
There are a variety of gin and vodka flavors and cocktail drinks you can make. Finding the right one is a matter of preference. Knowing the different flavors of cocktails can give you ideas of what to make for family and friends.
Here are some of the most common flavors of gin.
Lemon flavored gin
Bitter-oranged flavor gin
Bergamot flavored gin
Grapefruit flavored gin
Lime flavored gin
With each flavor, you can make unique kinds of gin cocktails with gin. Here are some cocktail ideas you can make with gin.
Negroni: 1 oz London Dry gin, 1 oz Sweet Vermouth, 1 oz Campari, and an orange twist
Gimlet: 2 oz Gin, ¾ oz Lime, and ¾ oz simple syrup
Gin and tonic: 2 oz of Gin and as much tonic as needed
Vodka has a much different process for making cocktails. Here are the most common kinds of vodka flavors,w which can help you decide what kind of cocktail you want.
Deep Eddy Lemon
Ketel One Botanical Peach & Orange Blossom
New Amsterdam Pink Whitney
Van Gogh Double Espresso
Here are some of the most unique cocktails you can make with vodka.
Moscow Mule: Vodka, lime juice, ginger beer
Cosmopolitan: Vodka, 100% cranberry juice, lemon juice, Cointreau, simple syrup
Gin vs. Vodka: What's the Best Choice?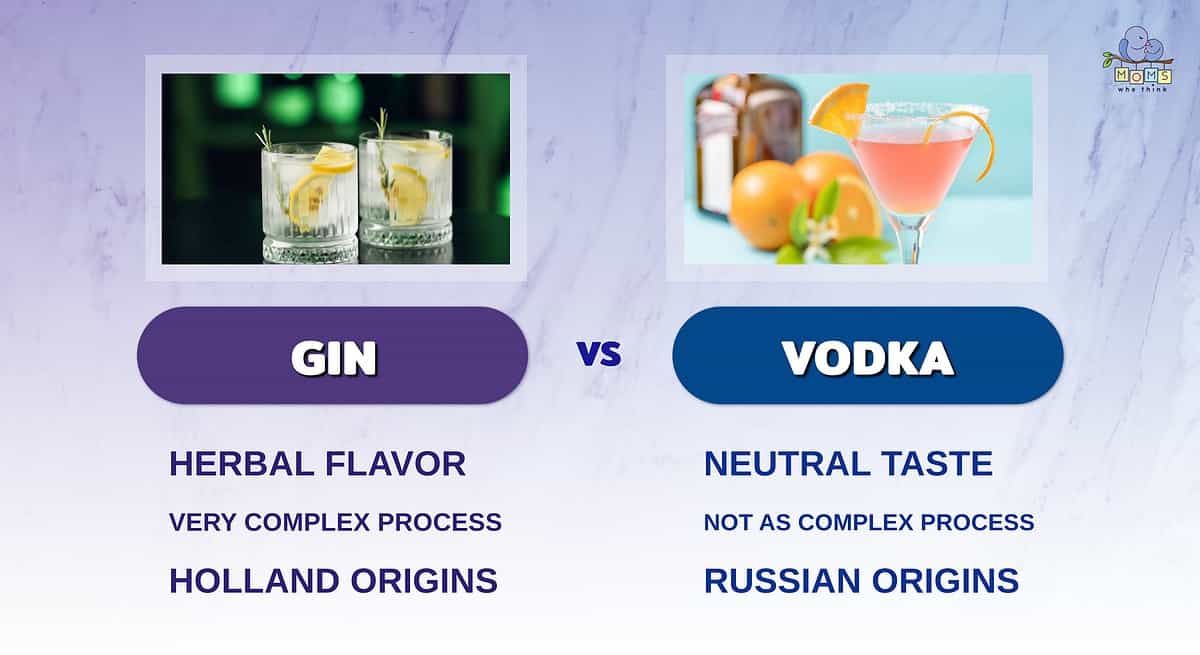 Gin vs. Vodka are uniquely different. While gin has more of an herbal taste, vodka has more of a neutral taste, depending on what flavor you get. They are different spirits that are designed to make different cocktails. There's no wrong choice. You try different cocktails and see what you like the best.
However, knowing the difference makes you aware of what to expect with either spirit. You know how they are made and the cocktails you can make with each. Ultimately, you'll discover that they are both divinely delicious spirits that are great for any occasion.
Print
Penne With Vodka Sauce
---
1 tablespoon

butter

1 tablespoon

olive oil

1

onion, chopped

28

-ounce can Italian plum tomatoes

1

cup

heavy cream

1/4

cup

vodka

1/4 teaspoon

dried crushed red pepper

1

pound

penne pasta

1/4

cup

Parmesan; freshly grated

1 tablespoon

fresh chives; minced
---
Instructions
Drain, seed, and chop the tomatoes.
Melt butter with oil in a heavy large saucepan over medium heat.
Add onion and saute until translucent, about 5 minutes.
Add tomatoes and cook until almost no liquid remains in the pan, stirring frequently, about 25 minutes.
Add cream, vodka, and red pepper and boil until thickened to sauce consistency, about 25 minutes.
Season to taste with salt and pepper. (Sauce can be prepared 1 day ahead. Cover and refrigerate.)
Cook pasta in a large pot of boiling salted water until just tender but still firm to bite, stirring occasionally. Drain well.
Transfer to a large bowl. Bring sauce to a simmer. Pour over pasta and toss well.
Sprinkle with Parmesan and chives and serve.
The image featured at the top of this post is ©Goskova Tatiana/Shutterstock.com.