Campari vs. Aperol: What are the differences? In Italy, you may have heard of something called aperitivo, which is American happy hour. This is when they drink orange drinks called Aperol and red spritzes called Campari. It's called Italian aperitifs, also known as bittersweet liqueurs. But what makes them different? What kind of cocktails can you make with either one?
This guide explores the difference between these bittersweet liqueurs. While they have a lot of similarities, they also have a lot of distinct differences. They aren't interchangeable. They are used for different cocktail drinks. We explore the history, the taste difference, and what kind of drinks you can make either one. You'll ultimately have a better idea of what to make at parties and why the history of these spritzes is significant.
Campari vs. Aperol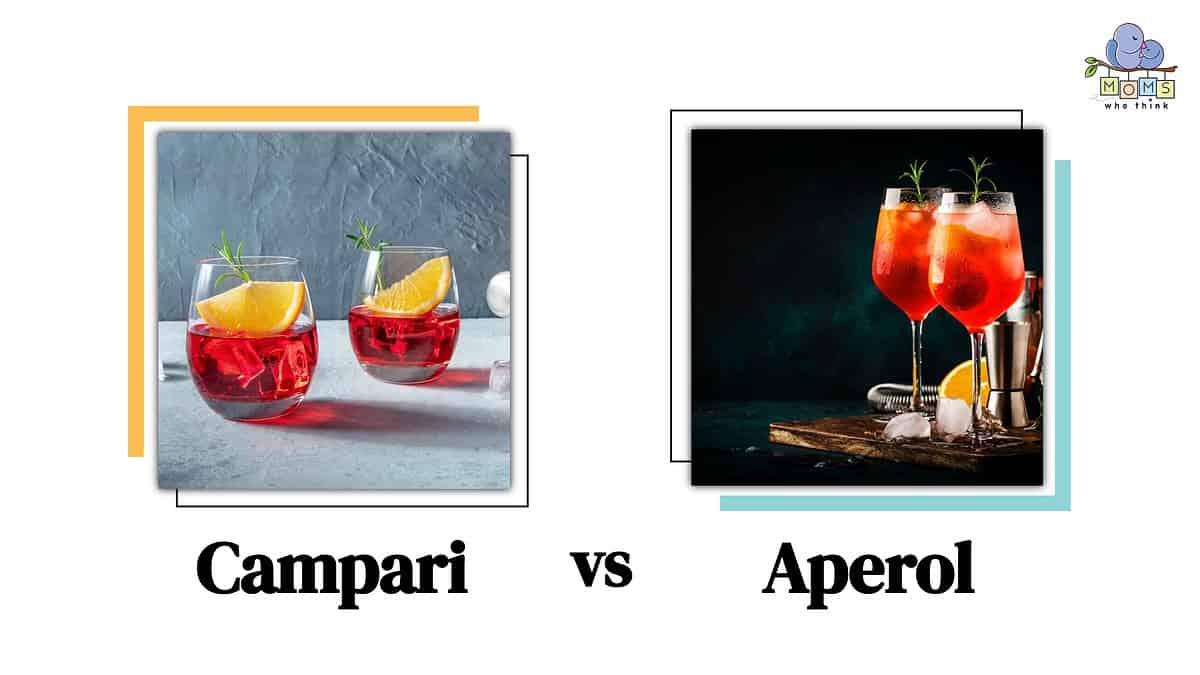 One of the most unique things about Campari and Aperol is that they are relatively new. Both were invented in the 19th and 20th centuries. And they are both a strong part of Italian history. While Campari influenced the creation of Aperol, they each stand along with unique tastes.
Looking more at the history of Campari and Aperol can give you more insight into their origins.
The History of Campari vs. Aperol
1860 is the year everything changed in Novaro, Italy. It's the year that Campari was invented. Forty years later, Campari relocated to Milon and continued to develop to the point that it became a popularized iconic red liqueur to the world. As it became more popular, Campari eventually, in 1915, became a bar called the bar Camparino. It's still popular to this day.
Aperol is a slightly different story. It was first created in 1919 in Italy. Brothers Luigi and Silvio Barbieri spent seven years tinkering with Campari. They wanted to make a unique spritze. While it didn't gain much attention for nearly thirty years, it wasn't until World War II that Aperol gained widespread attention. While the ingredients of Aperol are based on Campari, Aperol is generally of lighter color and has lower alcohol content.
The Core Differences
One of the core differences between Campari and Aperol is the taste. They may have originated in Italy and are spritzes but have different tastes. For instance, Aperol has a much milder flavor and tends to be slightly sweeter than Campari.
Campari is usually a much stronger and more intense flavor when compared to Aperol. Another unique thing about Campari is that it has a strong bitter flavor. It's a bitter orange flavor with hints of cinnamon and cherry. Because it's so bitter, it tends to mix well with other liquors in cocktails.
One of the similarities between Campari and Aperol is that they are both made with rhubarb. However, what makes them stand out are the spices and herbs in each one.
Another core difference between Campari and Aperol is the alcohol content. Campari is made with 28% alcohol, while Aperol is made with just 11% alcohol.
The Nutritional Differences
The nutritional value depends entirely on how much alcohol you want in your cocktail. If you're looking for less alcohol and something sweeter, Aperol is the better choice for any cocktail you make. However, if you want something with more alcohol, then Campari is the better choice.
Beyond these differences, the nutritional differences are marginal. They taste different, but the calories and sugar content are not much different.
Recipe Ideas for Each
When it comes to cocktail recipes, Campari and Aperol offer various recipes designed to be sweet or strong. For instance, Campari offers a deeper herbal, orange peel flavor to any cocktail it's added to. For Aperol, it pairs well with fruity flavors like pears, cherries, or grapefruit. Aperol also blends with its sweetness when mixed with stronger drinks like bourbon.
Here are the different cocktails you can make with Camari.
Campari Spritz
Boulevardier Spritz
Siesta Cocktail
Negroni Sbagliato
Here are the different cocktails you can make with Aperol.
Aperol Spritz
Naked & Famous
Ranye West
What's the Better Choice Between Campari and Aperol?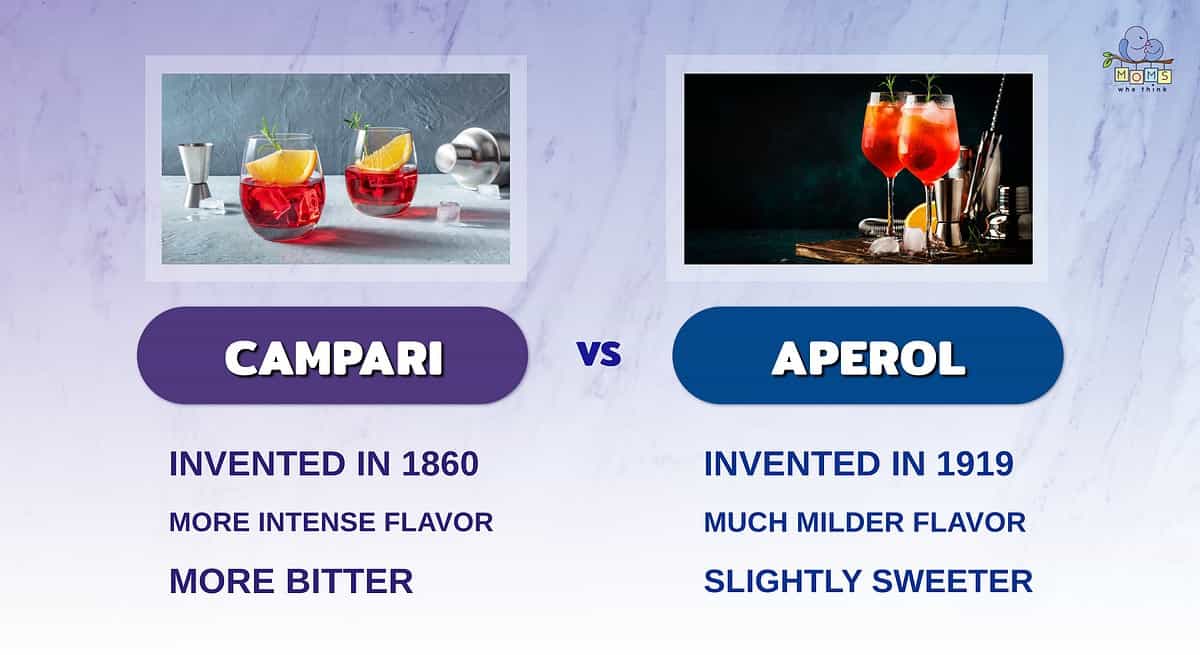 Campari is a bit older than Aperol, having been invented in 1860 versus Aperol's 1919 origin date.
The flavor of Campari is more intense than Aperol.
Campari has a more bitter taste than Aperol, which is known for its mild sweetness.
Campari and Aperol are some of the finest Italian spritzes around. While they are similar in many ways, they are most known for their distinguishing tastes. Aperol is sweet, while Campari has a much more intense flavor. They both complement different kinds of alcohol.
The perfect cocktail is dependent on what you like. It's dependent on whether you prefer Campari or Aperol. The good news is that plenty of cocktails are out there with either Campari or Aperol. Trying different ones can give you a sense of what you like. It can give you an idea of what cocktails you prefer between Campari and Aperol. Try pairing either drink with this meat and cheese stromboli.
Print
Meat and Cheese Stromboli
---
Author:

Yield:

12

servings

1

x
16 ounce

loaf frozen bread dough, thawed and halved

1/4

cup

cooked ham, chopped

1/4

cup

Canadian bacon, chopped

1/4

cup

pepperoni, chopped

1/4

cup

sliced black olives

1/4

cup

onion, chopped

1/4

cup

sliced mushrooms
pepper to taste

8 ounce

package shredded mozzarella cheese

26 ounce

jar spaghetti sauce
---
Instructions
Pat half of the dough onto a lightly greased 15×10 jellyroll pan.
Arrange half of all the ingredients except sauce down the center of dough.
Bring each long edge of dough to the center; press together to seal.
Repeat with remaining dough and ingredients on a second lightly greased jellyroll pan.
Bake at 375 degrees F for 20 minutes, or until lightly golden. Slice and serve with warmed spaghetti sauce.
The image featured at the top of this post is ©Cook Shoots Food/Shutterstock.com.