Rye vs. Bourbon: What are the differences? For starters, rye and bourbon are both kinds of whiskey. They even taste similar. They look similar. It makes it harder to tell the difference, especially if you're not an expert in rye, bourbon, or whiskey. They can also be used interchangeably in cocktails, which makes it harder to tell the difference.
However, although they have plenty of similarities, they have more differences. They are made differently. They taste slightly different. Rye and bourbon are different kinds of whiskey used for different purposes.
In this guide, we look at the unique differences between rye and bourbon. We explore their historical origins, how they taste different, and the other cocktails you can make with each one.
Rye vs. Bourbon
While whiskey has existed for over a thousand years, rye and bourbon whiskey emerged in the 1700s. Bourbon originated in Kentucky in the 1780s, and rye originated in Pennsylvania in the 1750s when immigrants attempted to create whiskeys similar to their home country of England.
Looking more at the history of rye and bourbon can give you an idea of their cultural significance and how they have evolved over the years.
The History of Rye vs. Bourbon
In Pennsylvania in 1750, rye was the grain of choice. Since Pennsylvania was made up of farmers during that time, the option to make rye whiskey made sense. After the Revolutionary War, rye whiskey became more prominent. In fact, it became the whiskey of choice in America. It's also important to note that many Americans lost access to spirits after the war.
Some of the most notable figures in American history had access to rye. For example, George Washington had access to five rye whiskey distilleries. To show you how popular rye whiskey was during that time, you could compare Kentucky making bourbon whiskey and Pennsylvania making rye whiskey. Rye whiskey was made three times the amount of Kentucky bourbon because of its huge demand.
Bourbon also has a unique history. While it was also made during the 1700s, it became more popular during the Civil War when it was used for trading. It was used as a form of currency. By the end of the 19th century, Kentucky had over 4,000 bourbon distilleries.
The Core Differences
While the distilling process is nearly identical between rye and bourbon, one of the core differences between rye and bourbon is that rye has a spicier taste. Some will argue that rye also has a hint of oak, smoke, and fruit. Bourbon lacks the spice and has more of a sweet taste to it. Additionally, bourbon has a sweet taste classified as vanilla, caramel, and oak. It's also smoother and easier to consume than rye.
The Nutritional Differences
There are a few benefits to drinking bourbon and rye. One of those benefits is that rye and bourbon help with digestion and weight loss. This doesn't mean it should be consumed every day, but rather, a glass once a week is a moderate amount that can aid in either weight loss or digestion. It can also reduce cancer risks and promote a healthy heart.
The key is to find the right balance each week. Find a time to enjoy it with friends or have a drink with dinner to aid digestion.
Cocktail Recipes for Rye and Bourbon
There are a variety of cocktails you can make with rye and bourbon. They can also be used interchangeably for different cocktails. They can be mixed with different bitters, like Angostura bitters, to make an exceptional cocktail. You can also experiment and try these bourbons by themselves. If it's too strong, add an ice cube to make the whiskey smoother. You can add more bitters to a homemade cocktail if you're looking for a sweeter blend.
Here are the different cocktails you can make with rye.
Black Manhattan
Monte Cassino
Bananarac
Greenpoint
Here are the different cocktails you can make with bourbon.
Kentucky Mule
Bourbon Sidecar
Paper Plane Cocktail
What's a Better Cocktail?
Rye and bourbon offer some of the best whiskey. Knowing the difference between them can be difficult, especially if you don't drink whiskey. However, when you learn more about these different whiskeys and how they are made, there's a deeper appreciation. You enjoy them more. You savor the taste.
The different cocktails in this guide can give you ideas on what to make with either rye or bourbon. Ultimately, deciding what to drink comes down to what you prefer more. Trying different rye or bourbon cocktails will give you insight into the better cocktail for you.
Comparison of Rye vs. Bourbon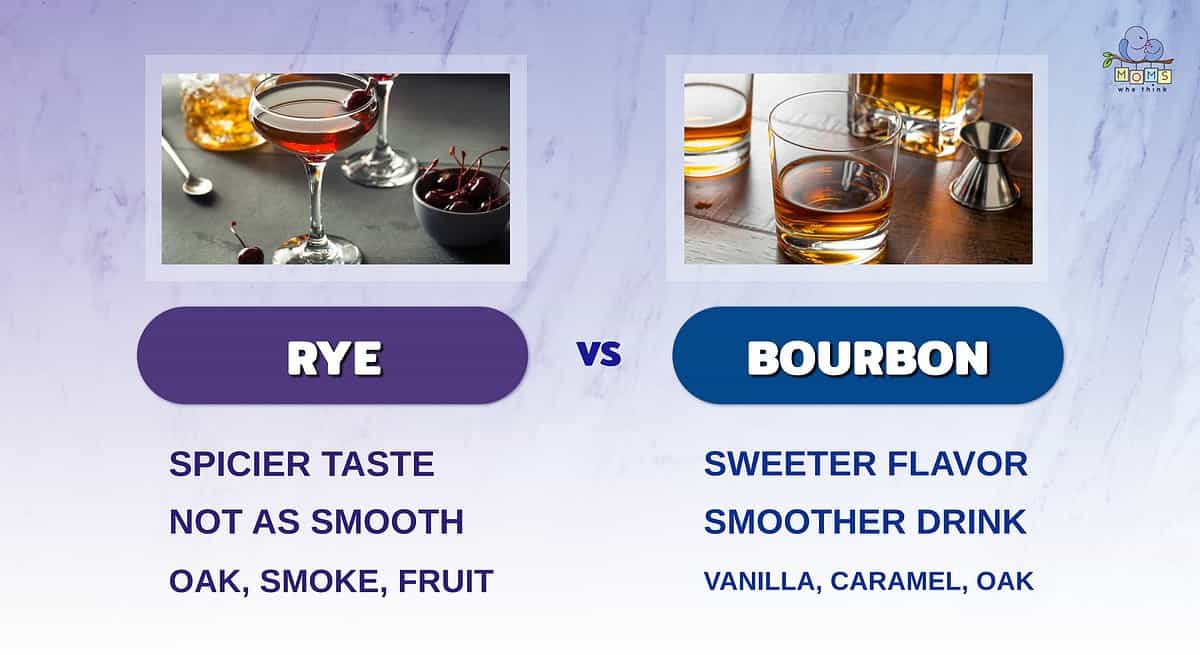 They may both be types of whiskey, but rye and bourbon do have their differences. Let's do a quick recap of how they differ:
Rye tends to have a spicier flavor than that of bourbon, which has a sweeter taste.
One of the more well-known differences is bourbon is easier to consume than rye.
Bourbon has hints of vanilla, caramel, and oak. On the other hand, rye has hints of oak, smoke, and fruit.
Print
Bourbon Fudge
---
2

cups

semi-sweet chocolate chips

1

can 14oz sweetened condensed milk

1/4

cup

bourbon

1/2 teaspoon

orange extract

1

package (3/4 oz.) of slivered almonds
---
Instructions
1. Combine chocolate chips and milk in a large bowl and cover loosely.
2. Cook in the microwave for 3 minutes on High. Remove from microwave and stir until smooth.
3. Add bourbon and orange extract; mix well.
4. Grease an 8-inch square pan and sprinkle the bottom of the pan with almonds. Pour mixture into pan; let stand until firm or chill in the refrigerator.