Famous for its natural hot springs, Arkansas may surprise you by being one of America's perfect vacation spots. With its stunning natural beauty, beautiful landscapes, and rich cultural history, it's no wonder to have some of the most expensive hotels throughout the state. In this article, we'll explore the most luxurious hotels in Arkansas that offer you a chance to relax, be adventurous, and have fun! But first, let's see why Arkansas should be at the top of your travel list.
5 Reasons Why Arkansas is the Perfect Getaway
Diverse Natural Beauty: Arkansas is a haven for families seeking outdoor adventures. From its amazing hot springs, scenic state parks, lush forests, majestic mountains to sparkling lakes and winding rivers, the state's diverse landscapes offer endless hiking, camping, fishing, and water sports opportunities, providing families with memorable experiences in nature.
Kid-Friendly Attractions: Arkansas has an array of family-friendly attractions tailored to entertain and educate young minds. From interactive science museums and wildlife refuges to amusement parks and historic sites, children of all ages will find something captivating to explore and enjoy.
Affordable Family Fun: Compared to other tourist spots, Arkansas offers budget-friendly options for family vacations. The state's attractions, hotel rooms, and dining options are often more affordable, making it an ideal destination for families looking to maximize their travel experience without breaking the bank.
Rich History and Culture: Arkansas's deep-rooted history and unique culture provide families an educational and enriching experience. Visit historic sites, museums, and cultural events to learn about the state's heritage, Native American history, and contributions to the nation's growth.
Warm Southern Hospitality: Arkansas is known for its warm and welcoming locals who embrace visitors with genuine hospitality. It's often said Arkansas is the place where families are treated like family!
The 5 Most Expensive Hotels in Arkansas
The list below shows the most expensive hotels in Arkansas. Prices can fluctuate based on the time of year you travel, so you can score a fantastic deal on one of these hotels and enjoy it for a more affordable price!
The Reserve at Hot Springs
2330 Central Ave, Hot Springs, AR, 71901
Nightly Rate: $427
Why The Reserve at Hot Springs?
Named the #10 hotel in the South, it's a mansion turned hotel located in the historic Hot Springs. The Reserve at Hot Springs is a boutique hotel with 12-guest accommodations. It is an ideal spot for a mommy/daddy getaway with luxurious world-class amenities! Another key point is the elegant ambiance, spacious suites, and impeccable service. Take in the breathtaking views while relaxing on the porch or unwind by the cozy fire and create lasting memories. From cottages to suites, guests enjoy a soothing and inspiring atmosphere! For example, they offer luxurious amenities like: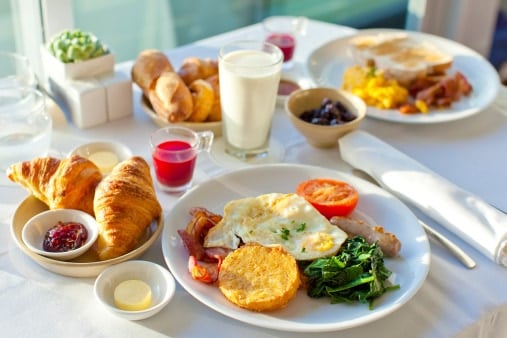 Complimentary 3-course chef-inspired breakfast
High-end decor, art & furniture
Cozy linens
Spa-like bath
Relaxing rain-shower
Access to Butler's pantry
Relaxing outdoor spaces
Nearby Attractions:
Private Boat Tour: Enjoy a magical sunset cruise on Lake Hamilton on Reserve's private boat. You'll find the experience to be relaxing as you soak up the picturesque views!
Garvan Woodland Gardens: Explore the stunning botanical garden nestled within the University of Arkansas. With its woodsy shoreline, charming waterfalls, and serene chapel, this serene spot offers a dreamlike escape into nature's embrace.
Hot Springs National Park: Discover a soothing oasis at Hot Springs National Park. Experience early 20th-century bathhouses and natural hot springs that average 1450F. Take a serene 30-minute walk on the Grand Promenade to Fountain Street, where scenic beauty awaits. Rejuvenate your mind and body in this therapeutic haven!
Lake Catherine State Park: Considered nature's playground, boasting 2,240 acres of beautiful lake and forest. Enjoy hiking, fishing, boating, horseback riding, camping, and more! Here you can create cherished memories with loved ones.
Hot Springs Off Road Park: Experience the ultimate four-wheeling fun at Hot Springs Off Road Park! Bring your own vehicle, rent one of theirs, or take a guided tour for an adventure of a lifetime. You'll experience an off-roading escapade like no other!
Arlington Resort Hotel & Spa
239 Central Avenue, Hot Springs, United States, 71901
Nightly rate: $295
Why Arlington Resort Hotel & Spa?
Nestled in the heart of Hot Springs National Park, it's no wonder this historic gem has a rich legacy dating back to the 1920s! It boasts the ideal location for numerous Miss Arkansas pageants and even the famous suite Al Capone always booked.
The Arlington Resort Hotel & Spa offers you a delightful journey through time, whether it's the Southern charm or luxurious comforts that many celebrities enjoy. Guest can choose from 5 different room options and enjoy amenities such as:
Spacious rooms
Two outdoor pools
Fitness room
Year-round hot tub
Charging stations for electric cars
Pet-friendly rooms
Spa services
Family-friendly Nearby Attractions:
Magic Springs Theme and Water Park: Just a short drive from the hotel, Magic Springs offers a thrilling experience for the whole family. Enjoy a variety of exciting rides, water slides, and live entertainment, making it a perfect destination for a fun-filled day.
Mid-America Science Museum: Located nearby, this interactive science museum offers engaging exhibits and hands-on activities for children and adults alike. Explore fascinating scientific concepts and enjoy interactive learning in a playful and educational environment.
Hot Springs National Park: As one of the oldest national parks in the U.S., Hot Springs National Park provides a unique opportunity for families to enjoy nature's wonders. Take a leisurely hike, have a family picnic, and explore the natural thermal springs that the city is renowned for.
Gangster Museum of America: Step back in time to the roaring 20s, 30s, and 40s in Hot Springs, Arkansas, where the Gangster Museum of America showcases the coexistence of notorious criminals with the town's charm. With seven captivating galleries, an antique casino, and fascinating stories from the historian, it's an unforgettable experience!
Hot Springs Mountain Tower: A fantastic way to enjoy stunning views 1,256 feet above sea level. Witness 140 miles of beautiful Arkansas countryside, including Hot Springs National Park and the Ouachita Mountains, all from atop Hot Springs Mountain. It's an unforgettable experience!
The Crescent Hotel and Spa
75 Prospect Ave Eureka Springs, AR 72632
Nightly rate: $267
Why The Crescent Hotel and Spa?
One of the famous historic hotels of America, the Crescent Hotel and Spa in Eureka Springs gives families a truly unique experience amidst the breathtaking Ozark Mountains. Its historic charm and sophisticated ambiance create an enchanting atmosphere. It offers a range of family-friendly activities. For instance, you can have some family laughs while eating s'mores on a starry night. There's also wine tastings and opportunities to enjoy listening to live music outdoors. Also the hotel offers 15 acres of beautiful gardens and walking trails that loop through the city and pass the city dog park and playground. Guests can choose from 9 different upscale suites and cottages. Also they offer a variety of amenities such as:
Spa services
Pet-friendly
Private balconies
Hot tub
Swimming pool
Rooftop
Nearby Attractions:
Turpentine Creek Wildlife Refuge: Located just a short drive away, this refuge provides a unique opportunity for families to see rescued big cats, such as lions, tigers, and cougars, in a safe and natural environment.
Eureka Springs & North Arkansas Railway: Hop aboard a vintage train and embark on a scenic journey through the Ozark Mountains. With this in mind, families can enjoy the picturesque views and experience the charm of riding a historic railway.
Cosmic Cavern: This fascinating underground cave system offers visitors an opportunity to explore the breathtaking beauty of stunning underground formations. The cavern also features two bottomless lakes, which adds to its beauty. Also, there are guided tours available to take visitors through the cavern's chambers, allowing them to witness the mesmerizing natural wonders hidden beneath the surface.
Lake Leatherwood: For outdoor enthusiasts, Lake Leatherwood offers opportunities for hiking, picnicking, and even boating and fishing, making it a fantastic spot for a family day out in nature.
Eureka Springs Tram Tours: You can learn about the city's history and see its unique architecture and landmarks. All in all, you will find this to be both educational and entertaining for your family.
Capital Hotel
111 West Markham Street, Little Rock, AR 72201
Nightly Rate: $479
Why Capital Hotel?
As the city's oldest continuously operating hotel, Capital Hotel offers a unique experience for families. Centrally located in the heart of Little Rock's tourist attractions, you can enjoy luxurious accommodations and personalized service that will make your stay unforgettable. Whether you are looking for a magical getaway or a little relaxation, this hotel offers world-class luxury. It also provides a variety of toys and even a cozy bathrobe for the kids! All in all, with a strong emphasis on safety and cleanliness, Capital Hotel's amenities help create a luxurious experience! For instance, their world-class amenities include:
Spacious guest rooms
14-foot-high ceilings,
Blackout curtains
Umbrella
Bathrobes & Slippers
Laundry services
Work stations in each room
Nearby Attractions
Little Rock River Market District: Located within walking distance, the River Market District offers a vibrant atmosphere with a variety of shops, restaurants, and entertainment options. Also there you can see local arts and crafts, sample delicious food, and take in the scenic views of the Arkansas River.
Museum of Discovery: Located a short distance away, Arkansas' premier science center offers interactive exhibits and hands-on activities catering to curious young minds. In fact, families can delve into science, technology, and natural history, making it a fun and educational experience for all ages.
Little Rock Zoo: A short drive from the hotel, the Little Rock Zoo provides an exciting day of animal encounters and educational programs for families. Kids can delight in seeing diverse wildlife from around the world, creating cherished memories with every visit.
Heifer Village & Urban Farm: Here you'll discover the sustainable living and global understanding at Heifer Village, an interactive educational center with farm animals and exhibits. For example, you can explore the urban farm, learn about environmental stewardship, and participate in family-oriented activities.
Riverfront Park: Adjacent to the hotel, Riverfront Park offers a beautiful green space along the Arkansas River. Families can enjoy picnicking, playing in the playgrounds, and taking leisurely strolls along the river, providing a relaxing escape in the heart of the city.
The Inn at Bella Vista
101 Chelsea Road Bella Vista, AR 72715
Nightly Rate: $258
Why The Inn at Bella Vista?
The Inn at Bella Vista is located in a tranquil setting that embraces nature's beauty from hummingbirds to monarch butterflies passing through. Its family-friendly charm lies in the array of activities and amenities that cater to all ages. In fact, almost everywhere you turn, guests can enjoy the beautiful wildlife visitors from deer to Bald Eagles. Also, the spacious accommodations allow ample room for bonding and relaxation. Whether you choose to tee off at the golf courses or unwind in serene surroundings, you're sure to enjoy a seamless blend of comfort, adventure, and togetherness. In addition, it's important to note the Inn is not ADA accessible. Amenities include:
Spacious rooms
Complimentary breakfast
Workstation in every room
Outdoor pool
Some rooms have private balconies
Nearby Attractions:
Crystal Bridges Museum of American Art: Located just a short drive away, this world-renowned museum offers a fascinating collection of American art in a beautiful natural setting. Without a doubt, you'll enjoy strolling through the galleries and exploring the scenic trails and outdoor sculptures.
Bella Vista Nature Trails: The area is home to an extensive network of nature trails, perfect for families who love hiking, biking, or leisurely walks in the great outdoors. Another way to take in the beauty of the surrounding forests, lakes, and wildlife as you explore these scenic trails.
Mildred B. Cooper Memorial Chapel: Families can experience the enchanting architecture and serene ambiance of this stunning chapel surrounded by peaceful woodlands. It's a perfect spot for quiet reflection and taking memorable family photos.
Lake Avalon: Located within Bella Vista, Lake Avalon offers opportunities for fishing, picnicking, and paddling. Families can enjoy a relaxing day by the water, surrounded by beautiful scenery and abundant wildlife.
Bella Vista Country Club Golf Courses: If you're a golfing family, the area offers several scenic and well-maintained golf courses, allowing parents to enjoy a round of golf while kids explore nearby green spaces.
One Final Note
Arkansas is a fantastic pick for a family vacation, offering a blend of rich American history, beautiful nature, and exciting attractions for all. The cost is well worth it for its comfort, relaxation, rich history, and adventure. So treat yourself and your loved ones to an enchanting experience in Arkansas's captivating beauty. And get ready for an unforgettable getaway like no other!
The image featured at the top of this post is ©Anel Alijagic/Shutterstock.com.