There are few things sweeter than the smell that emanates from your kitchen when you're baking bread or pastries. When you think of your favorite baked pastry, a butter croissant may come to mind. Although it may be simple, this flaky, buttery pastry is perfect to enjoy any time of day. If you've ever thought about making croissants at home, you may have realized they're not the same as a typical puff pastry. When comparing a croissant vs puff pastry, there are many differences between them.
Croissant and puff pastry dough are both considered laminated dough, but there is a difference in their ingredients. The dough used for making croissants contains yeast and milk while puff pastry only contains flour, water, salt, and butter.
If you've ever ordered croissants at a local bakery or are interested in trying to bake them yourself, it's important to understand how croissant dough differs from puff pastry. Keep reading to find out how to make both types of dough at home.
Croissant vs Puff Pastry: What Is the Difference?
Croissant dough and puff pastry are both delicious doughs you can learn to make when baking at home. Most bakers will attest to the fact that making croissants and puff pastry isn't easy. However, even if you're a beginner baker, you can learn to make both with some practice.
The biggest difference between croissant dough and puff pastry is their ingredients. Although both are considered laminated dough, croissants contain yeast while puff pastry does not. Croissant dough also has sugar and milk in the list of ingredients, while puff pastry is made out of salt, flour, and water. Since puff pastry is usually used as a crust for things like tarts or pies, it doesn't need to be as fluffy and soft as croissant dough.
Both puff pastry and croissants are a bit more challenging to make than other types of dough, but there are many recipes out there if you're up for the challenge.
What is a Croissant?
Croissants are flaky, buttery pastries that originated in Austria. The croissants we know today actually came from France, but they're based on an Austrian recipe for kipferls, which are crescent-shaped rolls. Like Austrian kipferls, the croissant is named for its crescent shape.
Croissants can be pretty finicky to make and require quite a bit of patience. However, if you're looking for a delicious homemade pastry, it may be worth the effort. The dough for a croissant includes several different ingredients, including:
Butter
Yeast
Flour
Sugar
Salt
Milk
Like puff pastry, croissant dough is a type of laminated dough. This means the dough is made through a process of folding butter into the dough multiple times. Let's take a closer look at how you can make croissant dough at home.
How Do You Make Croissant Dough?
To start with, you're going to mix your ingredients together with a stand mixer. It's important to keep croissant dough cool, unlike many other doughs that contain yeast. If your dough becomes warm during the mixing process, stick it in the fridge for a few minutes to keep it at the proper temperature.
After the dough is mixed, it's time to let it rest and cool in the fridge for about 30 minutes before rolling it out and sealing the butter in. Since the process of making croissants is pretty time-consuming and the dough has to chill several times, it's best to make it over a couple of days.
The lamination process involves folding the dough over a layer of butter multiple times. This is why it's so crucial to keep the dough cool while you're preparing it. After you've folded the dough the proper number of times, you slice it into rectangles, then triangles, and finally, roll them into a crescent shape. After brushing them with an egg wash, they're ready to bake!
Nutritional Values of Croissant vs Puff Pastry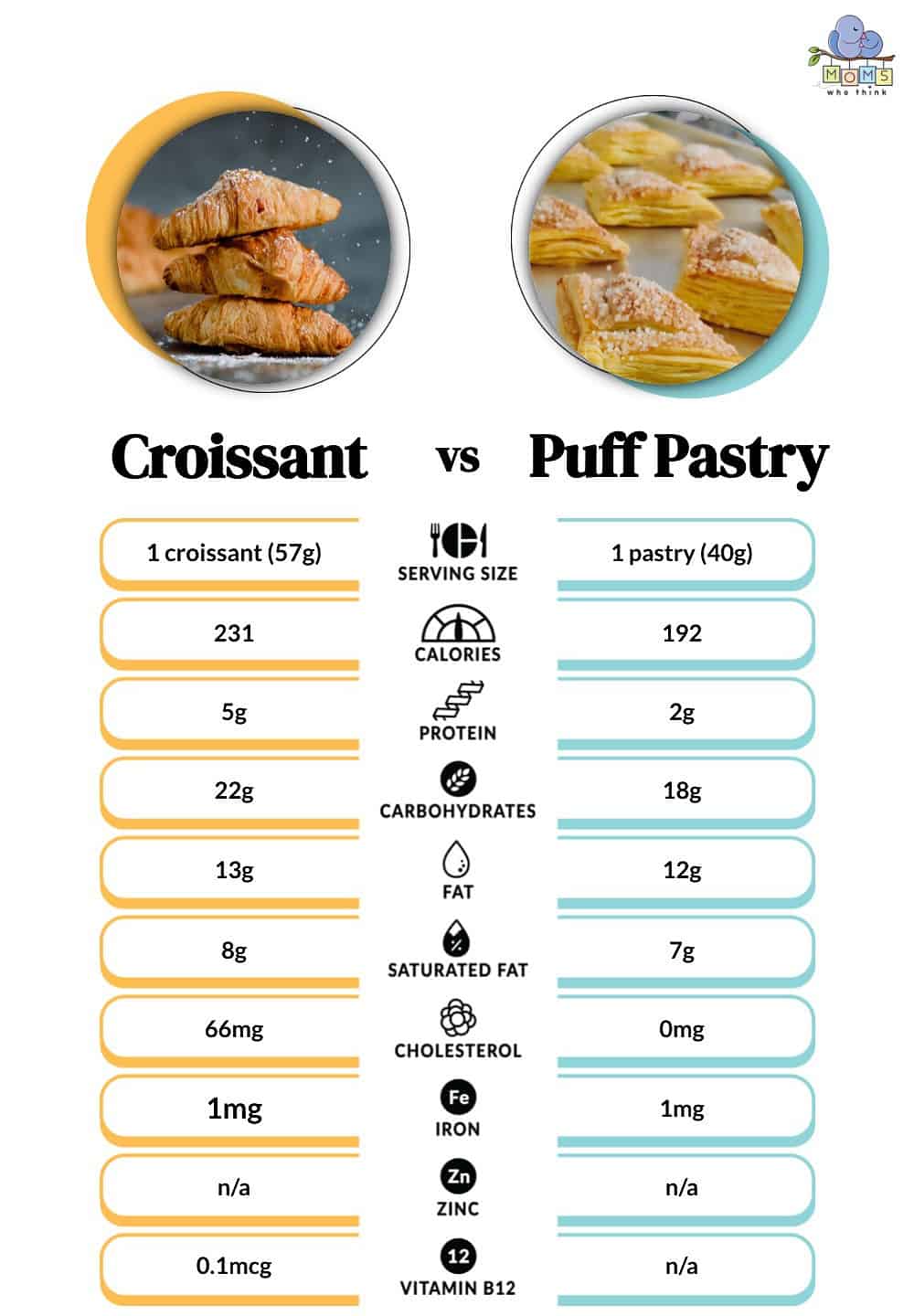 What is Puff Pastry?
Puff pastry is a crispy and flaky pastry you can use for a variety of desserts such as apple turnovers or tarts. It's also perfect for making numerous savory treats such as spinach puffs or brie tarts.
Puff pastry, unlike many other doughs, doesn't contain any yeast and has a simple ingredient list of water, salt, butter, and flour. Even though the ingredient list is short, making puff pastry can be a bit of a challenge, especially for those new to baking. Achieving the right amount of layers without letting the dough get too warm is an essential part of the pastry-making process.
Since making puff pastry at home is a pretty challenging task, many people choose to purchase pre-made puff pastry. You can usually find it in the freezer aisle in most grocery stores, and it can be a great alternative to making the pastry yourself.
Making puff pastry yourself, however, can be a fun experience and a great accomplishment. Once you've made the puff pastry, you can choose from an endless number of recipes for tarts, pies, or similar desserts.
How Do You Make Puff Pastry?
Like croissant dough, puff pastry is a laminated dough. However, the process for making it as well as the ingredients are much different since puff pastry is meant to be crispier than croissant dough. The lack of yeast and milk makes it drier than croissant dough as well, which is perfect for tarts and other pastries.
The first step to making puff pastry is mixing the ingredients for the dough. Much like the croissant dough, it's essential for puff pastry to stay cool. This means you'll need to chill it several times throughout the process.
After the dough has come together, you start the lamination process by sealing the butter in before chilling the dough once again. Folding the dough over multiple times once it's chilled creates layers in the puff pastry. The steam created in the oven by the butter layers is what makes the puff pastry so flaky. To keep the dough cool, let it rest in the fridge after each fold.
Can You Substitute Puff Pastry for Croissant Dough?
When you begin to understand the difference between them, you may wonder if you can use puff pastry to make croissants. Even though there are similarities between the two types of dough, you can't use them interchangeably.
If you try to use puff pastry to make croissants, you won't achieve the buttery, flaky texture. The texture of puff pastry is close to that of a pie crust, which is why it's great for making tarts or even for making pies. Substituting puff pastry for croissant dough will lead to a dry block of dough that likely won't taste much like the croissant you're trying to make.
When Should I Use Croissant Dough vs Puff Pastry?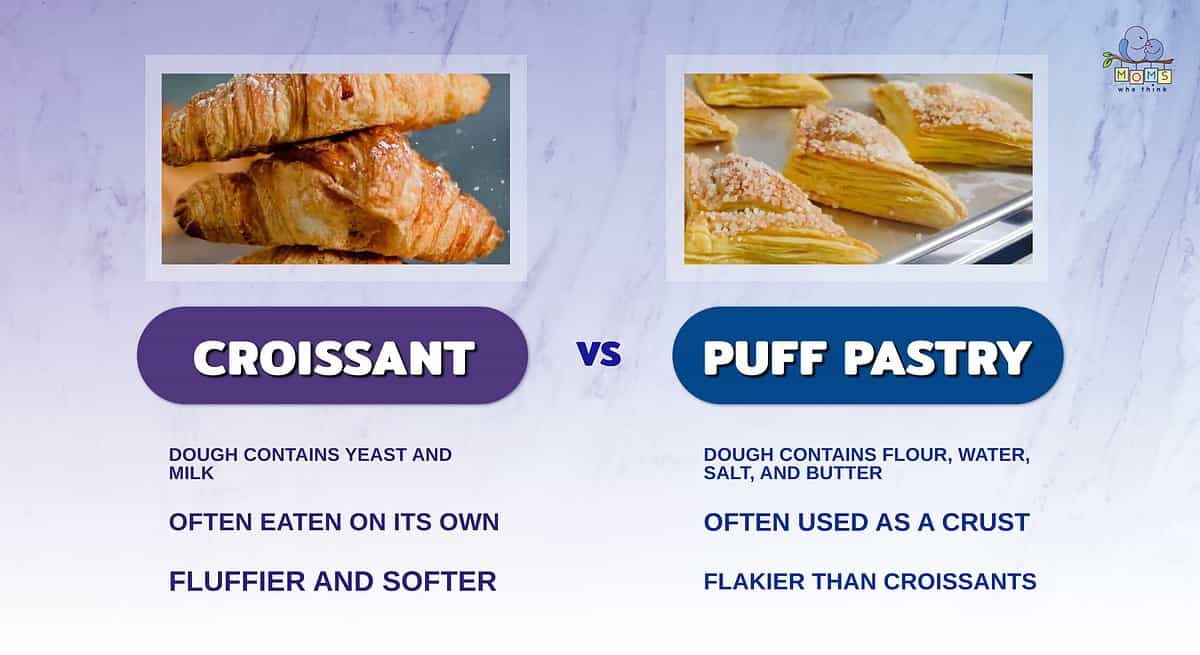 Croissant dough contains yeast and milk, while puff pastry dough only contains flour, water, salt, and butter. These are all ingredients most people have on hand at any time, making puff pastry an accessible recipe.
Puff pastry is usually used as a crust for a variety of pastries, such as turnovers or tarts. Croissants are often eaten on their own, sometimes with a filling.
Croissant dough is fluffier and softer than puff pastry dough.
Now that you know the difference between the two types of dough, there are numerous ways to use croissant dough and puff pastry. Puff pastry is perfect for tarts, pie crusts, or turnovers. You can get creative with your puff pastry and make something sweet or savory.
If you make homemade croissants, you can use them in a variety of ways from making breakfast sandwiches to simply spreading jam on them. You can also use the dough to make a cruffin, which is a mix between a muffin and a croissant, or a cronut, a mix between a croissant and a donut.
No matter which type of dough you choose to make, remember it takes time and practice to get them right. With a bit of patience, you can make delicious croissants or puff pastry at home anytime.
Puff Pastry Recipes
Print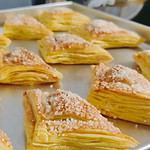 Pastry with Pears and Almonds
---
Author:

Total Time:

50 minutes
Dough:
1

package frozen bought puff pastry
granulated sugar for dusting.

1

egg, lightly beaten

2 teaspoons

water
Almond Cream:

2

ounces

Almond Paste

1/4

cup

granulated sugar

1/4

cup

butter (room temperature)

2

large eggs (not extra large)
Pear Filling:

2

firm pears peeled, cored and sliced

1

tart apple peeled, cored and sliced

1 tablespoon

cornstarch

1/2 teaspoon

cinnamon

1/4 teaspoon

nutmeg
pinch of cloves (optional)

1

spoonful granulated sugar

1

spoonful brown sugar

1 tablespoon

lemon juice

1 tablespoon

water
Assemble:

1

egg, lightly beaten

1 teaspoon

water (if necessary)
sanding sugar (or coarse sugar) for sprinkling
---
Instructions
Remove puff pastry from freezer and thaw in the refrigerator overnight.
Preheat oven to 400 degrees and prepare a baking sheet with lightly greased parchment paper.
In a mixing bowl, beat the almond paste, butter and sugar together until well mixed and "fluffy." Beat in the two eggs. Set aside.
Peel and slice the pears and apple then, place in a gallon sized or two quart sized FREEZER bags. Do not over fill or use storage bags. The filling will get very hot and the bag needs to stand up to the heat.
Divide the spices, cornstarch and sugar between the bags and shake well to make sure the fruit is covered.
Seal the bag leaving it about one quarter of the way open to act as a vent for the steam. Microwave for 2 minutes. Let the bag sit to cool off in the microwave (it will be VERY hot).
Remove the puff pastry from its wrapper and spread out on a lightly floured cutting board or counter. Dust both sides of the pastry with granulated sugar. Roll the dough slightly with a rolling pin just enough to smooth out the creases in the dough.
Turn the dough so that the two "creases" in the puff pastry line up going away from you and you see the dough separated into thirds. On one of the outside thirds of the dough, make horizontal cuts that are parallel to each other and 1 inch apart. Repeat on the other, outer third section of the dough. The center of the dough should be uncut.
Spread the almond cream generously in the center, uncut section of the pastry. Remember that the almond cream will melt some while baking.
Arrange the pear mixture in the center of the puff pastry. Leave one inch at the top and bottom of the pastry empty. Cut off the top and bottom strips from each side of the pastry leaving one inch of dough in the center third section. Fold the top inch of dough from the center section over the pears and repeat with the bottom inch of dough. Fold the cut strips over the pear filling one at a time at a slight diagonal. Alternate between the left and the right so that your pastry will look like it is braided. Tuck the excess dough of each strip under the pastry. Place on the parchment lined baking sheet.
If the dough has become warm, return the braided pastry to the refrigerator to chill before baking.
Before baking, beat the egg and the water together with a fork and brush over the pastry. Sprinkle with sanding sugar or coarse sugar.
Bake at 400 degrees for 15 minutes. Reduce the temperature to 350 and bake for 15 to 25 minutes more or until the pastry is golden brown and cooked through.
Prep Time:

20 minutes

Cook Time:

30 minutes