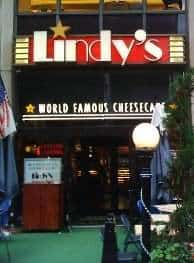 Lindy's New York Deli Cheesecake
Lindy's Deli is famous for their legendary cheesecake, from New York and beyond. With the recipe to make this bit of heaven at home, you can have a slice of New York City from your own oven.
A New York City icon, it was opened by Leo "Lindy" Lindermann (who died in 1957) and his wife Clara on August 20, 1921. A second location was added at 1655 Broadway.
The famous and the infamous loved Lindy's, the deli food and decadent cheesecake were favorites from the elite to the criminal. Damon Runyon was a big fan and wrote the restaurant into his books as "Mindy's." The musical Guys and Dolls, based on Runyon's writings, immortalizes Lindy's in one of its songs.
Milton Berle frequented Lindy's almost on a nightly basis. One of the less favorite stories that made Lindy's famous happened on April 5, 1956. Abraham Telvi, a mobster and hit man, attacked journalist Victor Riesel with acid, blinding him as he left the restaurant.
Mobster, star, or regular folk…you'll agree their cheesecake is absolutely amazing.
---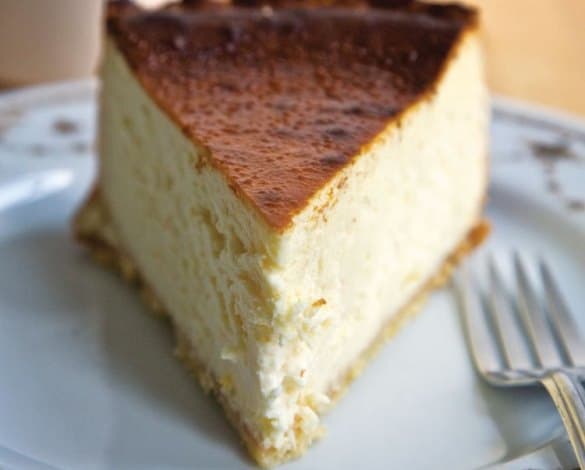 Lindy's Cheesecake:
Ingredients:
1 cup plus 3 Tablespoons all-purpose flour
2 cups sugar
2 1/2 teaspoons grated lemon zest
1/2 teaspoon vanilla extract
3 egg yolks
1/2 cup (1 stick) unsalted butter, softened
2 1/2 pounds (5 large packages) cream cheese, softened
1 1/2 teaspoons grated orange zest
5 whole eggs
1/2 cup heavy (whipping) cream
Crust Directions:
1. In a bowl, combine 1 cup of the flour with 1/4 cup of the sugar, 1 teaspoon of the lemon zest, and 1/4 teaspoon of the vanilla.
2. Form a well in the center and add 1 egg yolk and all of the butter. Work with a fork to make a dough. Add up to 2 tablespoons of water, if necessary, to make a pliable dough.
3. Form into a ball, cover with plastic wrap, and refrigerate for 1 hour.
Cheesecake Directions:
1. Preheat the oven to 400 degrees F. Butter the sides and bottom of a 9-inch springform pan.
2. In the bowl of a mixer, combine the cream cheese, the reamaining 1 3/4 cups sugar, 3 tablespoons flour, 1 1/2 teaspoons lemon zest, and all of the orange zest and beat well.
3. Add the 5 whole eggs (one at a time, mixing as you add each), the remaining 2 egg yolks (one at a time, mixing as you add each), and the remaining 1/4 teaspoon vanilla and beat well.
4. Add the heavy cream and beat well.
Assembly and Baking Directions:
1. Roll out one-third of the chilled dough on a floured surface; the dough will be very moist and fragile. Roll it out in pieces and evenly press them, with your hands, into the bottom of the prepared pan. Don't worry if it looks like it is going to fall apart.
2. Bake until golden, 15 minutes, and cool in the pan on a wire rack.
3. Roll out the remaining dough in pieces and evenly shape them to fit the sides of the pan, a piece at a time. Make sure that there are no holes in the crust and try to keep the edges neat.
4. Increase the oven temperature to 550 degrees F. Pour the cream cheese mixture into the crust.
5. Bake for 12-15 minutes. Reduce the heat to 200 degrees F and continue baking or 1 hour.
6. Turn off the heat and keep the oven door open wide. Let the cake cool in the oven for 30 minutes.