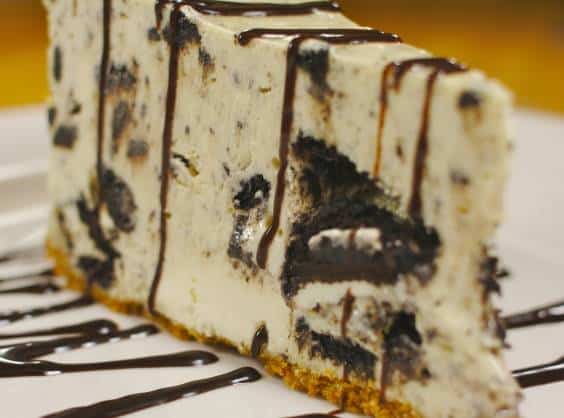 Oreo Cheesecake Recipe
This oreo cheesecake recipe is so easy, yet so tasty! The incredible goodness of oreo cookies makes this cheesecake so sinfully delicious.
Oreo Cheesecake
Crust Ingredients:
 
2 cups Oreo cookies, finely ground (approximately 24 cookies)
¼ cup butter, melted
Cheesecake Ingredients:
4 (8 ounce) packages cream cheese, room temperature
1 cup sugar
3 Tablespoons all-purpose flour
¼ teaspoon salt
4 large eggs
2 egg yolks
1 ½ teaspoons vanilla extract
¼ cup sour cream
14 Oreo cookies, coarsely crumbled
Directions:
1. Position oven rack in the middle of the oven. Preheat to 325º F.
 
2. Mix together the crust ingredients and press firmly into a 9 inch springform pan.
3. In a large bowl, beat together on low speed the cream cheese, sugar, flour, and salt until smooth.
4. Add the eggs and the egg yolks, one at a time, beating well after each addition.
5. Beat in the vanilla and sour cream.
6. Add the crumbled oreos, mixing until evenly distributed throughout the batter.
7. Pour filling over cookie crust.
8. Bake for 55 minutes to 1 hour, or until center is almost set. Remove from oven and place on a wire rack.
9. Run a sharp knife around rim of pan to loosen cake; cool completely before removing rim.
10. Refrigerate at least 4 hours.