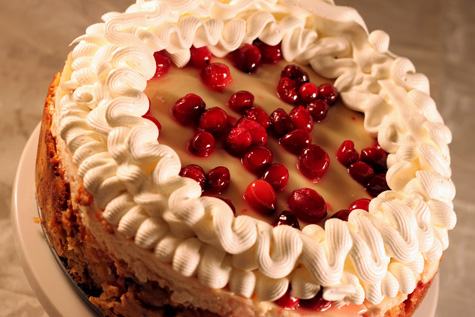 Cranberry Cheesecake Recipe
Let's Get Ready for Baby!
Sign up for our monthly pregnancy email series, and you'll get regular updates on your baby's development, helpful timelines to get ready for their arrival, must-have baby needs and so much more! PLUS, you'll get instant access to the MomsWhoThink "Ultimate Guide to Baby Naming in 2022."
CLICK HERE
to get started!
With cheesecake being a holiday favorite, this recipe adds the extra tang of cranberry to go perfectly with a traditional feast.
Cranberry Cheesecake
Ingredients:
Crust:
½ cup dried cranberries
2 cups all-purpose flour
½ cup ground almonds
¼ cup confectioners' sugar
½ cup cold butter, cubed
Filling:
¾ cup plus 1½ cups sugar, divided
2 tablespoons cornstarch
¼ cup cranberry juice
2 cups fresh or frozen cranberries
4 (8 ounce) packages cream cheese, softened
1 teaspoon vanilla extract
4 eggs, lightly beaten
Topping:
2 cups (16 ounces) sour cream
¼ cup sugar
2 teaspoons vanilla extract
1 cup heavy whipping cream
¼ cup ground almonds
¼ cup sliced almonds, toasted
Directions:
1. In a food processor, finely chop the dried cranberries. Add flour, almonds and confectioners' sugar; process until blended. Add butter; pulse just until crumbly. Press onto bottom and 1½ inches up sides of a greased 10-inch springform pan. Place on a baking sheet. Bake at 350° for 10 minutes. Cook on a wire rack.
2. In a small saucepan, combine ¾ cup sugar and cornstarch; stir in cranberry juice until smooth. Add cranberries. Cook and stir until thickened and bubbly. Set aside.
3. In a large bowl, beat the cream cheese, vanilla, and remaining sugar until smooth. Add eggs; beat just until combined. Pour half of batter into crust. Carefully spoon ¾ cup berry mixture over batter; top with remaining batter. Return pan to baking sheet.
4. Bake at 350° for 45 minutes. Reduce the heat to 250°. Bake 25-30 minutes longer or until center is almost set. Remove from oven (leave oven on). Let stand for 5 minutes.
5. Combine the sour cream, sugar and vanilla. Spoon around edge of cheesecake; carefully spread over top. Bake 20-30 minutes longer or until set. Cool on a wire rack for 10 minutes. Run a knife around edge of pan to loosen; cool 1 hour longer. Spread remaining berry mixture over the top. Refrigerate overnight.
6. Remove sides of the pan. In a chilled bowl, beat the cream until stiff peaks form; fold in ground almonds. Pipe around top edge of cheesecake; sprinkle with sliced almonds.