Cheesecake Recipes
With the choices in our collection of cheesecake recipes, you can easily make this delicious dessert for any occasion and any taste.
All of our cheesecake recipes make decadent, delicious desserts. Smooth and creamy, it is the tastiest and most elegant way to end a meal. It's no wonder people have been perfecting it since early Roman times. Different cheesecake recipes call for different ingredients. Most cheesecake recipes use cream cheese, but quite a few also have ricotta cheese or cottage cheese as the main ingredient and are equally delicious. We have cheesecake flavors from plain to the intensely rich New York cheesecake to gourmet tastes like pumpkin, eggnog or cookies and cream. Try your favorite or try a new recipe, these are the creamiest, tastiest cheesecakes to indulge in.
Use these Simple Secrets to Perfect Cheesecake for help with common baking problems. You don't need to be a star baker to make this wonderful dessert, just use our cheesecake recipes for divine dessert results.
Traditional and Unique Flavor Cheesecake Recipes
Amaretto Cheesecake Recipe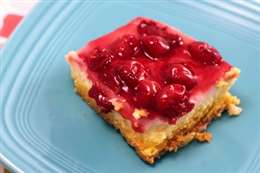 Cherry Cheesecake Recipe
New York Cheesecake Recipe
Every recipe in this collection of cheesecake recipes has been made by us to ensure excellent results and unbeatable taste. Every one is kitchen tested and taste approved.