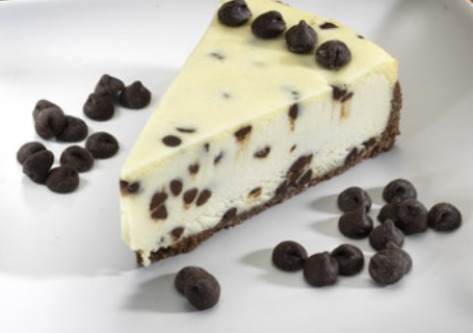 Chocolate Chip Cheesecake Recipe
Let's Get Ready for Baby!
Sign up for our monthly pregnancy email series, and you'll get regular updates on your baby's development, helpful timelines to get ready for their arrival, must-have baby needs and so much more! PLUS, you'll get instant access to the MomsWhoThink "Ultimate Guide to Baby Naming in 2022."
CLICK HERE
to get started!
Cheesecake is such a delicious treat. One thing that is so great about it is that it can be mixed with so many other ingredients. With that in mind, I would say there are very few people who don't enjoy some kind of cheesecake.
When thinking of all the delicious things we can add into a cheesecake, chocolate chips top the list. They are like rich little bites of heaven taking the entire dessert experience to the next level.
Chocolate chips were created with the invention of the chocolate chip cookie back in 1937. The happy accident occurred when Ruth Graves Wakefield of the Toll House Inn in Whitman, MA added cut up chunks of a Nestle chocolate bar to her cookie recipe. She meant for the cookies to come out as chocolate, but instead, she got delicious chocolate chip cookies.
For those familiar with Toll House Chocolate Chip Cookies (and who isn't?) the rest is history. But this paved the way for many other desserts that would include chocolate chips with the chocolate chip cheesecake being one of the most delicious.
Chocolate chips were first made of semi-sweet chocolate but today they can be found in a variety of flavors like butterscotch, peanut butter, mint, dark chocolate, white chocolate, milk chocolate and a combination of one or more of these flavors. Of course, when making your chocolate chip cheesecake, you can use any type of chip you'd like to produce your own unique take on the recipe.
You can also use different garnishes or add a chocolate crust or a chocolate topping to bring the flavor of the chips through.
This chocolate chip cheesecake recipe is basically traditional, but it makes one of the richest, most luxurious cheesecake recipes known to man. This is an indulgence worth every calorie! Add some whipped cream, serve and watch the smile come to their faces!
Chocolate Chip Cheesecake
Ingredients:
Crust Bottom:
2 cup graham cracker crumbs
6 Tablespoons butter, melted
1/4 cup sugar
Filling:
2 1/4 lb. cream cheese
5 eggs
1 2/3 cup sugar
1 Tablespoon vanilla extract
1 cup bailey's irish cream
1 cup semisweet chocolate chips
Topping:
1 cup whipping cream
1 teaspoon instant coffee powder
2 Tablespoons sugar
Garnish:
Chocolate Chip Cheesecake Directions:
1. Preheat oven to 325 degrees F. Coat a 9 inch springform pan with nonstick vegetable spray.
2. Combine crumbs and 1/4 cup of sugar in the pan, stir in the melted butter. Press mixture into bottom and 1 inch up the sides of the pan. Bake for 7 minutes.
3. In a food processor, beat cream cheese, add 1-2/3 cup sugar and eggs and mix. Blend in the vanilla and Bailey's.
4. Sprinkle half of the chocolate chips over the crust and spoon in the cheese mixture filling. Sprinkle with the remaining chocolate chips.
5. Bake for 1 hour and 20 minutes. Cool cake completely.
6. Beat whipping cream, coffee powder, and 2 tablespoons sugar until peaks form. Spread mixture over cooled cake and garnish with chocolate curls.