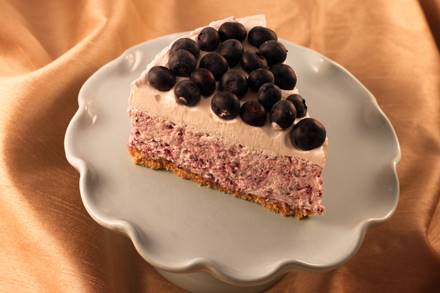 Blueberry Cheesecake Recipe
Let's Get Ready for Baby!
Sign up for our monthly pregnancy email series, and you'll get regular updates on your baby's development, helpful timelines to get ready for their arrival, must-have baby needs and so much more! PLUS, you'll get instant access to the MomsWhoThink "Ultimate Guide to Baby Naming in 2022."
CLICK HERE
to get started!
Cheesecake is a wonderful dessert for so many reasons. It has a light, smooth texture, a rich creamy taste, and maybe best of all, you can play around with recipes to make a variety that best suits your palette.
There are several things you can add to cheesecake to make it taste delicious, but blueberries are definitely a favorite. There is something about their sweet flavor that makes them the perfect complement for this delectable dessert.
While we might not think much about health when we are eating cheesecake, blueberries are one of the healthiest fruits around. They are full of antioxidants that are great for your skin and can protect your body against disease. They also may improve brain health, lower cholesterol and reduce muscle damage after strenuous exercise.
If you really want to change things up to make your blueberry cheesecake recipe healthier, consider eliminating the crust or replacing it with digestive biscuits. You can also use lower fat cream cheese and use sugar substitutes rather than natural sugar.
But for those of us who want our desserts to be anything but low in fat, there are plenty of other variations you can make on the blueberry cheesecake. You can add other fruits, like strawberries and raspberries, or crush your blueberries into a jam to make a blueberry swirl variety.
You can make your cheesecake into pastries or bars or even add chocolate to please the chocolate lovers in your family.
Our recipe is pretty basic, but it does include lemon juice and a lemon peel that gives it a slightly tangy flavor while the whipped cream topping and marshmallow cream make it light, fluffy and sweet.
It combines the sweet taste of blueberries with rich cheesecake producing a texture that makes every bite melt in your mouth.
Blueberry Cheesecake
Ingredients:
1/4 cup butter, melted
1 1/2 cup vanilla wafer crumbs
1/4 cups cold water
1 envelope unflavored gelatin
16 oz. cream cheese, softened
1 teaspoon grated lemon peel
1 Tablespoon lemon juice
7 oz. (1 jar) marshmallow creme
2 cups (1 lb.) blueberries, frozen or fresh, plus additional for garnish, if desired
8 oz. tub frozen whipped topping, thawed (3 cups) plus additional for garnish, if desired
Blueberry Cheesecake Recipe Directions:
1. Combine crumbs and butter, press onto bottom of 9-inch springform pan. Chill.
2. Beat cream cheese on medium speed. Set aside.
3. Soften gelatin in water, stir over low heat until dissolved. Gradually add the gelatin to cream cheese, mixing at medium speed on electric mixer until well blended.
4. Blend in lemon juice and lemon peel.
5. Add the marshmallow creme, mix well.
6. Fold in whipped topping.
7. Puree the blueberries then fold into cream cheese mixture. Chill until firm.
8. If desired, spread a layer of whipped topping on top of cheesecake and sprinkle with fresh blueberries before serving.