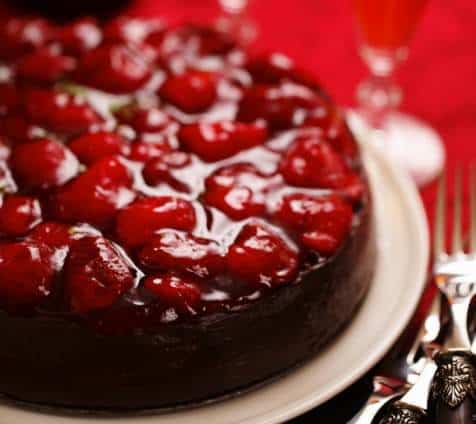 Black Forest Cheesecake Recipe
This is the classic recipe out of the black forest of Germany. With chocolate, cherries and cream cheese it's a decadent showstopper!
Black Forest Cheesecake
Black Forest Cheesecake Ingredients:
Crust:
1 cup chocolate wafer crumbs
3 Tablespoons margarine, melted
Filling:
16 ounces cream cheese, softened
2/3 cup granulated sugar
2 eggs
1/4 cup heavy cream
6 ounces semisweet chocolate chips, melted
1/4 teaspoon almond extract
Topping:
1 (21 ounce) can cherry or strawberry pie filling
Frozen whipped topping, thawed
Black Forest Cheesecake Directions:
1. Combine crumbs and margarine; press onto bottom of a 9-inch springform pan. Bake at 350 degrees F for 10 minutes.
2. Combine cream cheese and sugar, mixing at medium speed on electric mixer until well blended. Add eggs, one at a time, mixing well after each addition.
3. Blend in heavy cream, chocolate and extract, mix until smooth. Pour mixture over crust. Bake at 350 degrees F for 45 minutes.
4. Loosen cake from rim of pan; cool before removing rim of pan. Chill for at least 6 hours..
5. Top cheesecake with pie filling and whipped topping just before serving. Spoon pie filling to within 1 1/2 inches of edge of cheesecake. About every three inches around the edge, place a dollop of whipped cream.