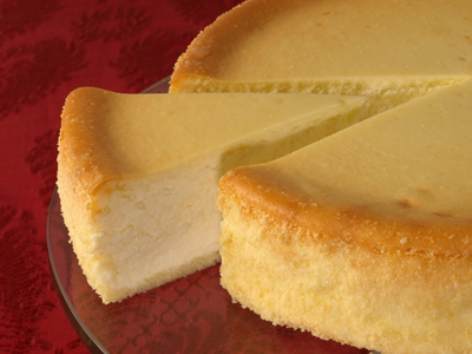 Let's Get Ready for Baby!
Sign up for our monthly pregnancy email series, and you'll get regular updates on your baby's development, helpful timelines to get ready for their arrival, must-have baby needs and so much more! PLUS, you'll get instant access to the MomsWhoThink "Ultimate Guide to Baby Naming in 2022."
CLICK HERE
to get started!
Many of us have heard of New York Cheesecake and may believe the dessert originated in the city. However, the truth is, it originated many years before New York was ever even a city in a far away country called Greece. Legend has it that after being created on the island of Samos, it was served to Greek athletes during the first Olympic games in 776 BC.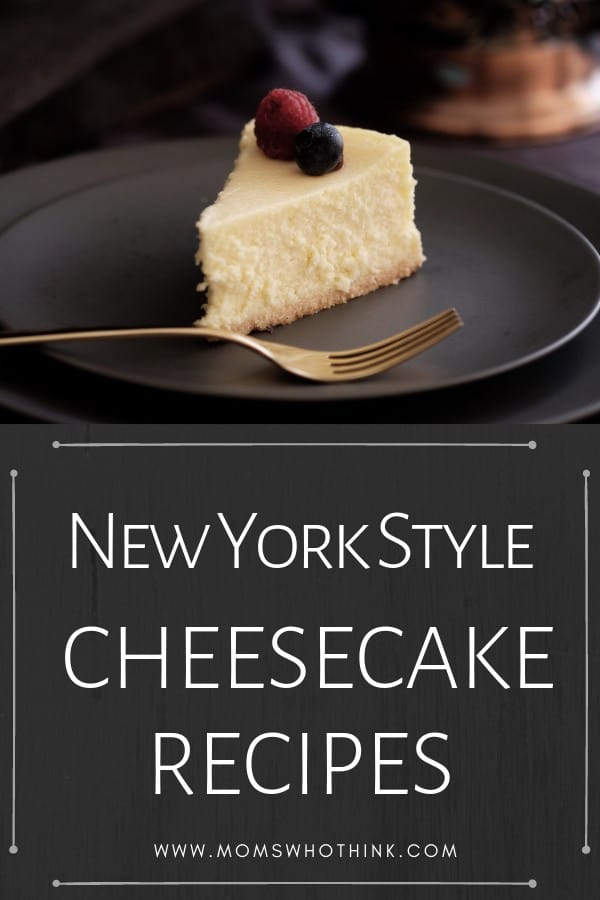 From there, the recipe fell to the Romans who then brought it to Europe where variations were made using ingredients native to the various regions.
However, it wasn't until the 1900's that the New York Cheesecake recipe was developed. Arnold Rueben is credited for coming up with the state's version which gets its flavor from extra egg yolks in the cake mix. It is also usually served on its own, with no fruit, chocolate or caramel served on the top or side.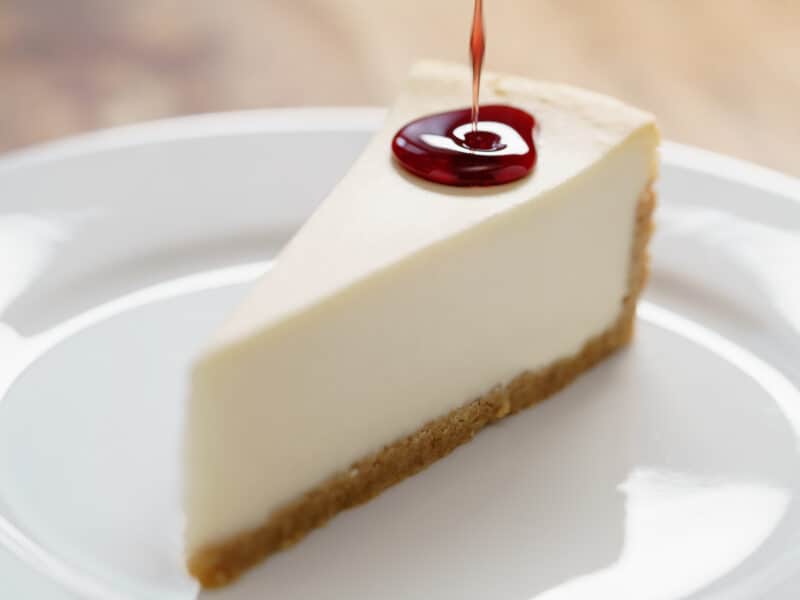 It is rumored that Rueben, a German-American immigrant, was invited to a dinner party where cheesecake was served. He was so fascinated with the recipe that he began experimenting with it until he came up with the New York version.
While there are many variations on the cheesecake dessert itself, there are also variations on the New York style recipe. These are three of the most delectable New York Style Cheesecake Recipe made from scratch with plenty of rich cream cheese.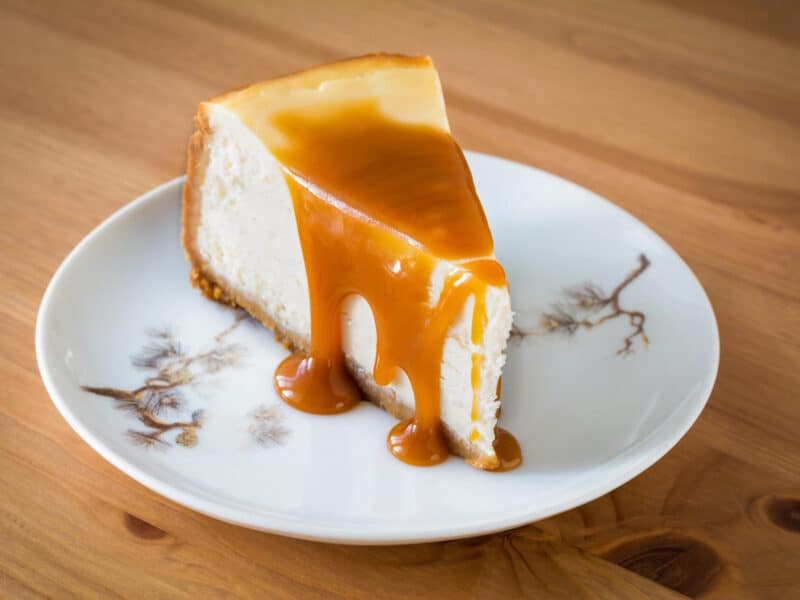 These all have a smooth, creamy flavor that will get praise from even the pickiest cheesecake lovers. However, they vary in the type of crust that is made and some of the ingredients used in the filling. Also, one of the variations includes a cherry topping which is unusual for a New York cheesecake but extremely tasty nonetheless.
New York cheesecake is truly a satisfying dessert, and we believe these recipes will make for a dessert that is especially delicious.
New York Style Cheesecake #1
Ingredients
Crust:
1/4 cup unsalted butter, melted
1-1/2 cups graham cracker crumbs
Filling:
1-1/2 cups granulated sugar
4 eight ounce packages cream cheese, softened
1/2 cup heavy cream
4 eggs
1/4 cup all-purpose flour
1 cup sour cream
1 tsp vanilla
Directions:
1. Preheat oven to 350 degrees F.
2. Grease sides of a springform pan or use a 9-inch round pan, ungreased.
Crust Directions:
1. In a large bowl, combine butter and graham cracker crumbs. Press into bottom of pan and freeze.
Filling Directions:
1. In a large mixing bowl, beat sugar and cream cheese on medium-high speed for 3 minutes.
2. Blend in cream. Add eggs, one at a time, mixing well after each egg is added.
3. Mix in sour cream , flour and vanilla until smooth. Pour the filling batter over the crust.
4. Bake for one hour in preheated oven. Turn oven off and let cake cool in oven for about 5 hours.
5. Refrigerate for at least 4 hours before serving.
New York Style Cheesecake #2
This New York Style Cheesecake recipe is topped with cherries.
Ingredients :
Crust:
1 cup Graham Cracker Crumbs
3 Tbsp. butter or margarine, melted
3 Tbsp. sugar
Filling:
5 (8 oz. each) packages PHILADELPHIA Cream Cheese, softened
3 Tbsp. flour
1 cup sugar
1 Tbsp. vanilla
4 eggs
1 cup Sour Cream
Topping:
1 can (21 oz.) cherry pie filling
Directions:
1. Mix graham cracker crumbs, butter and sugar; press firmly onto bottom of 9-inch springform pan.
2. Bake at 325 degrees F for 10 minutes.
3. Mix cream cheese, flour, 1 cup sugar, and vanilla with electric mixer on medium speed until well blended.
4. Add sour cream, mix well. Add the eggs, one at a time, mixing on low speed after each addition just until blended. Pour over crust.
5. Bake at 325 degrees F for 1 hour 10 minutes or until center is almost set if using silver springform pan. Refrigerate 4 hours or overnight. Top with pie filling before serving.
New York Style Cheesecake #3
This New York Style Cheesecake recipe uses a traditional crust, it allows the creamy filling to be the main flavor.
Ingredients:
Crust:
1/3 cup white sugar
1 1/2 cups all-purpose flour
1/2 cup butter, softened
1 egg, beaten
Filling:
1 3/4 cups white sugar
2 1/2 pounds cream cheese, softened
3 tablespoons all-purpose flour
1/2 cup heavy whipping cream
2 egg yolks
5 eggs
Directions:
1. Preheat oven to 400 degrees F. Lightly coat a 10 inch springform pan with cooking spray.
2. Combine 1/3 cup sugar, 1 1/2 cups flour, 1/2 cup butter and 1 egg. Spread evenly on the bottom and sides of the pan. Prick all over with a fork, then bake 15 minutes at 400F. Allow to cool.
3. Raise oven temperature to 475 degrees F. In a large mixing bowl, combine 1 3/4 cups sugar, cream cheese, 5 eggs, 3 tablespoons flour, and the egg yolks. Mix thoroughly.
4. Add cream and mix just enough to blend.
5. Pour filling into crust and bake for 10 minutes at 475F. Reduce temperature to 200 degreesF and continue to bake for one hour.
6. Turn oven off, but leave cheesecake in for an additional hour. It will be golden brown but not completely firm.
7. Chill overnight.