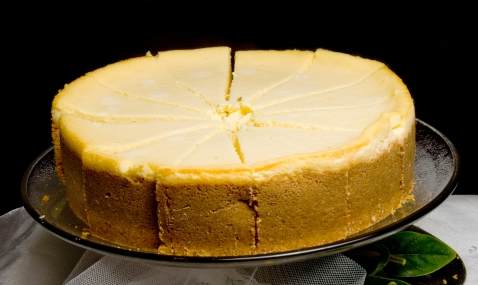 New York Cheesecake Recipe
Let's Get Ready for Baby!
Sign up for our monthly pregnancy email series, and you'll get regular updates on your baby's development, helpful timelines to get ready for their arrival, must-have baby needs and so much more! PLUS, you'll get instant access to the MomsWhoThink "Ultimate Guide to Baby Naming in 2022."
CLICK HERE
to get started!
Many of us have heard of New York Cheesecake and may believe the dessert originated in the city. However, the truth is, it originated many years before New York was ever even a city in a far away country called Greece. Legend has it that after being created on the island of Samos, it was served to Greek athletes during the first Olympic games in 776 BC.
From there, the recipe fell to the Romans who then brought it to Europe where variations were made using ingredients native to the various regions.
However, it wasn't until the 1900's that the New York Cheesecake recipe was developed. Arnold Rueben is credited for coming up with the state's version which gets its flavor from extra egg yolks in the cake mix. It is also usually served on its own, with no fruit, chocolate or caramel served on the top or side.
It is rumored that Rueben, a German-American immigrant, was invited to a dinner party where cheesecake was served. He was so fascinated with the recipe that he began experimenting with it until he came up with the New York version.
While there are many variations on the cheesecake dessert itself, there are also variations on the New York style recipe. These are three of the most delectable New York Style Cheesecake Recipe made from scratch with plenty of rich cream cheese.
These all have a smooth, creamy flavor that will get praise from even the pickiest cheesecake lovers. However, they vary in the type of crust that is made and some of the ingredients used in the filling. Also, one of the variations includes a cherry topping which is unusual for a New York cheesecake but extremely tasty nonetheless.
New York cheesecake is truly a satisfying dessert, and we believe these recipes will make for a dessert that is especially delicious.
New York Cheesecake #1
Ingredients:
1/3 cup butter, melted
1 1/2 cup cinnamon graham cracker crumbs
3 1/4 packages (8 oz. packages) cream cheese, softened
1 can 14 oz. sweetened condensed milk
2 tsp. vanilla extract
2 eggs
Directions:
1. Preheat oven to 300 degrees F. Combine graham cracker crumbs and butter; press evenly on bottom of 9 inch pie pan.
2. In large mixing bowl, beat cream cheese until fluffy. Gradually add sweetened condensed milk, beating until smooth.
3. Add vanilla and eggs, mix well. Pour into prepared pie pan.
4. Bake for 1 hour, turn off oven but leave cheesecake in oven with door propped slightly open for an additonal hour.
5. Refrigerate at least 6 hours until firm.
New York Cheesecake #2
This New York Cheesecake Recipe is from Aunt Sophia. She uses ricotta cheese in her recipe, which adds an extra bit of richness to the cheesecake.
Crust Ingredients:
1 1/2 cups graham cracker crumbs
1/4 cup sugar
1/4 cup butter, melted
Filling Ingredients:
2 lbs. ricotta cheese
6 eggs
2 Tbsp. flour
1 1/2 cups sugar
1 tsp. vanilla
1 large can evaporated milk
Directions:
1. Mix the graham cracker crumbs, sugar, and the melted butter together. Press mixture into the bottom of springform pan.
2. In a large mixing bowl add the eggs to the ricotta cheese, one at a time, beating thoroughly after each egg is added.
3. Mix flour and sugar together and add to cheese mixture. Fold in vanilla and evaporated milk.
4. Pour into prepared springform pan. Bake at 350 degrees F for 50 to 60 minutes, until firm. Chill overnight.
New York Cheesecake #3
Grandma Celia swears by this New York Cheesecake recipe, it was handed down to her by her mother. It is one of the richest cheesecake recipes ever, it is an amazing cheesecake that everyone always has room for no matter how much they've eaten! It does not have a crust, in order to highlight the flavor of the cheesecake only.
Ingredients:
2 cups sour cream
1 lb. ricotta cheese
1/2 cup butter, melted
1 1/2 cup sugar
16 oz. cream cheese
3 Tbsp. flour
3 extra large eggs
1 Tbsp. vanilla
3 Tbsp. cornstarch
1 Tbsp. lemon juice
Directions:
1. Combine sour cream and ricotta cheese in a large mixing bowl. Beating at low speed, add butter, sugar and cream cheese.
2. Increase speed to medium and add flour, eggs, vanilla, cornstarch, and lemon juice. Beat for 5 minutes.
3. Pour into springform pan.
4. Bake in preheated 350F oven for 1 hour, then turn off oven and leave in closed oven for one hour longer. Cool on rack.