Are you a New York cheesecake lover or a regular cheesecake lover? New York cheesecake is well known for its rich creamy texture and unique graham cracker crust whereas regular cheesecake (often called traditional cheesecake) has a much lighter texture. Join us as we explore the differences between New York cheesecake vs. regular cheesecake in terms of ingredients, texture, crust, toppings, serving sizes, history, taste, and nutritional values.
New York Cheesecake vs. Regular: What Is the Difference?
The primary difference between New York cheesecake and regular cheesecake is texture and flavor. New York cheesecake typically uses more cream cheese and less sugar which gives it a dense and smooth texture while regular cheesecakes are lighter and creamier. Flavor-wise, New York cheesecake is sweet but also tangy, while regular cheesecake has a more mild flavor.
Other differences include crust, with most New York cheesecakes having graham cracker crusts while regular cheesecake has a larger assortment of crust options.
New York cheesecake also requires more eggs when compared to regular cheesecake, the eggs give it a richer and more velvety texture. Vanilla extract is also used in both but is more prominent in New York cheesecake. For best results, it is advised that both cheesecakes be baked in a water bath.
With these differences out of the way, let's explore the history of cheesecakes and when New York cheesecakes became popular.
Origin of Cheesecake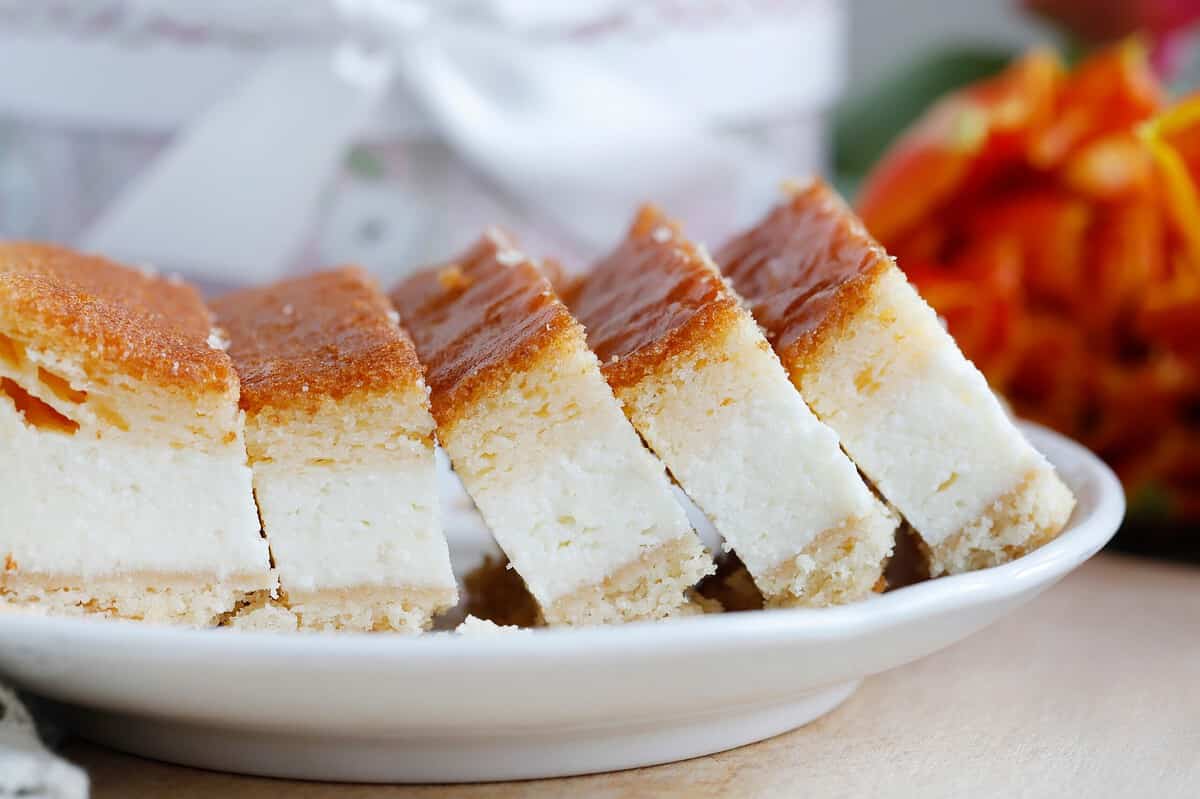 New York cheesecake was invented by Arnold Reuben in New York in the early 19th century. He was a Jewish-German immigrant who founded Reuben's Restaurant in 1908.
By the fifth century BC, the Greeks had developed the oldest known cheesecakes, called plakous, which were simply cheese patties that had been pounded smooth with flour and honey and then baked on an earthenware griddle.
According to the Guinness Book of World Records, the most expensive New York cheesecake was sold for $4,592.42 and was created by Ristorante Ra in 2017. The dish is made with buffalo ricotta, white truffle, 200-year-old Hennessy Paradis cognac, Madagascar vanilla, and gold leaf.
The Texture
New York cheesecake is often higher and larger than regular cheesecake. It is known for its creamy texture and is more dense, which is achieved by using more cream cheese and eggs. It has a smooth texture that melts in your mouth. The creaminess of New York cheesecake comes from the combination of cream cheese, sour cream, sugar, and eggs. However, regular cheesecake is lighter in texture. This is because it is made with less cream cheese and eggs. It's still creamy, but not as dense as New York cheesecake.
What is a Water Bath?
A water bath is a technique used when baking to protect the cheesecake from browning too quickly or cracking. It is easy to do, all you need to do is put your springform pan inside a roasting dish filled with water. The steam from the water helps regulate the oven temperature and prevents the top from becoming too hot and dry. The water should come about halfway up the pan sides.
The Crust
New York cheesecake is typically made with a graham cracker crust known for its sweet and crumbly texture. The crust is a blend of graham crackers, sugar, and melted butter. It's press-fitted onto the base of the cheesecake pan before adding the filling.

On the other hand, regular cheesecake can be made with various crusts like Oreo biscuits, shortbread, or digestive biscuits, among others. These crusts offer a different texture and taste to the cheesecake, and some people prefer them over the graham cracker crust of New York cheesecake.
Various Topping Options
Depending on your personal preference the toppings for New York cheesecake and regular cheesecake can be similar or different. The usual toppings for cheesecake include fruit compotes, chocolate shavings, whipped cream, caramel sauce, and fresh berries.

Sour cream is used as a topping with New York cheesecake. The sour cream topping is made by mixing sour cream and sugar. After the cheesecake has baked and cooled, the sour cream topping is spread on top and then returned to the oven for a few minutes to set.

When it comes to creative toppings, the options are endless. Some people prefer to add crushed cookies, pie fillings, nut butter, or even savory toppings like bacon or herbs to their cheesecake. Toppings are also great for hiding any cracks which may have appeared.
New York Cheesecake vs. Regular Cheesecake: Which is Healthier (Calories, Fat, Sodium)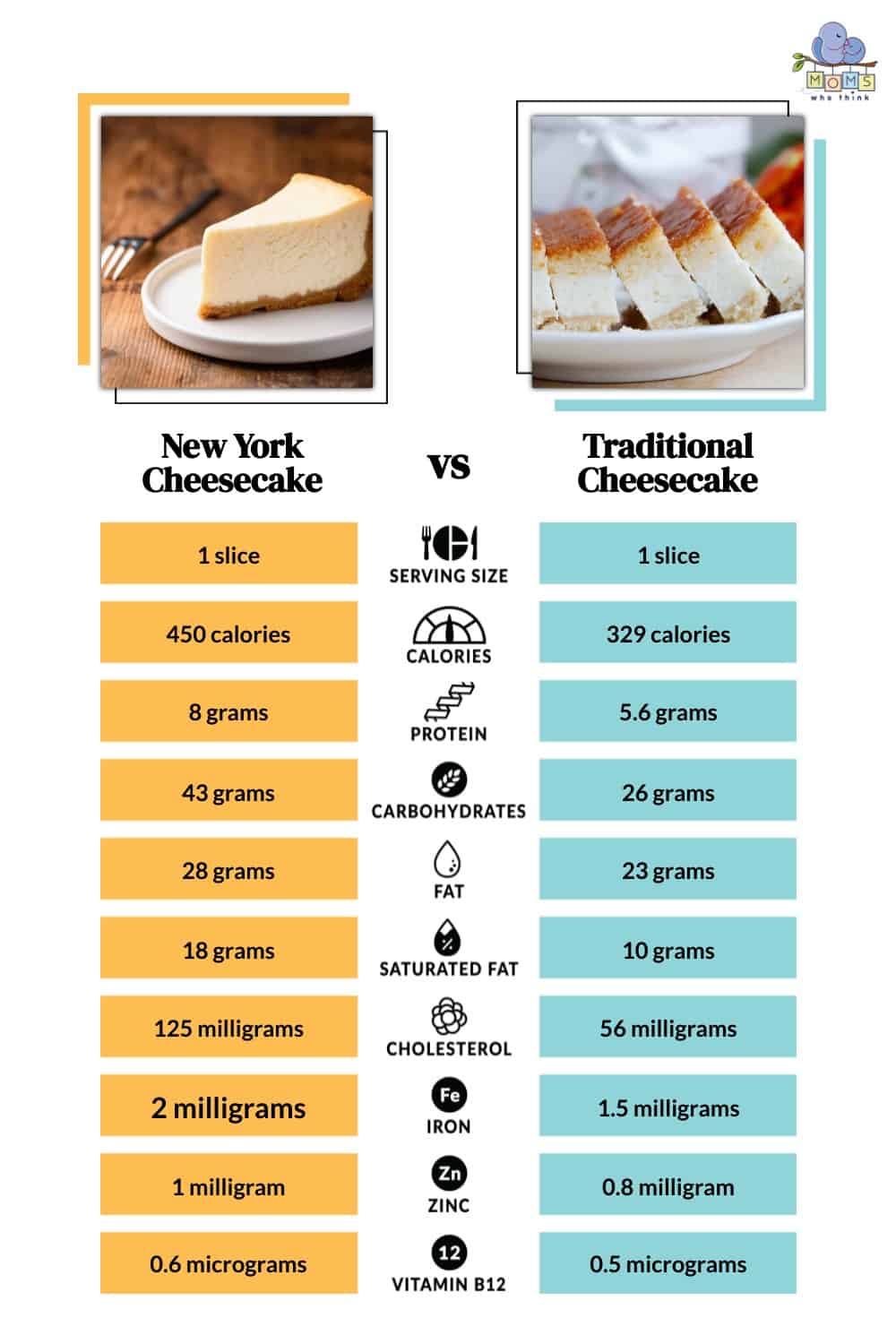 In the cart below we will compare the nutritional values of New York cheesecake vs. regular cheesecake according to Nutritionix.
Nutritional Facts
New York Cheesecake
Serving Size: 1 slice (128g)
Regular Cheesecake
Serving Size: 1 slice (103g)
Calories
450
329
Total Fat
28g
23g
Saturated Fat
18g
10g
Trans Fat
0g
23g
Cholesterol
125mg
56mg
Sodium
400mg
449mg
Total Carbohydrates
43g
26g
Dietary Fibre
1g
0.4g
Sugars
35g
22g
Protein
8g
5.6g
Eating too much of it can lead to weight gain and other health problems. Moderation is key to enjoying and reaping the health benefits of cheesecake. It should be noted that New York cheesecake adds more cream cheese and sometimes sour cream, so it shouldn't be surprising if its calories are higher.
Another component that adds to New York cheesecake's calories is the graham cracker crust, which is high in sugar. Keep in mind that cheesecakes will often have additional flavorings (just look at all the flavors at Cheesecake Factory!), so those will also heavily influence calories per serving.
Final Results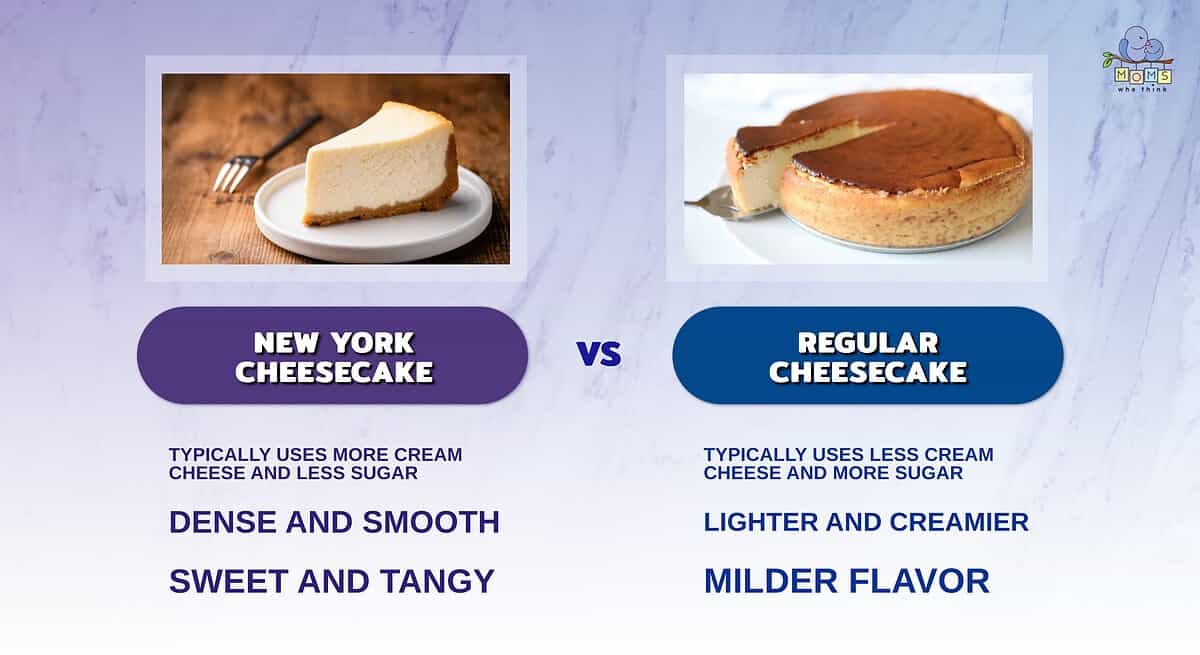 New York cheesecake typically incorporates more cream cheese and less sugar, which is what causes the differences in texture and flavor.
Regular cheesecake is lighter and creamier than New York cheesecake, which has a dense and smooth texture.
New York cheesecake has a sweet and tangy flavor, while regular cheesecake has a milder flavor. The taste of regular cheesecake may be easier to adapt to different flavors.
In conclusion, both New York cheesecake and regular cheesecake have their unique qualities and flavors. Whether you prefer the rich and creamy texture of New York cheesecake or the lighter texture of regular cheesecake, there is no doubt that both types of cheesecake are delicious. From the history of these desserts to the many ways they can be enjoyed, there is always something new to discover about these delicious desserts. So, the next time you are in the mood for something sweet, why not indulge in a slice of either New York cheesecake or regular cheesecake?
Frequently Asked Questions
What is the difference between New York cheesecake and regular cheesecake?
New York cheesecake is known for its rich, creamy texture and separate graham cracker crust. Regular cheesecake, on the other hand, is often fluffier and has a variety of crust options.
What kind of toppings can be used on New York cheesecake and regular cheesecake?
Both kinds of cheesecake are topped with a wide variety of options. Classic toppings like strawberries, blueberries, or whipped cream are popular. Other creative toppings like chocolate sauce, caramel syrup, or fruit compote can be used as well.
What is the serving size difference between New York cheesecake and regular cheesecake?
New York cheesecake typically has a larger serving size than regular cheesecake due to its dense texture. However, it depends on the recipe you are using, always follow the instructions.
Can I make New York cheesecake and regular cheesecake at home?
Yes! There are many recipes available for making both kinds of cheesecake at home. While you may need a little practice to perfect the recipe, making cheesecake at home can be a fun and rewarding experience that your guests can enjoy.
What is the best cream cheese to use?
For best results always choose a high-quality cream cheese like Philadelphia.
Can I freeze cheesecake?
Yes, you can freeze cheesecake. First, wrap it tightly in clingwrap and place it in an airtight container. Then, thaw it in the fridge overnight before serving.
What cheesecake is the most popular?
New York, regular, and no-bake cheesecake is the most popular type of cheesecake, but the best cheesecake flavor is the one that you find irresistible and that may be different for everyone.
What size springform pan should I use?
Almost all cake and cheesecake recipes will call for a 9-inch round springform pan, so we recommend using that size.
New York Cheesecake and Regular Cheesecake Recipes
Print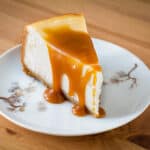 New York Cheesecake
---
1/3 cup butter, melted
1 1/2 cup cinnamon graham cracker crumbs
3 1/4 packages (8 oz. packages) cream cheese, softened
1 can 14 oz. sweetened condensed milk
2 tsp. vanilla extract
2 eggs
---
Instructions
1. Preheat oven to 300 degrees F. Combine graham cracker crumbs and butter; press evenly on the bottom of the 9-inch pie pan.
2. In a large mixing bowl, beat cream cheese until fluffy. Gradually add sweetened condensed milk, beating until smooth.
3. Add vanilla and eggs, and mix well. Pour into prepared pie pan.
4. Bake for 1 hour, turn off the oven but leave the cheesecake in the oven with the door propped slightly open for an additional hour.
5. Refrigerate for at least 6 hours until firm.