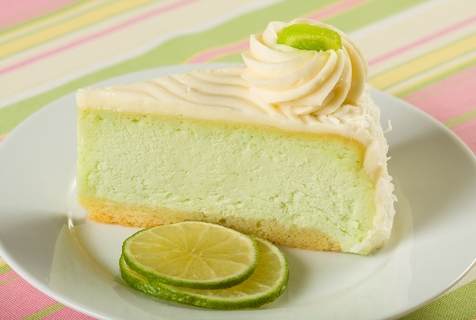 Key Lime Cheesecake Recipe
Let's Get Ready for Baby!
Sign up for our monthly pregnancy email series, and you'll get regular updates on your baby's development, helpful timelines to get ready for their arrival, must-have baby needs and so much more! PLUS, you'll get instant access to the MomsWhoThink "Ultimate Guide to Baby Naming in 2022."
CLICK HERE
to get started!
Cheesecake is a smooth and creamy dessert that almost anyone can enjoy. Perhaps the best thing about it is its ability to mesh with other flavors so that it can be a dessert everyone enjoys.
One flavor that works especially well with cheesecake is that of the key lime. Its tangy flavor works well with the richness of the cake to produce a unique taste that is sure to satisfy.
As compared to other limes, the key lime Is more valued for its stand out flavor. It is smaller and seedier and has a higher acidity and stronger aroma than that of other types of limes. It is named for its association with the Florida Keys where the key lime pie recipe originated.
And although desserts including key limes are commonly found in the area, the same can not be said of the fruit itself. Although commercially grown in the Keys for decades, hurricanes, citrus canker and plant disease has made growing options less than optimal. Therefore, imported limes and bottled juices are often included in recipes.
As you can see, the recipe we provided here uses lime juice and a rind for flavoring. But if you can get your hands on these delectable fruits, you can knock yourself out using the real thing.
Preparation is relatively easy. Just mix ingredients, pour into the pie crust and bake. Then cool overnight, top with whipped cream and look forward to seeing your family's eyes light up when you serve it.
This is a deliciously easy Key Lime cheesecake recipe. Tangy and rich, the lime is the perfect companion to the sweetness of the cheesecake. This recipe gets rave reviews from everyone that tries it. It is a sure winner!  Also try our amazing key lime pie recipe as well as the many other dessert recipes we have available.
Key Lime Cheesecake
Ingredients:
1/2 cup sugar
2 packages (8 oz. each) cream cheese, softened
1/4 cup heavy whipping cream
1/2 teaspoon vanilla
2 Tablespoons fresh lime juice
1 teaspoon grated lime peel
2 eggs
1 graham cracker pie crust
1 cup thawed Cool Whip topping
Directions:
1. Preheat oven to 350 degrees F. Beat cream cheese, whipping cream, sugar, lime peel, lime juice and vanilla with electric mixer on medium speed until well blended. Add eggs, one at a time; mix just until blended.
2. Pour mixture evenly into graham cracker crust.
3. Bake for 40 minutes or until center is almost set. Cool.
4. Refrigerate 4 hours or overnight. Top with whipped topping before serving.